Selling on Amazon is like a sword with two edges. It's very hard from the beginning when you try to establish your brand and all the way afterward when you try to be better than your competitors. On the other hand, it's very rewarding once your store starts getting sales and your brand becomes recognizable. While there is a lot of work to be done, there are tools that can make it all that much easier.
These tools reduce much of your time since they do a lot of work, including sales tracking, price tracking, product research, keyword analysis, competitor analysis, and more. That's why they are a must-have for every Amazon seller. Among the numerous tools available online, here are the top 10 Chrome extensions for Amazon sellers.
Top 10 Chrome Extensions for Amazon Sellers
1. Jungle Scout
Jungle Scout is one of the best Amazon apps available online. It comes with a ton of impressive features, including its Chrome extension. This tool is always up-to-date, accurate, and provides you with a lot of informative data. It shows you real-time data, helps you find the right products to sell on Amazon, does Amazon keyword research, and gives you a ton of valuable data, including revenue estimates, keywords, competitor information, seller ranking, and more.
The Jungle Scout Chrome extension is currently compatible with 8 marketplaces: USA, Canada, UK, Germany, Italy, France, Spain, and Mexico. It also has partial compatibility with several other marketplaces, including the Netherlands, Turkey, Brazil, Australia, India, Saudi Arabia, UAE, Japan, and Singapore.
Price: from $29 per month
Trial: risk-free 7-day money-back guarantee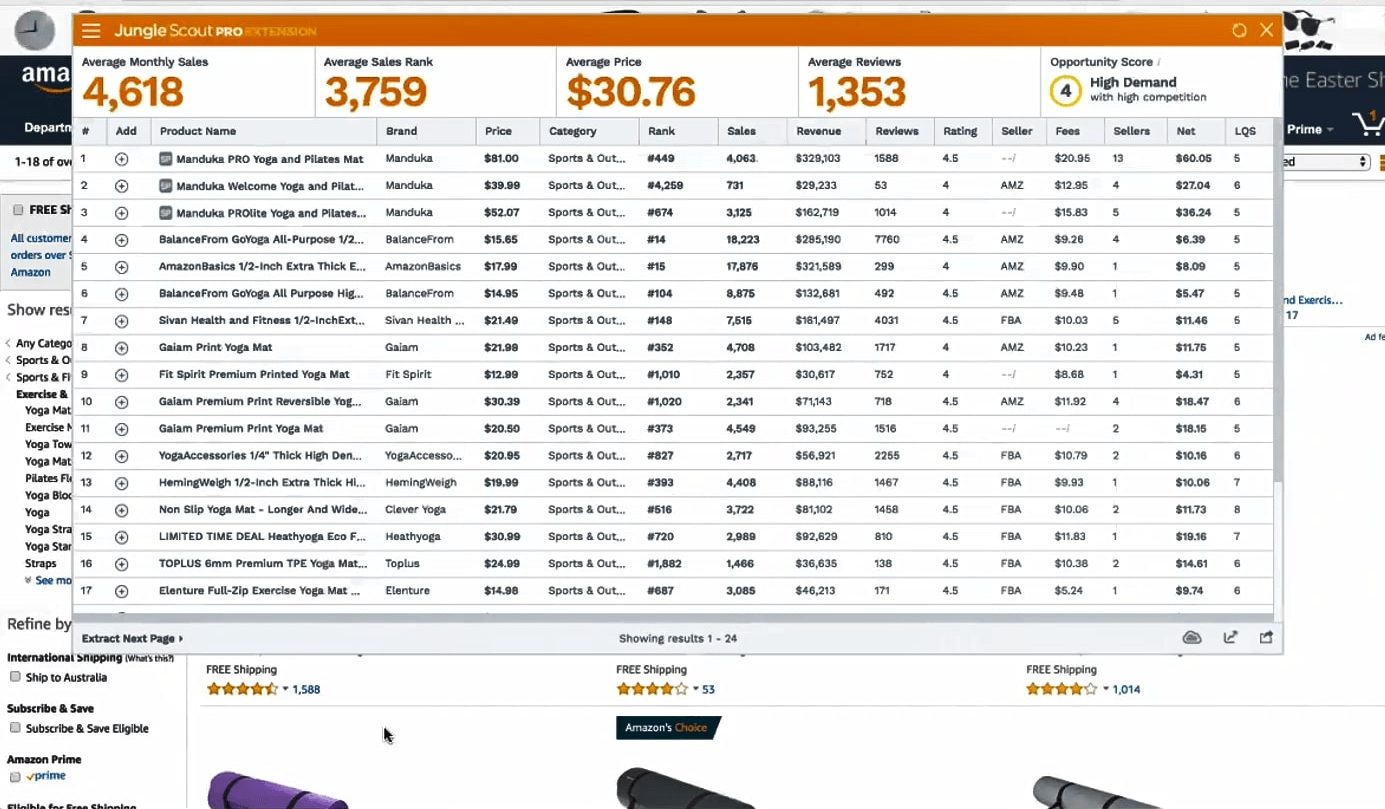 2. Helium 10
Helium 10 X-Ray is one of the best Amazon apps because it comes with a plethora of amazing features for FREE. It's accurate and does pretty much everything. Using this Chrome extension, you'll be able to do product research, keyword research, calculate profitability, track your inventory, do complete competitor analysis (ASIN, order fulfilling, inventory, reviews, etc.).
Price: FREE
3. Viral Launch Market Intelligence
Coming from one of the best-known Amazon product research tools, the Viral Launch Market Intelligence Chrome extension won't disappoint you. It's an amazing app that provides you with in-depth analytical data for Amazon, including things like product research, price, past sales, revenue, and other useful data.
What makes this app special is that it can tell you which product is most profitable. Hence, you can easily decide which product(s) to sell in your store. Moreover, it helps you understand the market with the historical trends as well as monthly and annual sales. Plus, there's a built-in calculator which allows you to easily calculate the costs and profits associated with each product.
Price: You can sign up for a free account and get 5 free searches per day. If you want unlimited searches, you have to upgrade to one of the three plans, starting at $58/month.
Trial: 14 days for the paid plans.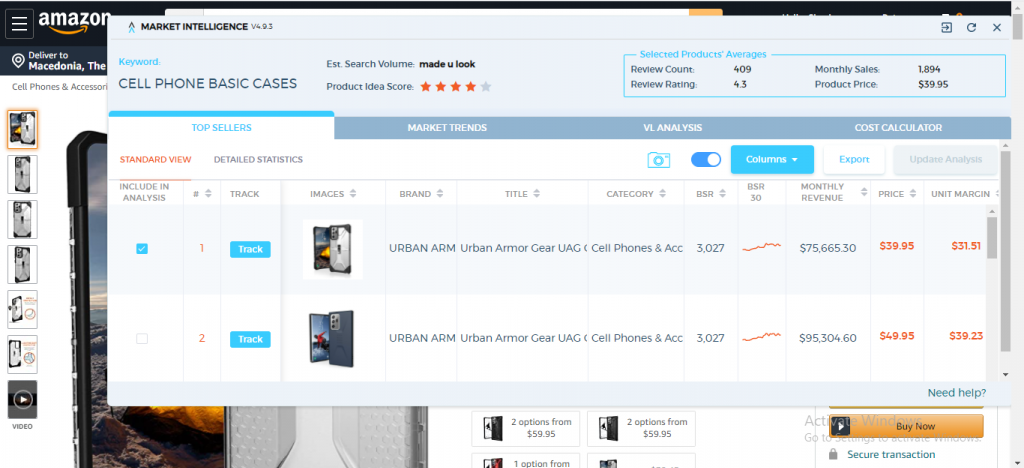 4. AMZScout Pro
AMZScout Pro is yet another product research app with an impressive reputation. It's easy to use and enjoyable. It comes with some awesome features that will help you start your Amazon business on the right track. Some of them are product score, sales data, profit estimate, demand forecast, and advanced competitor analysis. And, we have to admit that the last one is the one we need to beat the competitors. The data in this analysis includes revenue estimate, seller rank, stock levels, and FBA fees.
In addition, there's a profit calculator which allows you to calculate how profitable a product is. And, this is the most important information for every seller. After all, why invest in something that won't make you money?
Price: FREE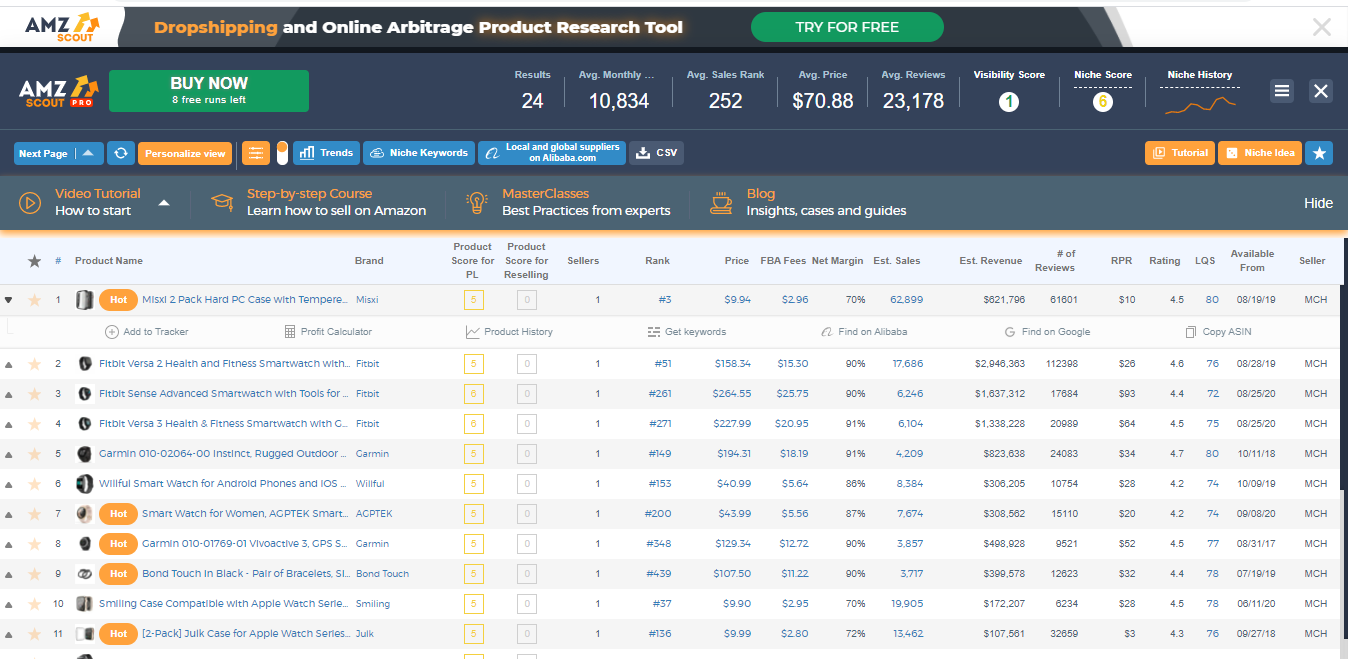 5. Keepa
Price is one of the vital elements when it comes to which product a buyer chooses, especially when selling the same product. That's why you always have to be up to date with the latest price changes on the market. To do that the easy way, you need Keepa.
Keepa is one of the most popular Amazon seller tools because it is a reliable price tracking tool. This extension provides you with price information about your competitors. It tells you about the price changes of any product you're interested in to ensure you edit your prices, too. Also, it provides you with price history data, which tells you how prices have changed in the past and predicts future trends. Plus, it features daily deals which are great when looking for new products to sell or make an offer your audience can't resist.
One thing to keep in mind when using this tool is that it doesn't track shipping costs. So, make sure you keep an eye on this!
What we really love about this tool, apart from its features, is that you don't have to register to use it. Simply download it and you are ready to go.
Price: FREE
6. The Camelizer
The Camelizer is another great price tracking tool for Amazon sellers. It's similar to Keepa but also unique. They both provide you with price graphs for each product and allow you to set up custom alerts for price changes. You can create email and Twitter pricing alerts when your competitor(s) change their prices. They also show you historical pricing data for any product listed on Amazon.
The only difference between these two apps is that the Camelizer doesn't have in-app purchases as Keepa.
Price: FREE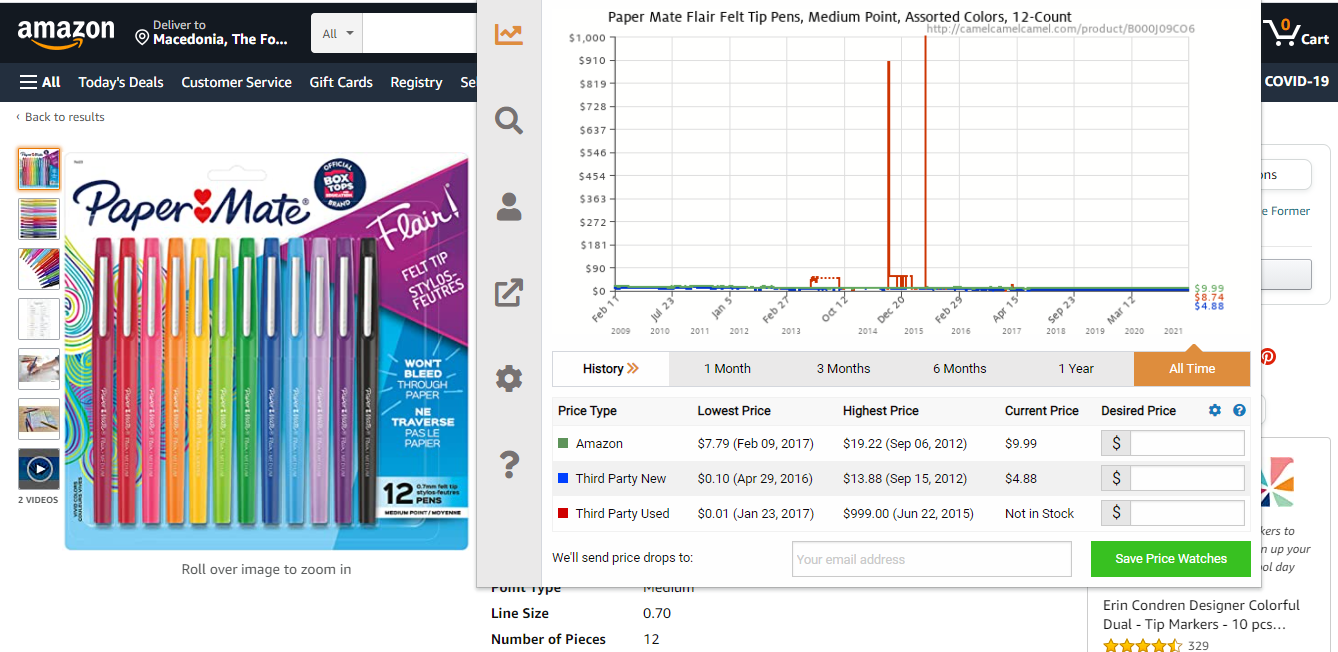 7. Amazon KW Index and Rank Checker
SEO is an inevitable part of every website. It doesn't matter if it's a blog, an e-commerce website, or an Amazon product listing. If you want your product to be discovered on Google (or other browsers), you need to optimize your product listing. The best way to do that is by using the right keywords and this Chrome extension does exactly that.
With Amazon KW Index and Rank Checker, you will find the best keywords for your products according to filters like search volume, relevancy, and ranking. Also, you will establish keywords rankings and access monthly search volume. By doing this, your products will gain greater visibility and you will get more sales.
Price: FREE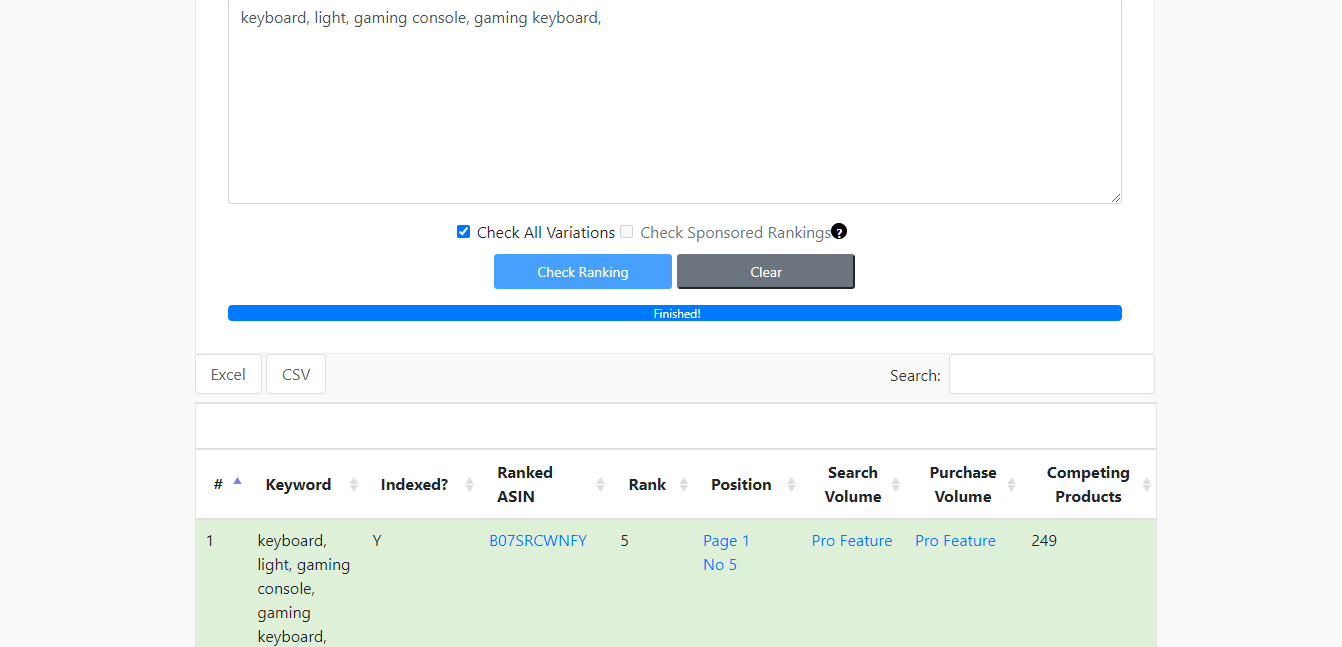 8. FBA Calculator
Want to quickly find out if a product is worth investing in?
No problem, the FBA Calculator will do that for you!
This Chrome extension is one of those one-in-one apps (not all-in-one) you need when you want simple apps. No tons of features and options, just one feature that gives you exactly what you want. This app, as its name suggests, allows you to calculate a product's profitability.
Using it is very simple. All you need to do is open the product page, click on the extension button, and fill in the fields for price, cost, and ship to Amazon fee. The tool will calculate the profit and instantly display it.
Price: FREE
9. AMZ Base
Heading back to product research tools, we encounter AMZ Base. Although "yet another "Amazon product research tool, this one is unlike the others on our list. It's because it's NOT LIMITED TO AMAZON.
Yes, you read that right.  AMZ Base is a product research tool for every marketplace, including eBay, AliExpress, Alibaba, CamelCamelCamel, as well as Google. This allows you to search for all products listed on Google and any of the abovementioned marketplaces. In this way, you can not only search for products but also compare them and choose the ones with the highest profitability.
Speaking of profitability, AMZ Base comes with a built-in FBA fee calculator that allows you to estimate the potential profit. Also, it includes features like ASIN number display and product sourcing information.
Price: FREE
10. DS Amazon Quick View
We end our list of best Chrome extensions for Amazon sellers with a competitor analysis tool. This tool gives you in-depth information about your competitors, including the number of FBA sellers, products' pricing history, ASIN, search ranking, and BSR. Having in mind that the completion on Amazon is enormous, DS Amazon Quick Views is the tool you need if you want to stay competitive on the market.
It's very simple to use since all you have to do to get all those data is simply hover over a product listing with your cursor. If you want to get even more data from your competitors, you can upgrade the app. With that, you get access to information like pricing history, the lowest FBA price, Prime sellers, and Amazon products.
Price: FREE; Extended version – $19.99 one-time fee
Conclusion
Which one(s) you will use to maximize your efforts in running a successful Amazon business?
Hmm… I know it's a hard question to answer, but you'll eventually have to choose the ones you need. To make the right decision, consider which apps work best for you, their price, features, and what you want to get from Amazon. Is it to find new winning products to sell? Or maybe it's to follow the prices of other sellers? Whatever it is, make sure you define it, so that you can choose the apps you need.
Whichever you choose, you won't regret it because they are the best of the best. Each one comes with impressive features and provides you with all the information it promises to provide. So, take a good look at each one and write down the one(s) you need to boost sales and improve your Amazon business.