Running an e-commerce business on Amazon gives you an unlimited potential to earn. However, it can also be stressful to manage the entire store mostly because of all the data. Namely, there are something over 70 fees, plus the earning and the additional costs. There's just too much data you have to track and that's not easy at all, especially if you work by yourself, without having an accountant to take care of your finances.
That's where Shopkeeper comes in!
It is a profit dashboard app that helps you keep track of your sales and profit. It comes packed with some great features that make running your Amazon store much simpler when it comes to the accounting part.
Let's read more about it below!

What is Shopkeeper?
It's a profit dashboard app that tracks your sales, profit, and predicts the inventory. It's pretty simple to use and makes sure you keep an eye on your profit margin… and, that's what interests you the most as a business owner, right?
Moreover, it tells you what fees are associated with each of your products and calculates them all, how much sales tax must be paid, which products need to be restocked and at which quantity, the piece of each refunded item, and more. And, there's the fun built-in ka-ching sound that is played for every sale.
Shopkeeper Features
Shopkeeper seems to be truly impressive if it does the things it promises to do. But, is it really efficient? How does it work?
To find out the answers to these questions, let's take a look at its features.
Profit Tracking
The profit is the element that tells you whether your business brings you money or not. The more profit you make, the more successful your business is. But to be able to calculate and track your profit, you must calculate the money you've earned by selling products, minus all fees associated with Amazon and other business-related costs.
Needless to say, you can easily get lost in all this data, especially if you don't have much knowledge in accounting or you're working alone. The good thing is that Shopkeeper takes care of this stuff. It calculates all 72 Amazon fees, margins, PPC, profits, and all other costs related to your business, such as manufacturing and shipping costs.
Moreover, it sums up all sales made on all the Amazon Marketplaces you sell on with the option to break down the data by country. You can see all your expenses of the products you've sold, compare today's profit with yesterday's, and enjoy the widgets that make using this app much easier and interesting. Plus, you will always know when a product has been sold as you will hear the ka-ching sound if you leave the app open in another tab.
Inventory Forecast
This feature shows you how many units you have of each product you sell and how long the stocks will last based on your previous sales. It also shows you how many units you need to re-order and when, the total value of your units, the final profit you could earn by selling them, and overstock levels. Plus, it takes the seasonality of specific products into account. And, you have the option to filter by country to get a better overview of the stock available per each.
Business Dashboard
Detailed, well-structured, and easy-to-navigate dashboard which provides you with an overview of all data related to your business. It has widgets for various metrics, such as profit margin, growth curve, best sellers, and inventory value.
As soon as you access Shopkeeper, you will notice its sleek and user-friendly dashboard. On it, you will find all data and metrics it analyzes divided into various categories for a better overview.
On the left side is the menu, from which you can access the features this app offers. This ensures a pleasant user experience and easy navigation through the app.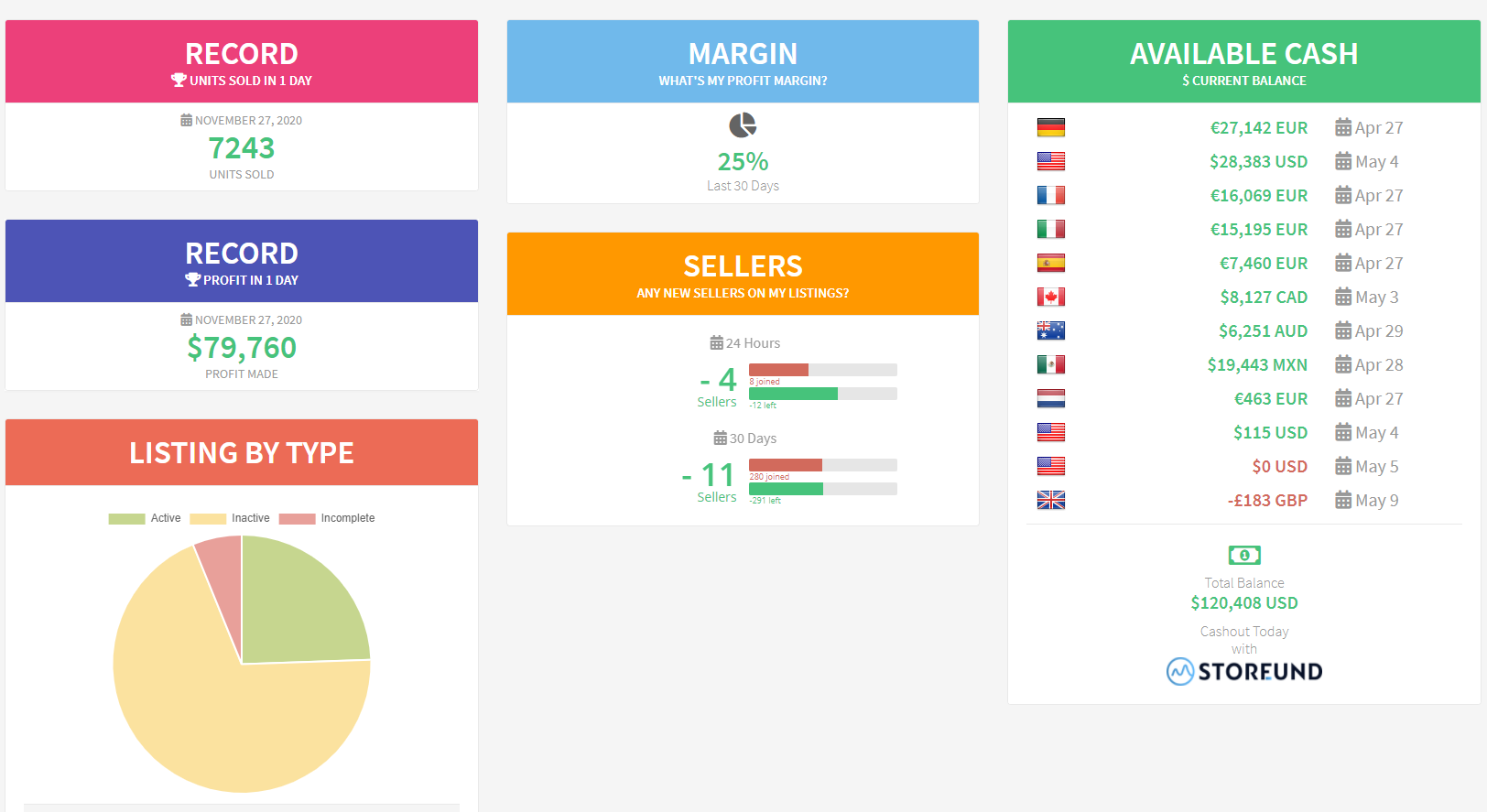 Integrations
We can't forget to mention that Shopkeeper integrates with all 11 Amazon sites, including:
Amazon.com
Amazon.co.uk
Amazon.ca
Amazon.co.jp
Amazon.com.au
Amazon.com.mx
Amazon.de
Amazon.es
Amazon.fr
Amazon.in
Amazon.it
Mobile-Friendly
As a cherry on the top, Shopkeeper is optimized for both, computers and mobile phones. In this way, it makes sure you can easily access and view the stats on different devices.
Shopkeeper Pros and Cons
Now that we've looked briefly at its features, we can talk a bit about its benefits and drawbacks.
Pros
Automated profit margin tracking – You don't have to use spreadsheets and tons of paper to calculate your profit, wasting hours, even days of your time. Shopkeeper does all that for you automatically. To access the data, you just need to go to the dashboard.
Calculates all expenses related to your business – While some similar apps calculate only a few main expenses, Shopkeeper includes all of them to provide you with accurate data of your business. All data is presented in a detailed report, which allows you to identify which products are worth selling and which not, as well as what affects your profit negatively. This will help you change/replace/remove the things that don't work well for your business, thus improving its success.
Inventory tracking – Sometimes, we get lost in our business and focus on marketing, the items sold, and the money made. And, we neglect the inventory. Therefore, it often happens to have products out of stock or overstock, which leads to financial loss.
Cons
No bulk file uploading – Unfortunately, Shopkeeper doesn't allow users to upload bulk files on their own. Instead, you have to contact the email support to do that for you.
Manual adding of some costs – Some of the costs related to your business, such as manufacturing and shipping, must be added manually. This is not only time-consuming but also affects all product statistics. Plus, it can affect the cost of the latest as well as older sales, thus affecting the accuracy of your data.
Shopkeeper Pricing
Shopkeeper has 4 pricing plans:
Free Trial???
Yes, there is a 14-day free trial period. You can easily sign up without the need for a credit card.
Conclusion
As you can see, Shopkeeper has some pretty impressive features for a profit dashboard app. It helps you keep track and manage your finances as well as know how your business is going. With its sleek, simple, and user-friendly dashboard, it's a must-have tool for Amazon sellers. And, with the free trial and affordable starting price (only $20/month), it's definitely worth trying.
Shopkeeper Alternatives
It is always good to take a look at the alternatives for Shopkeeper and compare them. Here are the most popular alternatives.
Shopkeeper vs Sellerboard
Features
Profit Dashboard
Inventory Management
PPC optimization
E-mail automation
Listing change alerts
Refunds lost inventory
As you can see, Sellerboard offers very similar functions to Shopkeeper. With the profit dashboard as they main feature. The big difference is that Sellerboard also offers mail automation, a feature Shopkeeper doesn't have. But the main advantage of Shopkeeper vs Sellerboard is the very intuitive interface that let's you see at a glance how well your sales are doing.
Pricing
Shopkeeper's pricing starts at $20 per month. The same as Sellerboard
Shopkeeper vs CashCowPro
Features
Inventory Management
Profit Dashboard
Keyword Tracking
E-mail automation
A/B Split Test Tool
CashCowPro offers 2 features that Shopkeeper doesn't offer: A/B split testing & e-mail automation.
Pricing
CashCowPro's pricing start at $49,97 per month! This is more than double the starting price you pay at Shopkeeper ($20).
Shopkeeper vs Helloprofit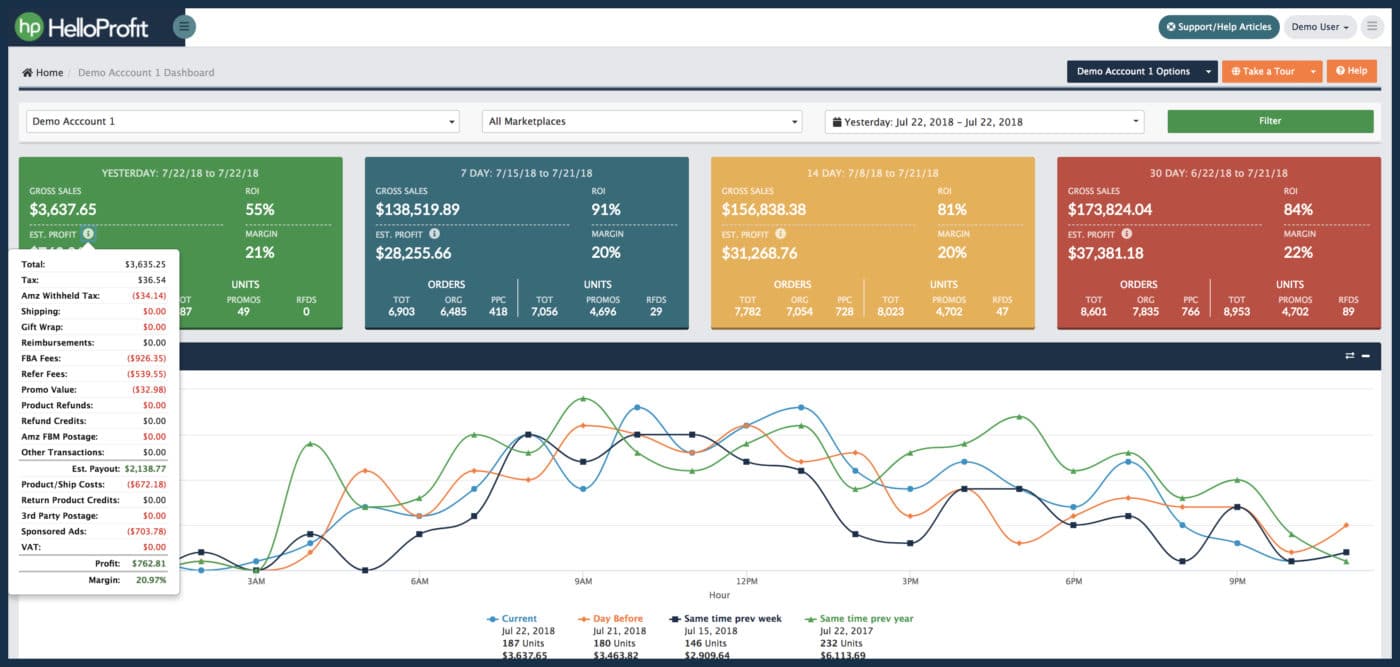 Features
Profit dashboard
PPC manager
Custom Notifications
Helloprofit lacks in features when you compare them to the other profit dashboards. However, it has 1 unique feature: customer notifications. You can set the notifications to notify you for example: When you sales velocity drops below x per day.
Pricing
HelloProfit starts at $97 per month! This is by far the most expensive profit dashboard. Especially compared to Shopkeeper, who offers the best price ($20 per month)!