As an Amazon seller, you know how much competition there is. With millions of sellers, it's really hard to stand out and get more sales for your shop. But, it's not impossible!
Regardless of whether selling on Amazon is your primary income source or a side gig, more sales is always a good thing. To make sure your store is visible to your target audience, you need to choose a product people would be interested in buying and create an optimized listing. And, for that, you need an Amazon product research and listing optimizer like Sellzone.
In this review, we look closely at this Amazon seller tool, its features, and how can help you get more sales.
What Is Sellzone?
Sellzone is an all-in-one Amazon seller toolkit that helps you find profitable products to sell and optimize your product listings. It combines 7 tools to grow your business on Amazon and maximize your sales. You can search for products, optimize your product listings, monitor your or your competitors' listings, analyze your PPC campaigns, and more with this tool. It is the tool you've wished for to help you overcome challenges and enhance your Amazon Marketplace performance.
Sellzone Discount
There is currenly a huge discount going on! You can get Sellzone for only $1! This promotion only runs this month so make sure to grab it asap!
What Does Sellzone Do?
Sellzone offers Amazon sellers tools to improve their e-commerce business. It takes care of 5 areas, including:
Product Research
Every e-commerce business starts with one thing – a product. But, if you want to build a successful business, you need to find the right product. A product with high demand and low competition; something people will always buy.
That's where Sellzone comes. Thanks to its product research features, it can find profitable products to sell on your Amazon store based on smart filters and the latest data. Moreover, it analyzes the search demand and potential traffic. And, it analyzes your competitors and points out their shortcomings and how to take advantage of them.
Amazon SEO
SEO is the essential factor for boosting product visibility and getting more sales. Using several of its tools, Sellzone helps you improve your listings' Amazon SEO. With that, it increases product visibility, creates lists for your listing's Hidden Search Terms, optimizes listing's content, identifies the best keywords of your competitors, and tracks your listings' rank.
Listing Optimization
Optimized product listings are the second most important factor for boosting product visibility and getting more sales. They have the perfect title, the perfect description, and the best keywords. As such, they are easy to find among all products like yous sold on Amazon.
Sellzone helps optimize your product listings by auditing their performance, analyzing them to ensure they meet Amazon's recommendations and requirements, fixing their errors, and showing the most performative keywords. It also allows you to perform split tests to see which listing version works best. In this way, it improves your listings' performance.
Listing Protection
Aside from optimizing your product listings, Sellzone also protects them. It does that by notifying you about any errors and possible hijacks via SMS and email. It also monitors price changes and buy box status and tracks Amazon search rankings.
Growth Hacking
And, last but not least, Sellzone helps you scale your business. With tools like PPC optimizer, reverse ASIN, keyword research, and analytics, you will be able to create a marketing strategy and PPC campaigns that will skyrocket your Amazon business.
Sellzone Features
To better understand Sellzone, let's take a closer look at its features.
Product Research
The product research features help you find winning products to sell in your Amazon store. It's very simple to use, even for newbies.
To start searching for the right product, go to your Sellzone dashboard and click on the Product Research tool. When the page opens, you will see a simple and clean interface with three filters:
Category
You will find all categories from Amazon listed. You need to choose the one you are interested in. For example, if you want to sell kitchen products, you should choose the Home & Kitchen category.
Keyword
In this box, you need to write a keyword. That is a word that the product title contains. Be careful and precise about the word you write because all products under the chosen category containing this word will come up in the results list. In our example, that word is paper.
Price
Finally, you filter the products by price. You can choose from 3 categories of prices:
low selling price (up to $10)
medium selling price ($10-25)
high selling price (from $25 and above)
We chose the lower selling price option, but you can go for whichever you want. Keep in mind that people usually buy products at lower prices.
Once you are all set and done, hit the Find Products button. A list of products matching your criteria will appear. This is what we got!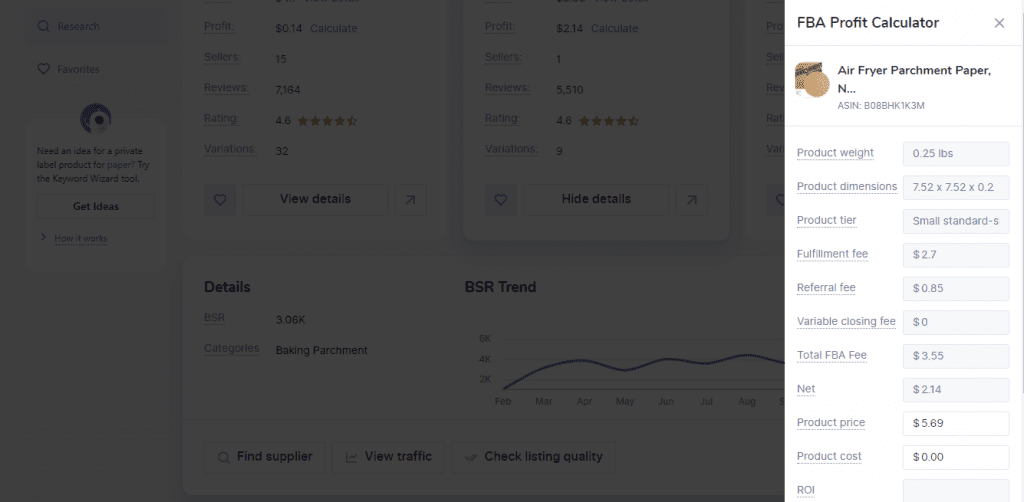 Then, you can use the Advanced Search Parameters to additionally filter the products. You can filter the products by sales volume, number of sellers, number of customer reviews, and product rank. Additionally, you can use the FBA calculator by clicking "calculate" next to "Profit". This calculator shows you all fees and how much profit you'll make if you sell that product.
Keyword Wizard
This tool helps you find the best keywords for your product listing. By using the right keywords, you will optimize your listing and boost product visibility. And, as you know, the more visible a product is, the more sales it makes.
You can access this tool through your dashboard by clicking on the Keyword Wizard tool. You will see only one box in which you need to write any keyword associated with the product(s) you sell. For example, we searched for "diy home tools" and this is what we got!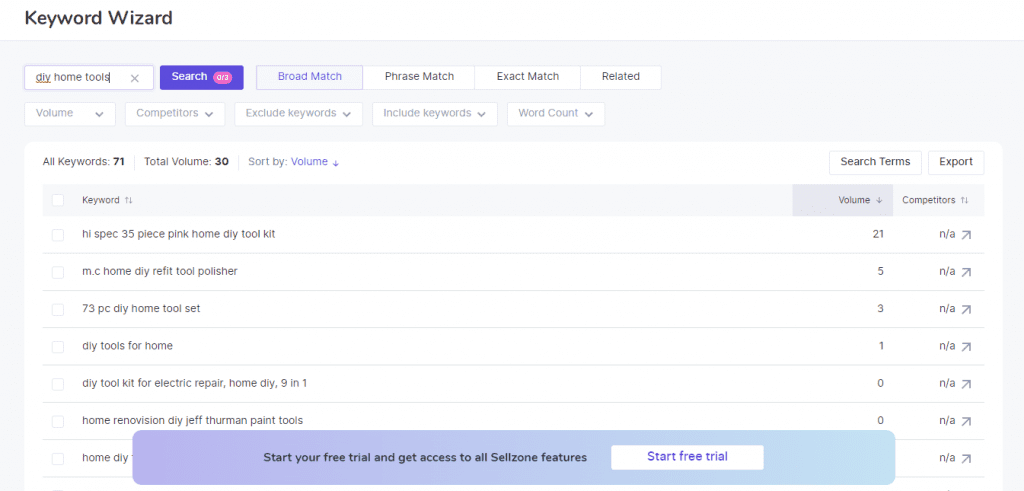 Once you get your list of keywords, you will see additional filters you can use to narrow your search and get the best ones. You can filter the keywords by:
Keyword Match
Do you want to find the exact keyword(s) you entered or you are interested in all possible variations? You have 4 choices here:
Broad Match – any variation of your keyword or keyword phrase.
Phrase Match – the exact keyword or keyword phrase in any order.
Exact Match – the exact keyword or keyword phrase in the exact order.
Related – keywords relevant to your keyword/keyword phrase.Volume
This filter allows you to see the monthly organic search volume for the listed keyword.
Competitors
Using this filter, you can see which competitor products rank for the listed keyword.
Other Filters
You can also filter the keywords by excluding a keyword, including a keyword, or the number of words in the search phrase.
Once you get the final list of keywords based on your criteria, you need to click the Search Terms button to get a list of backend keywords. When the window appears, click the Copy Words button to copy them and paste them into your Amazon backend keyword list.
Listing Quality Check
This tool checks your product listing and analyzes it for possible issues. Then, it shows you a detailed analysis of your listing.
The Listing Quality Check tool compares your product listing and displays the results in 4 tabs:
Amazon requirements – Shows all issues arising from not following Amazon listing requirements and the requirements that must be met.
Amazon style guides – Shows issues related to Amazon-style guidelines and tips for improving the listing quality based on the AMazon Style Guide.
Amazon best practices – Shows tips for improving your listing quality based on best practices.
All checks – Provides you with a complete analysis of your product page so that you know if everything is working the right way.
Moreover, it displays the listing quality score alongside the critical issues, recommended improvements, and optional edits. This score shows the overall well-being of your listing based on the ratio of successful and failed checks.
There are also metrics on your images' performance. This data tells you if you need to change them to be more appealing to your customers or give other ideas.
Apart from analyzing your product listing(s), you can also analyze competitors' product listing(s). That will give you an insight into the quality of their listing, which will help you come up with a better version of your listing.
Using this tool is super simple. You just need to enter a listing URL or ASIN. Then, click the Check button.
Listing Protection
Do you know your product listing can get hijacked? Yup, it can happen! When a listing is hijacked, it means that another Amazon seller sells a copy of a product on your listing. This decreases your sales, which is bad for your business.
Also, someone may try to hack your Amazon seller account and steal valuable information or simply delete your product listings.
But, you don't have to worry about it because Sellzone comes with a built-in Listing protection tool. This tool acts as an alert system that notifies sellers whenever something isn't right. In that way, it helps you act on time and prevented unwanted listing changes or account invasion.
The Listing Protection tool monitors your product listings and tracks keyword positions, listing suppression, buy boxes, and prices.
Using it is very simple. All you need to do is click the Add Listing button and enter your listing URL or ASIN. Then, click the Add button and your listing will appear below.
Next, click Settings to set up how you want to receive alerts. You can choose email and SMS or one of them.
And, that's it! Your listings are now protected from attackers.
Split Testing
You can never be too sure which product listing version will work better. That's why Split Testing is there!
This A/B testing tool helps you analyze how each listing version would perform. By allowing you to test each listing version, it helps you decide on how your listing will look at the end.
Using this tool, you can test changes to your product listing titles, descriptions, images, and prices for up to 30 days. Then, you can choose the best-performing listing version and publish it. With that, you will increase your conversions and make more sales.
Split Testing also provides you with live stats on view and conversion. So, you'll always be in step with the latest listing data.
The best part about this tool is that it's FREE. So, you can experiment with your listings as much as you need and always have the best-performing listings.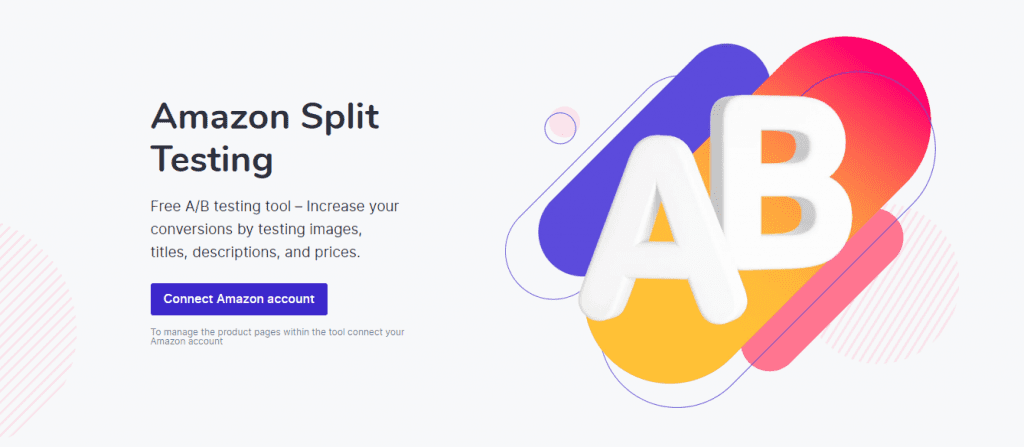 To use this tool, you need to connect your Amazon seller account. To do that, you need to leave your Seller ID and MWS Auth Token, which you can find in your Amazon account's dashboard.
Once connected, you can test the current version of your product listing. Experiment by making changes to the title, description, and other elements of the listing. When you choose the elements to be tested, the actual Amazon listing will be automatically updated. But, don't worry about the old version as Amazon stores it safely.
The tool then continues measuring the performance of the new version of the listing for up to 30 days. And, while you can choose to run the testing for a minimum of 1 day, the recommended minimum is 7 days. Of course, you can stop testing at any moment if you can already see which version (old or news) performs better and go with that one.
Remember that whatever idea you have on changing the current version of your product listing, you should always test it with the Split Testing tool before letting it go live.
Traffic Insights
Traffic Insights, as its name suggests, is an analytics tool that provides you with traffic data across your channels. Using that data, you can plan your marketing strategy and scale it to get more traffic and more sales.
Apart from providing you with traffic data for your listing, this tool also allows you to analyze your competitors' listings and compare them to yours. By knowing their best-performing keywords and external traffic channels, you will know which keywords to add to your keyword list and which sites to reach out to.
To use the Traffic Insights tool, you need to enter your product's ASIN or URL. Optionally, you can add up to 2 competitors for analysis. Then, click Analyze.
You will instantly get your results displayed on a clean and well-organized dashboard. First, you see the Overview Report. This report shows the general data of your listing's performance. You can see various data here, including:
Total Reach – an estimate on the number of people who could potentially discover your product.
Reach by Channel – an estimate of the number of people who could potentially discover your product via various channels.
Amazon Organic Traffic – an estimate of the number of people who saw your product on Amazon.
Google Organic Traffic – an estimate of the number of people who found your product via Google Search.
Referring Domains – the number of domains linked to your product.
Shopping Ads Keywords – the number of keywords that made your Google Shopping Ads appear in Google Search Results.
On the right side of the dashboard, you can see 4 tabs, one for every report displayed on the Overview Report.
Amazon Organic Traffic Report
The Amazon Organic Traffic Report is well-organized in graphs per each part. There is also a Summary section which sums up all information included in the report.
This report includes several metrics:
Traffic – shows the organic traffic and the number of people that visit your product page.
Keywords – shows you with keywords your product gets ranked for.
Top competitors – shows you your biggest competitors.
Positional changes – information on product rank and how they have changed over time. The information combines data from each product page to show the keywords trends as well as the benefits and drawbacks of choosing certain keywords.
Amazon SERP features – shows you the special search priorities for specific keywords. For example, one keyword may put your product in Editor's Choice section whereas the other in the Highly-rated section.
Precise Keyword Volume – using Semrush and its analysis tools, this report shows you the latest data on your keyword volumes.
Google Organic Traffic Report
Google Organic Traffic Report shows you the Google trends about your product. It also shows you a list of keywords that rank your product on Google SERP.
The report's metrics are divided into several categories, including:
Reach – The estimated number of potential customers that have searched for a specific keyword from your list.
Position – Shows you how a specific keyword ranks on Google.
Difference – The changes in the product's rank for a specific keyword compared to the previous month.
Traffic – The estimated amount of organic traffic for your product for a specific keyword.
Referrals
The Referrals Report goes deep into the traffic sources. It shows you the domains where the traffic came from. It also analyzes if third-party website referees are increasing or decreasing. Once it gets all data, it summarizes it and tells you if the referral domains' reach has increased or decreased recently.
By clicking on a referring domain, you get all referrals data such as a complete list of backlinks, sources, authority scores, anchors, and target pages.
Shopping Ads
Shopping Ads Report shows you the number of keywords that place your product ad in search results for. The Display Ads tab shows you the number of domains that display ads related to yours.
PPC Optimizer
As the name suggests, this tool allows you to manage and optimize your PPC efforts. It's a very powerful feature that helps you automate your ads.
To use this tool, first, you need to connect your Amazon account. With that, you gain access to data from all products sold on Amazon. It also helps you decide which products are to be advertised, monitor the ads, track their metrics, and optimize your campaigns.
Using the PPC Optimizer is straightforward. Upon connecting your Amazon account, you need to add products.
Adding Products
Adding products is easy and you need to select a daily ads budget and start date for each product. Also, you can set keywords or a customer bid to get the most out of your campaign.
Campaign Optimization
Next, the PPC Optimizer works its magic by optimizing your campaign. It does that by looking at the recent sale of that product, analyzing what brought in that sale. It automatically moves the keyword or ASIN that made the conversion happen to the next-level campaign so that you don't spend extra money. The process involves 4 levels of campaigns.
4 Campaign Levels
Auto campaign – The keywords and ASINs that show when your product is advertised on Amazon are gathered at this stage. The campaign chooses the most relevant keywords for the product being promoted.
Broad campaign – At this stage, the tool gathers the phrases that brought conversions in the auto campaign. By choosing relevant keywords, the tool finds your target audience.
Exact campaign – This campaign lists the keywords that brought conversions in the Broad campaign.
Product campaign – At this stage, the PPC Optimizer selects ASINs from the Auto campaign and places ads on their pages. There can be multiple ASINs from one seller.
Ads Performance
Once you are done with optimizing your campaign, you can check on your ads' performance. You can check the impressions, clicks, ACoA, and budget. For best results, you should check your ads performance after 2 weeks.
Sellzone Customer Support
Sellzone prides itself on having 5-star customer support. You can reach their agents via email, social media (Facebook, Instagram, and Twitter), Facebook Messanger, and WhatsApp. Additionally, you can send them a message directly from their website by clicking on the contact us link on the FAQ page.
With all these support options and channels, we can confirm that Sellzone has a hell of customer support. As a seller, having constant support is one of the key elements for a great experience using the tool.
Sellzone Pricing
Sellzone offers 3 pricing packages:
Free – $0 forever with limited features.
Growth – $50/month with almost all features available and unlimited use of some.
Pro – $85/month with all features available.
Sellzone Discount
There is currenly a huge discount going on! You can get Sellzone for only $1! This promotion only runs this month so make sure to grab it asap!
Is There a Free Trial?
Yes, there is a 7-day free trial period. However, to sign up for the trial, you have to insert your credit card details.
You can cancel anytime before the free trial's end and you won't be charged anything. But, if you don't cancel before the trial's end, you will be automatically charged $50/month and switched to the Growth plan.
Is Sellzone the Right Amazon Seller Tool for You?
If you're looking for a reliable tool that will help you stand out from your competition, then Sellzone is the right Amazon seller tool for you. It offers you A LOT of features and helps you skyrocket your Amazon business. It's easy to use, even for novices, and doesn't require any special knowledge.
If you're ready to launch your Amazon store to the stars, go ahead and try Sellzone!
Alternatives
Sellzone vs Jungle Scout
So now lets compare it to the biggest Amazon Tool out there right now: Jungle Scout!
One feature that Sellzone offers that Jungle Scout doesn't is: A/B Split testing. So if you are at the point that you already have a product that sell very well then Sellzone would be a good fit for you.
However, Jungle Scout excells in the product research tool. They have a bigger database and more filters to use. So if you are still looking for a product to start selling on Amazon you might want to choose Jungle Scout over Sellzone