I have been using Jungle Scout for 7 years now, and use it extensively in my product research & managing my Amazon business. Therefore I feel like I am qualified to write an honest review about this piece of software from a real users perspective. I also know some of the downsides of the tool, which I will cover here as well.
Jungle Scout Discount 2022
Use the link below to get up to 30% Discount on Jungle Scout!
Purpose of Jungle Scout 
Before we continue this review I feel like it is important to let you know how I use Jungle Scout and what I want out of a tool like this. When doing my product research, and come across a product idea on Amazon, I want to have all required data to determine if this is a suitable product in 1 overview.
So right away, I want to see:
How many sales are the top sellers making?
How many reviews do they have & how is their rating?
Are their listings optimized?
How much fee is Amazon taking?
Is the market seasonal / trendy?
Based on this info I will be able to make a decision if I want to do further research on this product, or move on to the next one. I usually only spend around a couple minutes on this moment, so I can check as many products as possible. Therefore it is extremely important for me to have a tool that can give me all this info right away.
I cover more of this in my product research guide here.
Jungle Scout Features
1). Jungle Scout Chrome Extension
So this is how the Jungle Scout Chrome Extension looks: This screen will pop-up when you click on the Chrome extension when you are on an Amazon page. Below I will cover the features I think are the most important.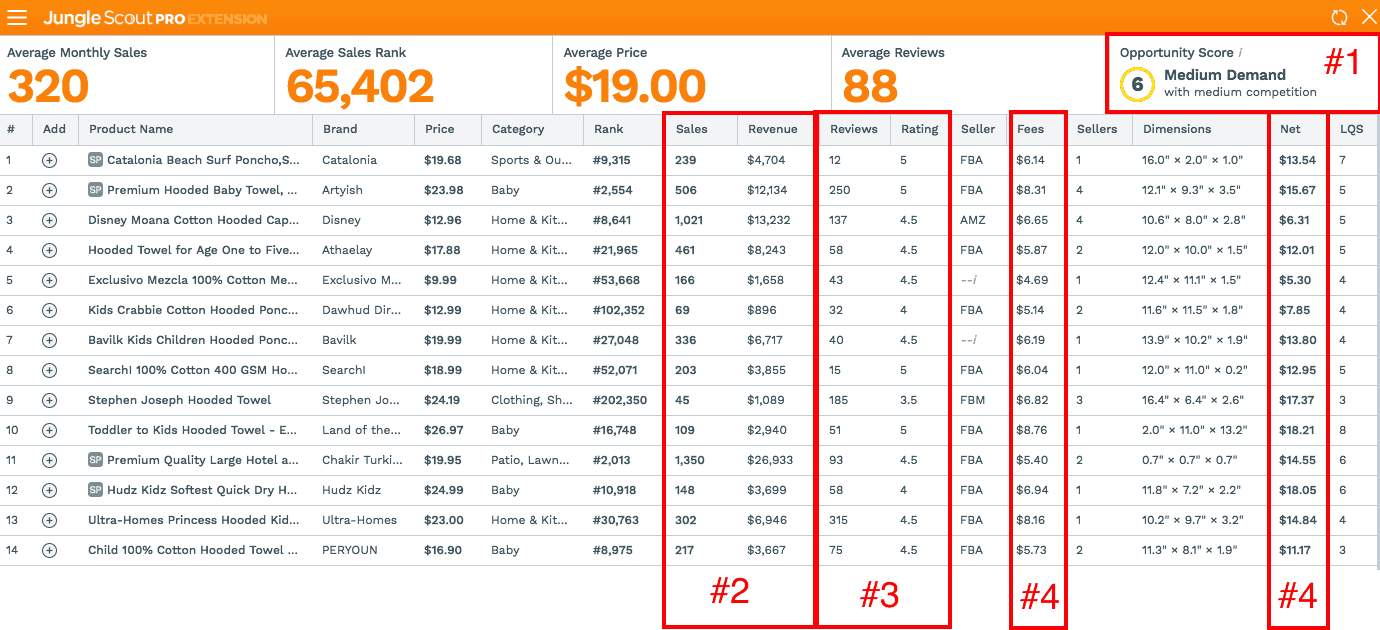 Here you can see the first page results if you search for the term: "Hooded Towel". There is a lot of general information that Amazon will show us as well but also a lot of extra information Jungle Scout provides for us sellers:
Opportunity score: This is JS pretty much doing my job lol. It will straight away tell me if it is a good or bad product with high/low demand & competition. However, I still like to double check this myself with the following steps:
Sales & Revenue: For me the most important info. Right away I can see how many sales & revenue the first page is doing.
Review & Rating: After determining that the niche has enough volume I glance over the amount of reviews & ratings they have.
Fee's & net pay-out: Now that we have established it is a high volume, low competition product, we want to check the profitability. Beforehand I do a price check on Alibaba and know the production cost. So after a quick look at the fee's & net pay-out I can check if I can sell the product with a decent profit or not.
Historical Monthly Sales: I also want to know if it is a trendy / seasonal product. By clicking on the sales numbers. This will pop-up another windows that shows the Historical Monthly Sales.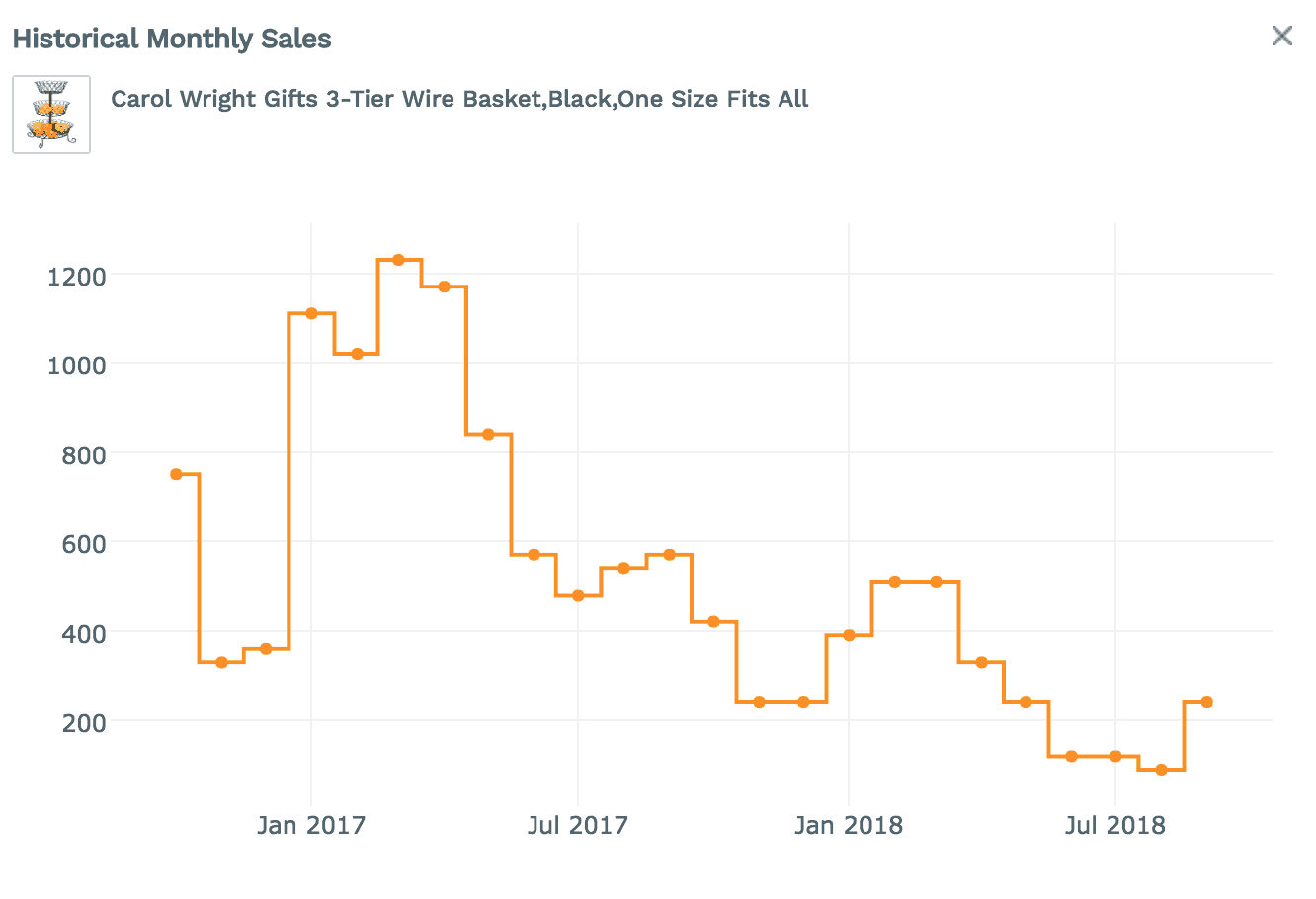 More about the Chrome Extension
Accuracy of Sales Estimator
IMO the sales estimator is the core feature of Jungle Scout. I use this all the time to get an estimate if a potential product is selling or not. So the accuracy of this estimator is extremely important. I always felt this software is pretty accurate, but never really put it to the test. For this review I will take the sales number for some of my own products and compare them to the sales estimator from JungleScout.
| | Actual Sales | Jungle Scout Estimate | Jungle Scout Accuracy |
| --- | --- | --- | --- |
| Product 1 (High Demand) | 483 | 469 | 97% |
| Product 2 (Medium Demand) | 221 | 208 | 94% |
| Product 3 (Low Demand) | 135 | 121 | 90% |
What we conclude from this little test is that Jungle Scout is very accurate on high & medium volume products: 97% – 94% accuracy. However, on low volume products it seems to undervalue the estimated sales by a bit more and has a 90% accuracy. This is probably because this low volume product only have 3 sales per day on average. So some days 0 sales and some days 7 sales, which is very hard to estimate.
2. Niche Hunter (Product Research)
Jungle Scout has a huge database with Amazon products! And you can search in their database with their Niche Hunter tool!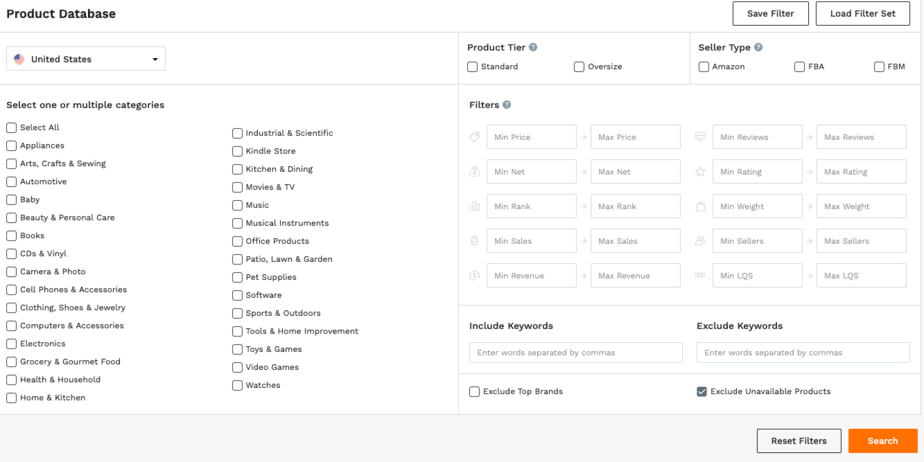 Here you can enter exactly which categories you would like to search & which filter you would like to use.
For example; I like to search for niches with low competition & medium – high demand. So I will enter the following filters:
Min Price: $15
Min Revenue: $3,000
Max Reviews: 100
This simple search will output 26 pages of potential great niches!
You would still have to dig through these 26 pages to find out which of these products are winners and which not. For this I use the Chrome Extension & I have written a more detailed guide about that here.
Need Help with Product Research?
I have a Beginner Product Research Tutorial here.  This tutorial will show you the basic checklist of what to look for when picking the right niche!
I also have an Advanced Tutorial in the form of an E-Book.  Here I will show you 3 unique product research methods I use myself when doing product research!
You can grab a Free Sample of My E-Book if you drop you e-mail below!
[yikes-mailchimp form="1″]
3. Sales Analytics
Once you start selling products you will need to keep an eye on your sales. Amazon offers a very basic business dashboard. However, the biggest disadvantage of Amazon's dashboard is that you are unable to enter your product cost. So you will never be able to see your profit in their dashboard.
Luckily for us, Jungle Scout has their own Sales Analytics that will show you exactly how your Amazon business is doing!
Here you can see my sales analytics from December last year (my best year of the month).
Of course you can also get a more detailed view how each product is doing:
Here you can see a detailed overview about how much cost each product has. You can also enter custom costs and even evaluate your PPC campaign.
4. Marketing: E-mail Campaign & Promotion
One of the best marketing tools on Amazon is reaching your customers with an e-mail campaign. With the Jungle Scout tool you can create e-mail campaign that are automatically send to your customers X days after the product has been delivered. This way you can capture the perfect moment to ask them for a review, which will boost your sales & conversions!
Promotions: Boost your Product Launch
In order to generate your first couple of sales you can run a promotion. With a promo you offer your product for a huge discount to potential shoppers. Create the promotion is something that can easily be done in Amazon Seller Central. However, the hardest part of this strategy is finding the right kind of customers, who are interested in your discounted products!
Jungle Scout will help you with this. They have a huge platform of shopper who are looking for discounts. All you have to do is enter your product info and approve the shoppers to give them a promo code.
This feature was previously a standalone tool offered as: JumpSend.
More about Promo's & E-mail Campaigns
5. Keyword Scout
As an Amazon seller you always want to find out about more keywords & search terms that customers might use to find your products.
For example, for our Garlic Press product you would think that customers will always use the term: Garlic Press. But people also use terms like: "Garlic Mincer, Galic Chopper, Garlic Slicer, Garlic Grinder, Masher,Garlic Cutter.
How do I know that people also use there search terms? Well because these are the results I get after using Keeyword Scout:
You can also enter your competitors ASIN and the tool will do some reverse engineering to find out what keywords they use to attract customers!
Jungle Scout UK
Yes! Jungle Scout also works on the UK market: Amazon.co.uk. It will work on all European marketplaces, and also some other major Amazon markets:
Amazon.com (US)
Amazon.co.uk (UK)
Amazon.de (Germany)
Amazon.ca (Canada)
Amazon.fr (France)
Amazon.in (India)
Amazon.com.mx (Mexico)
Amazon.it (Italy)
Amazon.es (Spain)
See below for the Garlic Press niche on Amazon UK:

Make sure to use our Jungle Scout Discount Coupon!
Conclusion
Pro's
Amazing all-in-one tool for Amazon FBA sellers
Very accurate sales estimtes on medium – high volume products.
Great support & free resources.
They offer all extra tools you need to run an Amazon Business
Currently #1 leading as Amazon Tool.
Con's:
The Chrome Extension is not that accurate on low volume products.
The Chrome Extension only works on Chrome ( I guess that makes sense lol ).
So yeah, I am a big time user of Jungle Scout and will continue to do so until a more accurate tool comes around.
Pricing
Jungle Scout is available in 3 plans:
Basic: $39 per month: Full access to the Jungle Scout extension but only 5 searches per day with the research tools.
Suite: $49 per month: Jungle Scout Chrome Extension + Unlimited searches with the product research tools + Review Automation + Access to historical product & keyword data.
Professional: $84 per month: Same features as Suite plan + track up to 1000 ASINS + more historical data.
Jungle Scout Discount Coupon Code 2022
Use the link below to get 30% Discount on Jungle Scout!
Jungle Scout FAQ
Is Jungle Scout worth it?
Yes, Jungle Scout is 100% worth it!
Finding the right product is the most important thing of your entire Amazon FBA business. Having the best tool available to help you in this process is the best thing you can do!
Is Jungle Scout Free?
No, Jungle Scout is not free. However, it does offer a 14 day refund period. So you can pretty much use it for free for 14 days and see if you like it or not.
Is Jungle Scout better than Helium 10?
Yes, especially when it comes down to product research: Jungle Scout is much better than Helium 10 in finding product to sell on Amazon.
Jungle Scout simply has a much bigger product database and a much high accuracy.
Is there a Fee Jungle Scout Alternative?
Yes, Unicorn smasher is a free Jungle Scout alternative. However, it has a huge error margin, which means it is not very exact in estimating sales. Since estimating sales & product research is the most important thing with FBA, I would not recommend this. Invest in quality tools and you will see the results!
Is there a Jungle Scout Free Trial.
Yes, Jungle Scout offers a 14-day money back guarantee. So you have try Jungle Scout for 14 days a sort of a trial period.