Before you start selling on Amazon you will have to make a very important decision: What am I going to sell? You can't just randomly pick a product and hope that it will start to sell.
Luckily there are loads of Amazon product research tools that can help you with this. The most used Amazon FBA tool is: Jungle Scout!
Jungle Scout is a great tool to do your market research & find new products to sell on Amazon. However, it is always good to have alternatives so you can compare Jungle Scout versus some of their competitors.
In this post I will show you the best Jungle Scout alternatives and show you exactly how they differ from each other.
Top 8 Jungle Scout Alternatives:
List updated: September 2023.
There is even a Free Jungle Scout alternative on the list!
I will judge the top Jungle Scout alternatives on 4 points:
Accuracy
This is the most important aspect of a product research tool. How accurate are the sales estimates? I will be using 1 of my own products to test this.
Price
Speaks for itself.
Features
Most of these tools have a lot more features than just product research. You can pretty much manage your entire FBA operation with some of these all-in-one tools!
Free Trial
I advise everybody to test out all the tools that have a free trial. This way you can test them out yourself and pick the one you like the most.
Jungle Scout Alternatives Comparison Chart
Jungle Scout Features Comparison Chart
1). Helium 10 vs Jungle Scout
I have written a longer review about Helium 10 here. And I longer Jungle Scout vs Helium 10 comparison post as well.
Chrome Extension Accuracy
I did a test on my own product to see how accurately these tools can estimate sales.
My product sales: 405
Jungle Scout estimate: 385
Helium 10 estimate: 389
Jungle Scout Accuracy: 95%
Helium 10 Accuracy: 96%
I was quite amazed to find out the Helium 10 is more accurate than Jungle Scout! Both tools underestimate a little bit, but I am fine with that as I rather have a tool underestimate than overestimate. IMO Helium 10 is the best Jungle Scout Alternative.
Helium 10 Features
Just like Jungle Scout, Helium 10 is an all-in-one Amazon Tool. This means it pretty much offers everything you will need as an Amazon seller!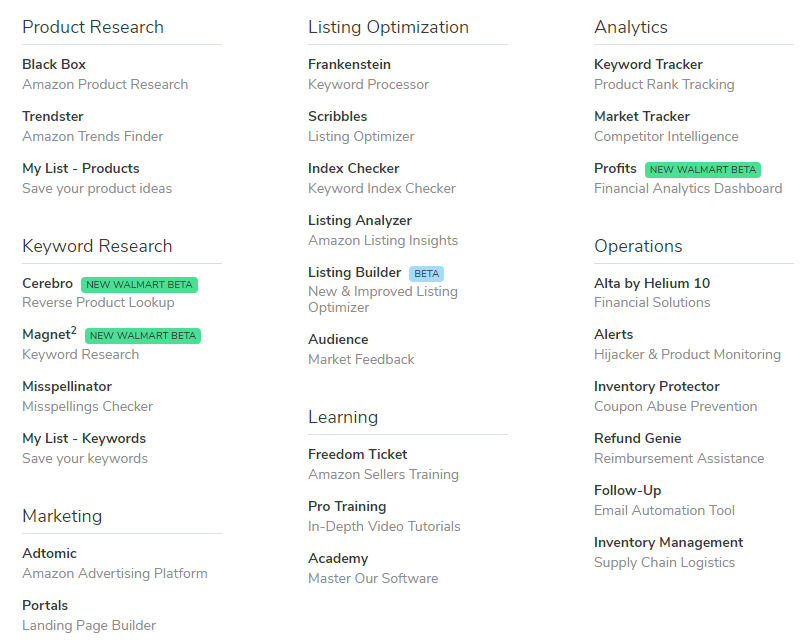 Product Research
Helium 10 offers both a Chrome Extension (Xray) & WebApp Database (Black Box). This is very similar to what Jungle Scout offers. You can use the Chrome Extension to check sales estimates while browsing Amazon. And use the Helium 10 database to get new product idea's based on your product requirements. This is the most optimal setup when doing product research that I have been using for many years!
Keyword Research
Helium 10 does not have 1, but 3 keyword research tools!
They have a Reverse ASIN lookup function, where you can just enter your competitors ASIN and Helium 10 Cerebro will output their keywords for you.
Magnet is their main keyword tool where you enter your main keyword and Magnet will output a huge list of related keyword.
And at last they also have a Misspelling Checker.
PPC Tool
Helium 10 has one of the most advanced PPC tools out there right now. You can fully automate your PPC campaign based on your desired Bid range & Acos.
Follow-up Emails
In order to grown you reviews you will need to engage with your customers.
That is why it is so great to Helium 10 offers an Email Automation Tool where you can automatically send e-mails to your customers x days after their order!
Sales Analytics
Once you start getting sales it is very important to keep track of how much each Asin is selling and how much profit you are actually making. Helium 10 has a very clean sales analytics dashboard where you can directly view all your stats!
Other features
Refund Genie: Reimbursement Assistance.
Inventory Protector.
Alerts for hijackers & product monitoring.
Product Rank Tracker.
Helium 10 Pricing
Helium 10's cheapest plan is $28,25 per month ( if you pay yearly ).
However, you can get 30% discount with this link!
This will get you:
Full access to their main features:

Product Research Chrome Extension (Xray)
Product Research Tool (Black Box)
Product Trend Finder Tool: Trendster
Keyword Research Tools (Reverse ASIN Lookup & Misspeling Checker)
Listing Optimization Tools

5,000 follow up e-mails per month.
2,500 uses of their Keyword Tracker
150 uses of their Index Checker
Alerts on 300 ASINS.
Freedom Ticket Amazon Training Course ($997 value)
See all features & pricing plans for Helium 10.
Helium 10 Free Trial?

YES! Helium 10's has a free plan which you can use. This plan is the best free Jungle Scout alternative available right now! But you will also have a 30-day money back guarantee on all of their paid plans!
Helium 10 Discount
Yes, there are 2 discount coupons available for Helium 10:
2). Zonbase vs Jungle Scout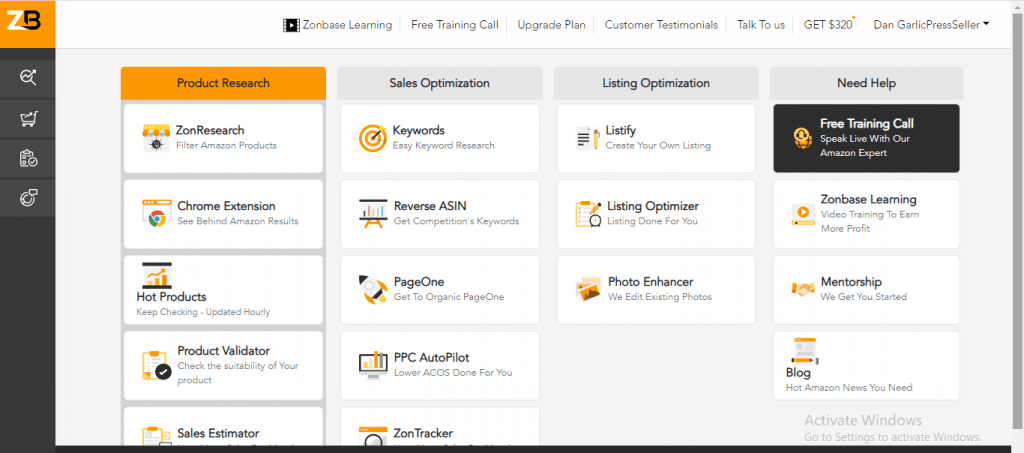 Accuracy
Jungle Scout Accuracy: 95%
Zonbase Accuracy: 81%
Zonbase is not as accurate as Jungle Scout or Helium 10. However, with 81% accuracy they are still more reliable than some of the other Jungle Scout alternatives.
Zonbase Pricing
Monthly fee: $47
Yearly fee: $444 ($37 per month)
Zonbase Free Trial?
YES! Zonbase offers a 7-day free trial! You can just create a free account and try out all their features.
3). AMZScout vs Jungle Scout
Click here for detailed Jungle Scout vs AMZScout Comparison 
Accuracy
Jungle Scout Accuracy: 95%
AMZScout Accuracy: 77%
As you can see from the test AMZScout has an accuracy of 77%. This is not that big of a difference. However, what's dangerous about this is that AMZScout overestimates! Meaning that if you use this tool to estimate how many sales your potential product make, you might find out that it will sell about 13% less than expected!
Price
Monthly fee: $44,99
Yearly fee: $179
Lifetime fee: $299
If you are looking to find your first product, then getting 1 month of AMZscout for $44,99 might be your best bet. It is the cheapest option & very accurate. I think if you are willing to put in the work you will have enough time to find your first product in 1 month.
AMZScout Free Trial?
YES! AMZScout has 15 free uses. No credit card required. This is not a lot so make sure to use them wisely. However, it will give you a good feel of all the features this tool has.
Click Here to try out AMZScout
FAQ
What is the best Jungle Scout Alternative?
For me, Jungle Scout is the best Amazon tool. It has all the features you need as an Amazon seller. However, I understand that everyone like to use the same tool that is why I just showed you all of these Jungle Scout Alternatives.
In my opinion, Helium 10 is the best Jungle Scout alternative. In terms of product research it is just as accurate. And it is just like Jungle Scout an all-in-one tool. So it offer all the tools you need as an Amazon seller.
Right now Viral Launch is the cheapest Jungle Scout alternative. You can just get their Chrome Extension for $17 per month!
Is there a free Jungle Scout Alternative?
Yes, Unicorn smasher is a free Jungle Scout alternative. However, it has a huge error margin, which means it is not very exact in estimating sales. Since estimating sales & product research is the most important thing with FBA, I would not recommend this. Invest in quality tools and you will see the results!
Is Jungle Scout the best tool for Amazon FBA?
Yes, Jungle Scout is the best available tool for Amazon Sellers and a incredible investment.
Finding the right product is the most important thing of your entire Amazon FBA business. Having the best tool available to help you in this process is the best thing you can do!
Is Jungle Scout better than Helium 10?
Yes, especially when it comes down to product research: Jungle Scout is much better than Helium 10 in finding product to sell on Amazon.
Jungle Scout simply has a much bigger product database and a much high accuracy.
Is there a Jungle Scout Free Trial.
Yes, Jungle Scout offers a 14-day money back guarantee. So you have try Jungle Scout for 14 days a sort of a trial period.