Click Here for 35% Discount on Jump Send
How does JumpSend work?
1). Amazon giveaways
If you are a regular reader of this blog you have heard me say this before: Amazon will rank products based on sales. This is quite logical as they want the best selling products on the first page, to generate the most amount of revenue. So when I launch new products my main goal is to get as many sales as possible. Giving away products is an easy way to increase your sales velocity, which will increase your product ranking.
You can give away products by creating discount coupons in Seller Central. How much discount you want to give, is up to you. Most sellers use discount coupons between 50 – 99%.
However, you will then still need to find shoppers to buy your discounted products. This is where Jump Send comes in. Jump Send has a deals page where they display all the discounted products. This page attracts 100,000 bargain hunter, so a great way to give away your discounted products.
2). Follow up emails
Of course, we also want to get those first reviews when we launch a new product. IMO the best method to get reviews is to send your customers a follow-up email. You simply send them an email after they have received your product to find out how they like it and if they would like to leave a review. This method is very effective. Most people really appreciate that you are checking in on them.
How to use Jump Send?
Giveaways / Promotions
Let's first create a giveaway for our new product.
Promotion URL / Keyword rich URL
After we have selected our product we get the option to create a Keyword Rich URL
Honestly, I don't think these links work anymore. But I guess it is nice that they added this feature in case you believe this method works.
Inventory Protection
Now, this is a very important step when dealing with discounted products. You want to have some sort of inventory protection. Please be aware that when you create a 99% discount code, a customer can also decide to purchase 500 units with 99% discount. You can Google this, and you will find horror stories from sellers who had their entire stock being purchase for 1% of the normal price because they messed around with discounted products.
Lucky for us, Jump Send knows this and will give you the option to limit the order quantity when creating a promotion.
Set Discount
Next step we select how much discount we want to give on our products, and how many codes we want to giveaway. It is very important here to use single-use discount coupons when creating the discount in Seller Central.
Manual or auto-approve shoppers
At last, we select if we manually want to approve shoppers who want to buy our products for a discount. Or let Jump Send automatically approve a max amount of shoppers per day.

Email follow up campaign
Let's build an email follow up campaign! After we have selected our ASIN, we will select at what point we want to send an email. We have 4 options:
After a customer purchased your product.
After the product has shipped.
After the product has been delivered.
After a customer requested a refund.
I will select the deliver trigger and send an email 2 days after the product has been delivered. This will give my customer enough time to try out my product and form an opinion about it.
Next, we will create the actual email. Jump Send offer all the functions you need to fully customize your email. You can input auto fill tags, that will be replaced with the buyer's name for example.
Below you can see one of the templates that I use. I have shared more follow-up email templates here.
Bonus tip!
Use images! One thing I have noticed is that people are way more likely to click on an image instead of a boring plain text link. Especially a button or the star image. Just think about it. When you are browsing the web you will probably notice that webmasters try to grab your attention with buttons all the time. Doing a Google search? Hit that Google Search button! Browsing Amazon? Hit that Add to Cart button!
Jump Send offers amazing image support in your email, so make sure to make full use of it!
Downsides
Only works for US & UK.
If you sell on any other marketplace you are out of luck.
No guarantee on reviews.
People are not obligated to leave a review. This service is mainly to increase your sales velocity which will help you rank. If you want to know how to get your first reviews, you should check out my product launch case study.
Doesn't work with all products.
For example, Kindle ebooks cannot be used on this platform.
Opt-out Amazon buyers.
Just like with any newsletter, people have the option to opt-out of emails. This is also the case with Amazon e-mails. From my experience, around 15% of Amazon buyers have opted out from Amazon emails. Please take this into account, that you can't reach these buyers.
Jump Send Alternatives
Jungle Scout has a couple of alternatives. In my first years of FBA, I used Feedbackgenius for my follow up campaign. I have also used Viral Launch before to launch products. Below I will compare these service to JumpSend as an alternative.
JumpSend vs Viral Launch
Reach
Jump Send shoppers database: 100,000.
Viral Launch shoppers database: 350,000.
Countries
Jump Send only works on the UK & US marketplace. However, Viral Launch works on US, UK, Canada, Germany, France, Italy & Spain.
Price
Viral Launch: $400 ( max 1 product ).
Jump Send: $29 per month ( max 3 products ).
Conclusion
Viral Launch is the better platform here. It has a way bigger reach with 350,000 shoppers, compared to Jump Send's 100,000 shoppers. It can also be used in more countries. However, with a $400 per product price tag, you have to have some deep pockets to play around in their platform.
Feedback Genius vs Jump Send
Feedback Genius only offers the follow-up email option. It does not have a database of customers that you can use for giveaways.
They charge a monthly fee based on how many emails you want to send.
JumpSend pricing: $29 per month for unlimited emails. 35% Discount with link below.
Feedback Genius pricing: $20 – $250
Conclusion
So if you are just interested in the email function and want to send a maximum of 1000 emails per month, then your best pick is Feedback Genius. As their basic plan is $9 cheaper than JumpSend. However, if you send out more than 1000 emails, or want to use JumpSend database of shoppers, then your best pick is Jump Send.
Jump Send Pricing
The cheapest Jump Send plan is $29 (or $19 if billed annually), this for sellers who have 3 products or less. The plans go up to $59 (10 products), $99 (25 products) & $199 (100 products).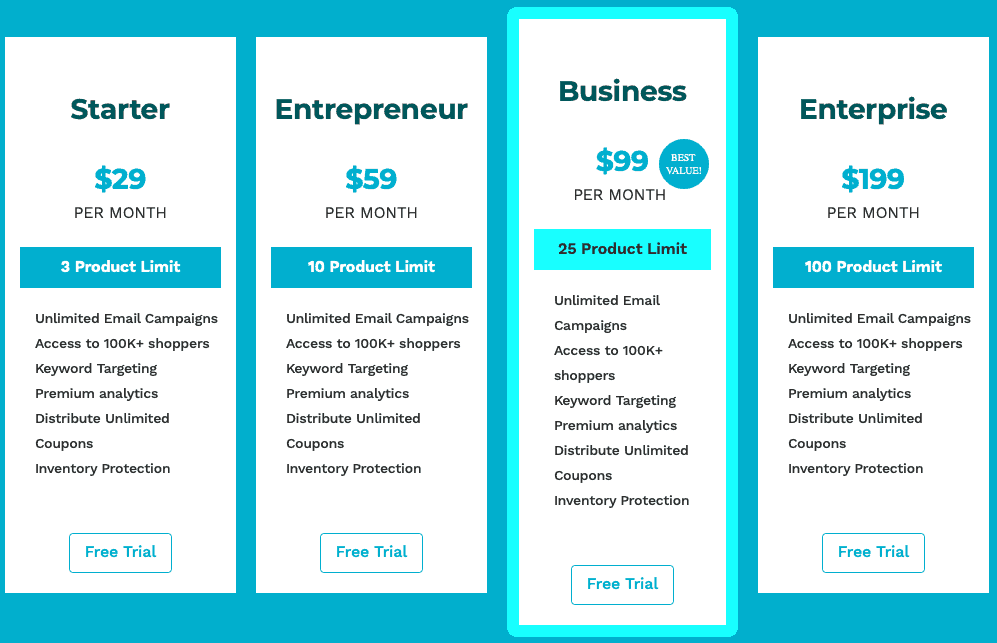 I personally use the Business Plan, but I pay annually which saves me 30%.
Jump Send Discount 2019
If you just want to try out Jump Send you can use the following JumpSend Discount coupon. It will give you 35% on the monthly plans:

Click Here for 35% Discount on Jump Send
Free Trial?
Yes! They offer a 3-day free trial for Jump Send. So feel free to give it a try.