In this post I will show you how to use the most powerfull Amazon FBA tool 100% for free!
I am talking about Helium 10. This tool is used by the biggest Amazon sellers to find the best product niches!
Normally you will have to pay up to $300 per month for such a tool. But I will show you how to get it for 100% free.
Helium 10 Pricing
Helium 10 come with 5 pricing plans:
Apart from these individual plans, there is also an Enterprise plan, aimed at agencies and large businesses.
Helium 10 Discount
Make sure to use a Helium 10 discount coupon to save some $$$!
  Click Here to try out Helium 10
How to Use Helium 10 Free?
Helium 10 is not free to use. However, you can use it for free by signing up for its free trial version. This is a free forever plan but offers limited access to all features. With it, you get:
Black Box – 20 uses
Trendster – 30 days
Xray – 50 launches
Cerebro – 2 uses per day
Magnet2 – 2 uses per day
Misspellinator – unlimited
Scribbles – 30 days
Index Checker – 6 uses
Alerts – 2 ASINs
Inventory Protector – unlimited
Refund Genie – limited
Keyword Tracker – 20 keywords
Market Tracker – 1 market
Profits – 30 days
How to Sign Up for Helium 10 Free Plan?
To sign up for the free trial (free plan), you need to follow these steps:
1. Go to Helium 10's Website
Click this link to go to Helium 10's website.
2. Click on the Sign Up Button
Click the Sign Up for Free button at the top right corner of the homepage.
3. Sign Up to Helium 10
Fill in your details (name and email address), create a password, and tick the box in front of "I agree with the Privacy Policy and Terms & Conditions".
Then, click on the Sign Up button. The app will take you to your dashboard, which looks like this.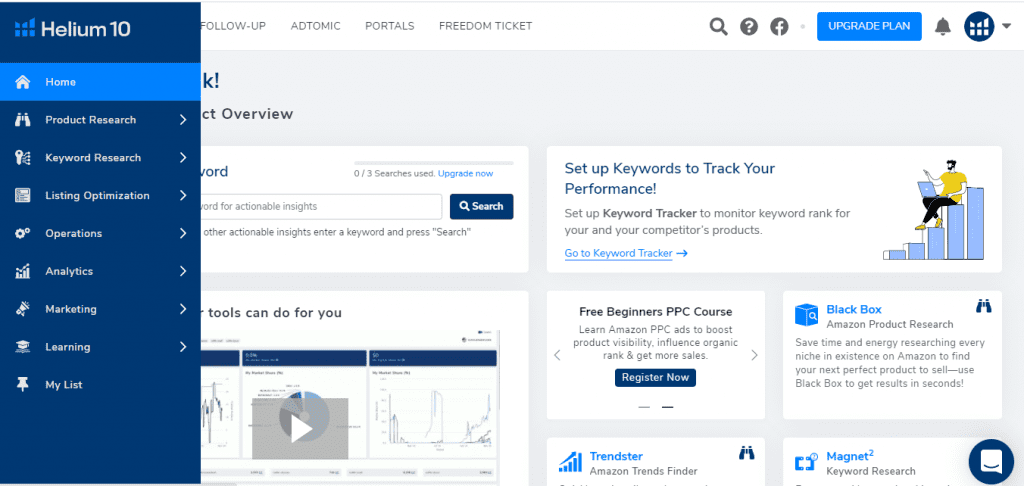 4. Install the Helium 10 Chrome Extension
Once you are signed up for Helium 10's free plan, it's time to install the Chrome Extension. To do that:
Click this link. It will take you to the app on the Chrome Web store.
Click the Add to Chrome button on the top right.
Wait for the extension to download and automatically install on your browser.
Once everything is set and done, you are ready to give Helium 10 a try. Start with product research on Amazon using the Chrome Extension. Here's part of how it looks like!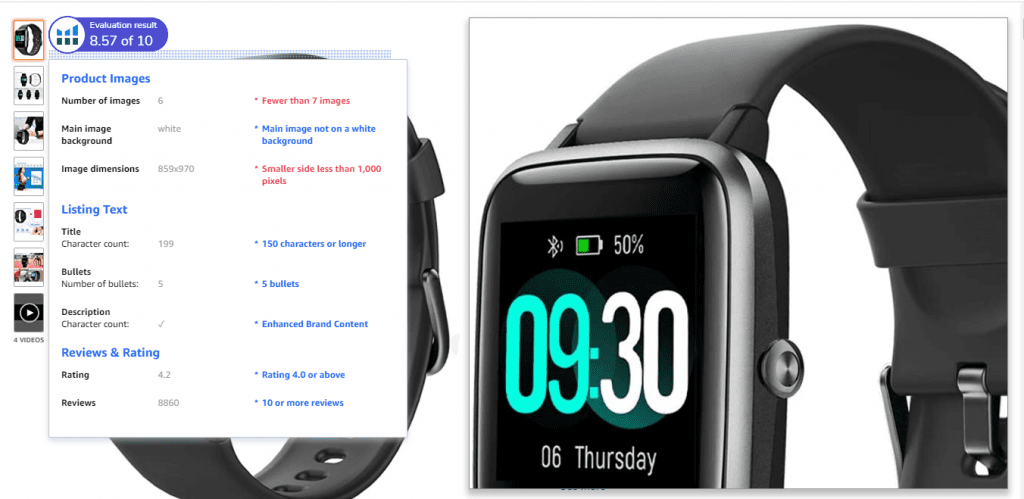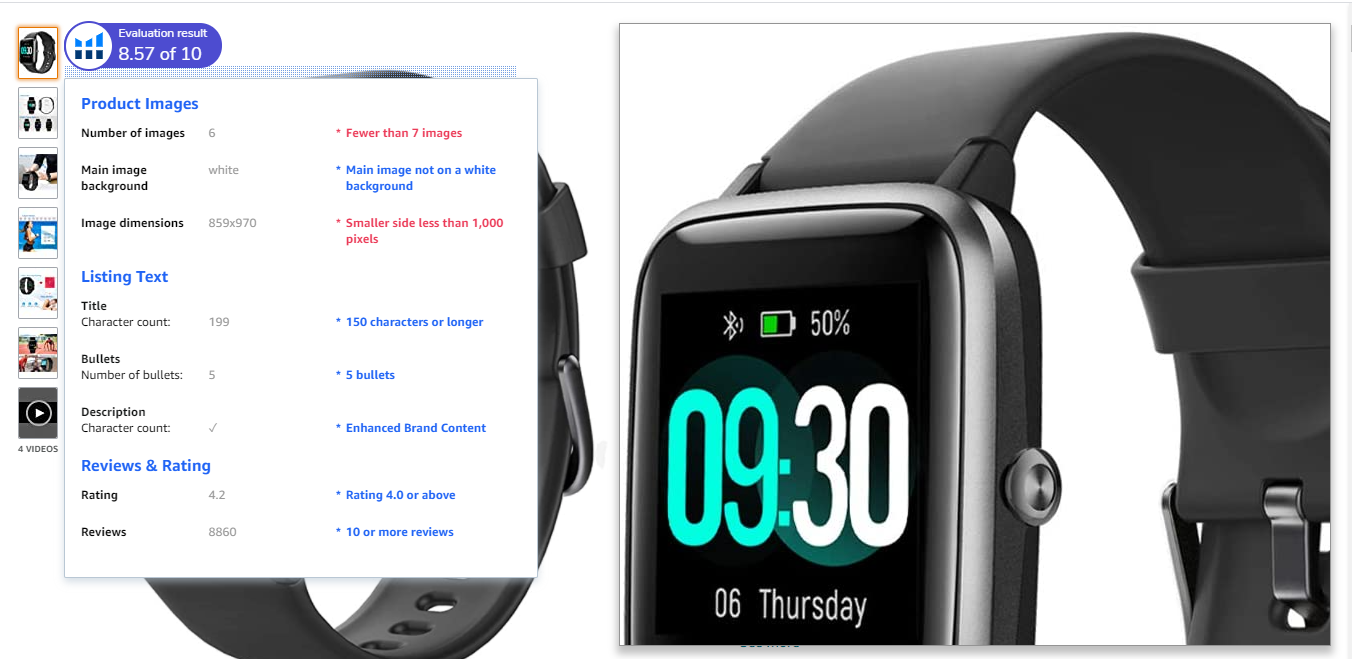 FAQ
1. Does the Free Trial Expire?
No. The free trial is a forever free plan of the software. However, it comes with limited features and limited access to the available features.
2. Can I Use the Chrome Extension with the Free Plan?
Yes, you can, but only for 50 launches.
3. Can I Cancel My Helium 10 Free Plan?
There is no cancel option for this plan because it's forever free and you don't need a credit card to sign up for it. Hence, even if you don't want to use it anymore, you can just log out from your account and disable or uninstall the extension from your browser. No costs will ever be charged.
4. I Need More Features. How to Upgrade to a Higher Plan?
If you need access to more features and get unlimited access to the already available ones, you can upgrade your plan at any time. To do that, follow these steps:
Navigate to the Helium 10 dashboard.
Click the blue Upgrade button at the top right corner.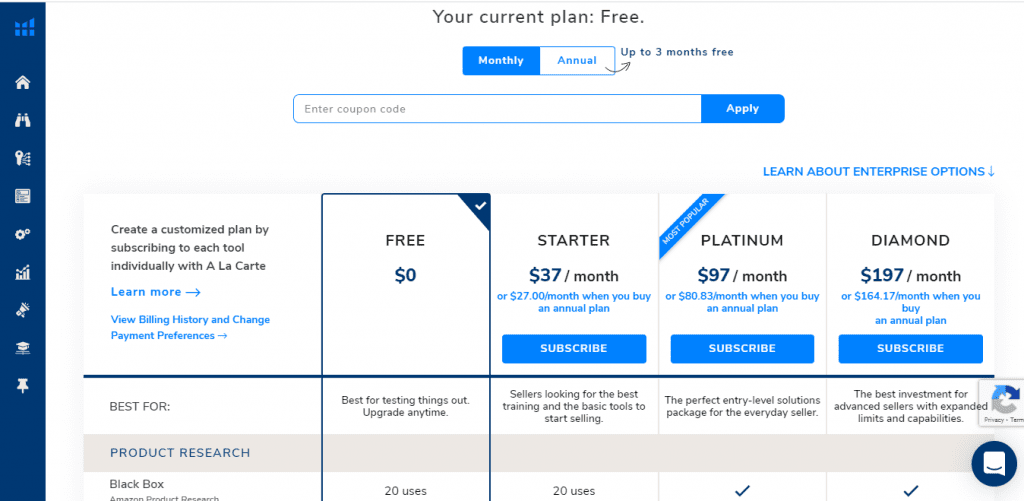 When the plans appear, choose the one that best suits your needs by clicking on the Subscribe button.
Enter your credit card number and click Pay $xx.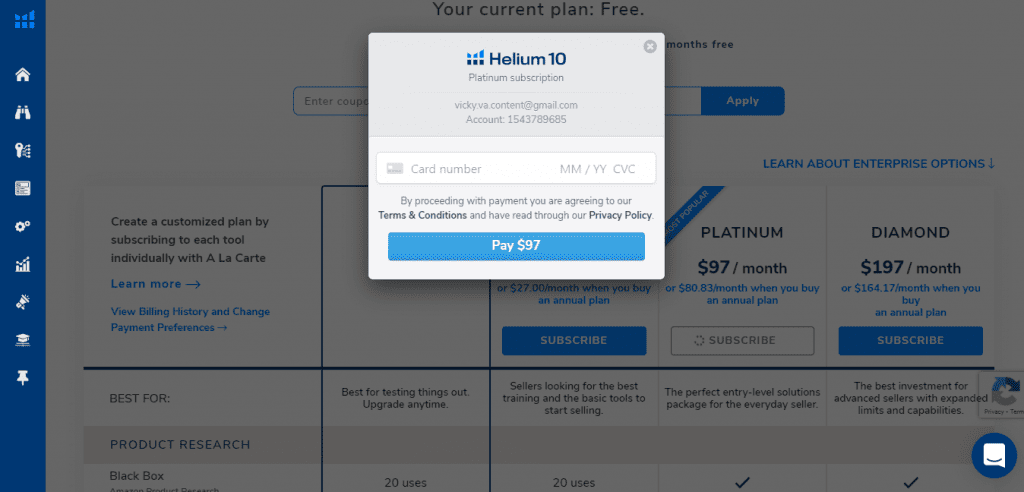 That's it! Now can enjoy all features and benefits of the higher plan and develop your e-commerce business on Amazon.