Launching a new product is hard since you, as the store owner, need to think of various things. From finding the right products to sell to the best keywords to optimizing product listings to marketing your business and more. And, while there is quite a lot of job, tools like Helium 10 can greatly help you out with managing your business.
If you've checked out Helium 10 and read about its features, then you probably know that it comes with a plethora of impressive tools. Among its 25 tools (at the moment of writing), there is its Helium 10  Xray Chrome extension. Free to use and packed with some awesome features, it's definitely a must-try tool for every dropshipping business.
Helium 10 Xray: What Is It?
Helium 10 Xray is a free Chrome extension from the all-in-one product research software. It's a tool that helps you find winning products to sell in your store. Also, it provides you with product insights, sales estimates per each product, and data on consumer demand.
As the company state on their website, Xray can make product launching much easier. It's perfect for Amazon sellers and dropshippers who create their own product listings as it comes with features that can optimize the same.
What we love about this extension is that it's web-based, which means that it's actively working while your browse Amazon for products. It provides you with all relevant data on the product listing, such as listing text, images, and, reviews. It also gives an overall evaluation result of the product. All this is thanks to its awesome features.
Helium 10 Xray Features
Product Research Tool
This tool helps you find the most profitable products for your niche on the market. It provides you with detailed data on each product, including ASIN, brand, price, sales, monthly revenue of your competitors, number of sellers, rating, and much more. You can also find the recently added feature "Review Velocity" which shows you how many reviews you and/or your competitors have gained and lost each month.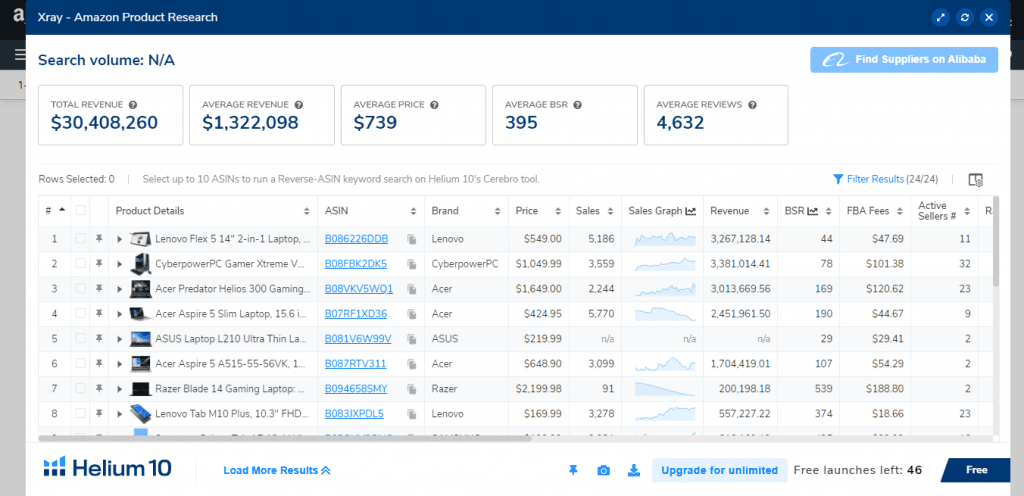 ASIN Grabber
ASINs are essential for easily accessing any product you want. Xray's ASIN Grabber shows you the ASINs of all products within a category and allows you to see which products rank in a specific market.
A great feature of this tool is that it allows you to download all ASINs and export them into a spreadsheet. This comes in very handy when you can't check on certain products every day but still want to save their data for later.
Profitability Calculator
This tool shows you exactly how much you will make by selling a certain product. To use it, you need to enter information such as products' dimensions and weight, price, storage time, freight cost, FBA fees, and a few more. Once all are entered, the calculator will show you the expected profit, margin, and ROI for that product. Hence, this tool will help you decide whether a product is worth investing in or not.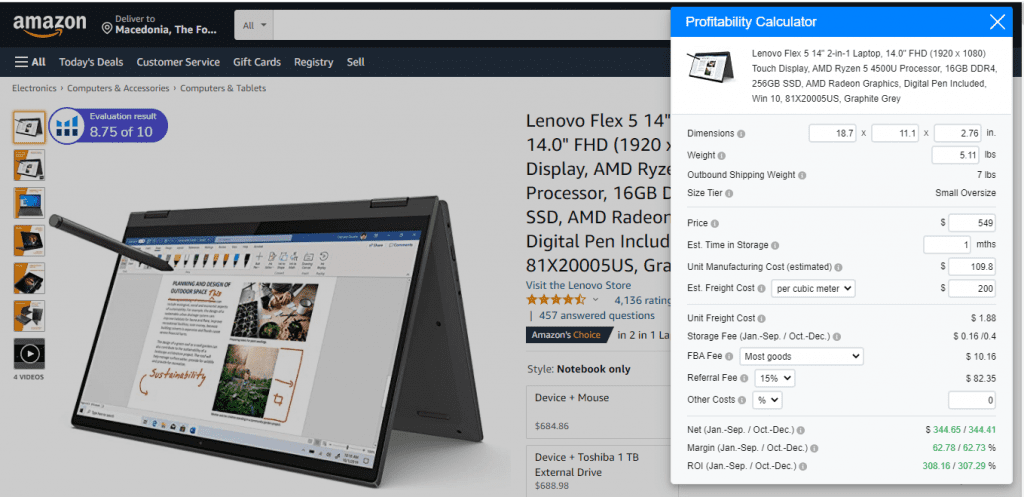 Inventory Levels
As its name suggests, this tool provides you with information about how much inventory your competitors have. Using this information, you will know exactly which product to list and when. Needless to say, you should take advantage of competitors' low inventory and list that product to boost your exposure and sales.
This tool is also useful for those who buy wholesale, retail arbitrage, and for those who sell their own products and want to protect their inventory from hijackers.
Speaking of hijackers, this tool can help you detect them on time. It does that by showing you how much of your inventory is being sold by other sellers. If you notice a seller selling a big amount of your products, you have to deal with them right away.
Review Insights
Reviews are very important for e-commerce businesses since they reflect customers' satisfaction. This directly affects the brand's reputation and future sales. Moreover, they provide users with competitors' reviews. This helps them improve their strategy and gain an advantage over their competitors.
In addition, reviews can help you identify in-demand keywords and insights of a competitors' products. In that way, you will know which keywords to use to rank higher than your competition and will learn about their products' strengths and weaknesses.
However, to read all reviews, you have to manually go through each of them, which will spend your hours. Fortunately, the Review Insights tool does that for you. It automatically finds the reviews based on your criteria (if any applied) and opens them in a new window. If you want, you can export them as an Excel file and save them on your computer for quick offline access whenever you need them.
Speaking of the criteria, you can filter to see specific reviews according to:
Certain timespan
Verified purchases
Helpful reviews
Reviews with images
Reviews with video
Reviews with a certain rating
Reviews with specific keywords
Alibaba Supplier Finder
And, last but not least, we have the recently added feature Alibaba Supplier Finder. This tool helps you find the best and most reliable suppliers from Alibaba and connect with them. You can do that by searching for a product on Amazon with keywords. When you do that, open the product research tool of the extension, and click the Alibaba Supplier Finder Features and you'll see all products matching your keywords. Then, you can click on any product from the list and it will take you to the product's page on Alibaba from which you can contact the supplier.
What makes Alibaba a great dropshipping source is that their products come at extremely affordable prices. Plus, they have fast shipping times, unlike AliExpress.
How to Use It?
Using Helium 10 Xray Chrome extension is very easy. All you have to do is download it from the Chrome Webstore. Upon downloading, it will automatically install in your browser.
To activate it, you have to go to Amazon and either search for a specific product or simply browse the landing page. As soon as products are displayed on the screen, Xray will give you relevant information above each product.
To access the tools, you simply need to go to the upper right corner of your browser and click on the extension. It will open the menu from which you can choose the tool you need.
Helium 10 Xray Chrome Extension Alternatives
Xray is the perfect Chrome extension for every serious Amazon seller since it comes with all tools you need to find the right products and grow your business. However, if you'd like to try other tools before committing to one, there are a few good alternatives.
Jungle Scout Chrome Extension
Here's one of the biggest competitors of Helium 10 Xray. This extension does pretty much the same as Xray when it comes to providing product insights and details.
How Jungle Scout differs from Helium 10 Xray is that it provides an opportunity score for each product based on the product's demand, listing quality, and competition. It also comes with a feature that allows you to send product review requests to your buyers with one click. Moreover, it helps users optimize their product listings by providing them with keyword volume and Google Trend reports.
However, its power and glory come with a price of $29/month for the basic package which is limited. For more features, you have to choose the Suite plan – $49/month or the Professional plan – $84/month.
AMZ Scout Pro
Coming from Amazon Jungle Scout, this extension promises powerful product research. It does pretty much the same Xray does, showing product details and insights.
What makes it different from Xray is that it helps users optimize their listings without the need to go the mother tool. It does that by performing listing quality analysis and providing the main product keywords.
However, this tool isn't free to use, only has a free trial of 15 niche searches.
Viral Launch Chrome Extension
Viral Launch Market Intelligence Chrome extension is yet another amazing product research tool for Amazon sellers coming from Viral Launch. It's very powerful and provides in-depth Amazon analytics.
Using this tool will not only help you find winning products but will also give you billions of Amazon data points for ultimate advantage over your competitors. Plus, it will help you find undiscovered and low-saturated products so that you can grow your business.
However, this extension can't be used on its own as it comes integrated with Viral Launch. Therefore, you have to purchase one of the plans with the basic being $69/month.