Selling on Amazon is a process that requires hard work and using the right tools. By "right tools", we refer to the all-in-one tools that can help you with your work. They are usually product research tools that also allow you to track your sales, inventory, the market, trends, help with promoting your products, and even spy on your competitors.
There are many all-in-one tools available on the market, but it seems that Helium 10 is leading the way. Of course, that doesn't mean it works the best for everyone. That's why we give another great option – Sellics.
In this review, we look at their features and compare them to see their similarities and differences. We hope this will help you choose the right tool for your Amazon business.
Helium 10 vs Sellics: The Basics
Helium 10 is an all-in-one product research tool for Amazon sellers. It claims to provide users with everything they need to sell on Amazon and more. And, it really does!
It comes with a plethora of features that make running an Amazon business easier; from product research to keyword research, from listing optimization to marketing, and more. All its features ensure the seller has everything they need to start selling on Amazon and succeed.
Sellics is also an all-in-one tool but for advertising. It comes with many features that can help you with advertising, optimization, and increasing your sales. It is the tool you need when you want to market your products and skyrocket your sales.
Helium 10 vs Sellics: Features
Now that we've defined both tools, it's clear that they don't have much in common, except that they both come with a plethora of features that can help sellers get more sales. To better understand and compare them, let's take a look at the features each tool offers to users.
Helium 10
Helium 10 is a true all-in-one Amazon tool because it contains A LOT of features grouped into 8 categories: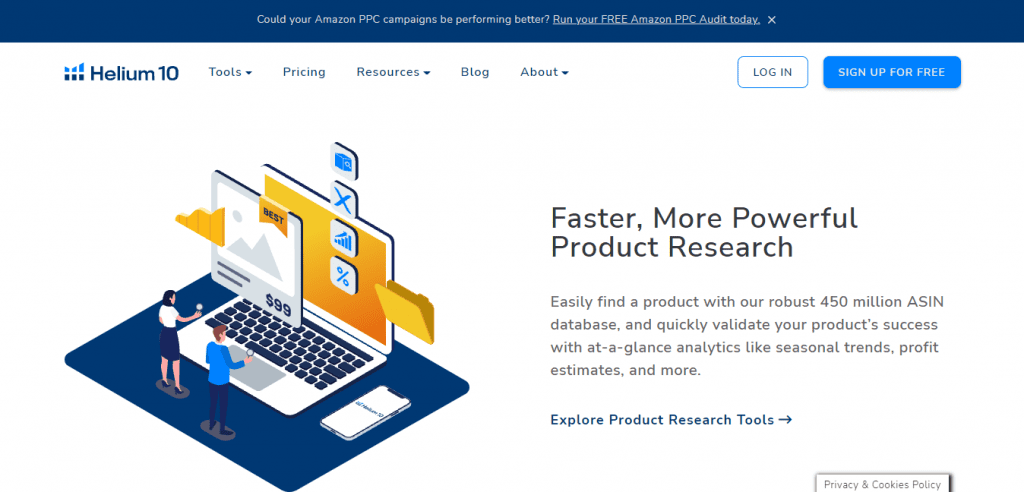 1. Product Research
Helium 10 comes with 4 product research tools. There is Black Box, the main product research tool that helps you find winning products. Then, there is Trendster, which shows the selling trend of each product you're interested in. That means it shows you when the product is in demand; is it throughout the year or seasonally. Also, there is the Profitability Calculator, which shows you if a product is profitable or not. And, of course, we have the Helium 10 Chrome Extension which helps you find profitable products to sell and provides you with all essential data.
2. Keyword Research
Keywords are essential for ranking on the Amazon search results page. They work the same as in website SEO. Helium 10 ensures you find the perfect keywords with Magnet and do reverse ASIN keyword research with Cerebro. Also, it ensures your products get to the Amazon search results page even when the user has misspelled the keyword(s) thanks to its Misspellinator feature.
3. Listing Optimization
We know that doing research and using the right keywords is nothing if your product listing isn't well written. To prevent that from happening, Helium 10 has several listing optimization features:
Frankenstein – the keyword processor
Scribbles – the listing optimizer
Index Checker – the keyword index checker
Listing Analyzer – provides you with Amazon listing insights
AudienceAmazon – the split testing tool
4. Operations
Taking care of everything related to your store is time-consuming. But, you don't have to worry about that because Helium 10 offers tools that speed up a great part of the operations. There are tools that take care of managing your inventory, automatize client's refund, protect your seller account and products, automatize your email campaigns and review requests, and prevent coupon abuse. And, to give you the freedom to work from wherever you are, there is a mobile app.
5. Analytics
We know that one likes analytics and trying to figure out what those numbers mean, but we need them. They show us where we stand at the moment in the market, how much profit we make, and how we rank for our keywords. Knowing these things not only shows us our current position on the market or in our niche but also what we need to improve.
6. Marketing
Although Helium 10 isn't a marketing-oriented tool, it does offer a few tools to its users. The first one is Portals, an easy-to-use landing page builder that allows Amazon sellers to create lovely and catchy landing pages for their products, ads, or campaigns. The other one is Adtomics, an AI-powered Amazon advertising platform that helps maximize ROI and minimize the time spent on PPC.
7. Finance
You don't have to be a certified accountant to be able to take care of your finances. Helium 10 gives you Alta – the all-in-one financial solutions and services tool. With it, you can take control of all your finances from one place; from getting paid to getting a credit to fund your business to paying suppliers and more.
8. Free Tools
And, last but not least, Helium 10 offers several free tools to users:
Amazon Keyword Research
Chrome Extension
URL Builder
QR Code Generator
PPC Audit
Sellics
Sellics offers 1-click automation and monitoring services for Amazon PPC. Thus, it saves lots of time, boosts your advertising efforts, and makes the most of your PPC campaigns. And, best of all, you don't have to have any experience in Amazon advertising since Sellics does it all for you.
This tool, like Helium 10, comes with a plethora of incredible features. They range from simple advertising services to AI optimization to SEO and more.
1. Advertising
Sellics is a cutting-edge Amazon advertising software that takes of all things advertising-related. It automatizes your bidding, finding keywords, and the entire PPC process. In that way, it helps you maximize revenue, decrease ACOS, and boost visibility.
2. AI Optimization
With the AI-based algorithm a.k.a Autopilot, Sellics fully automatizes and optimizes advertising on Amazon. It combines revenue, sales forecasts, keyword clustering, product seasonality, and other factors to do that.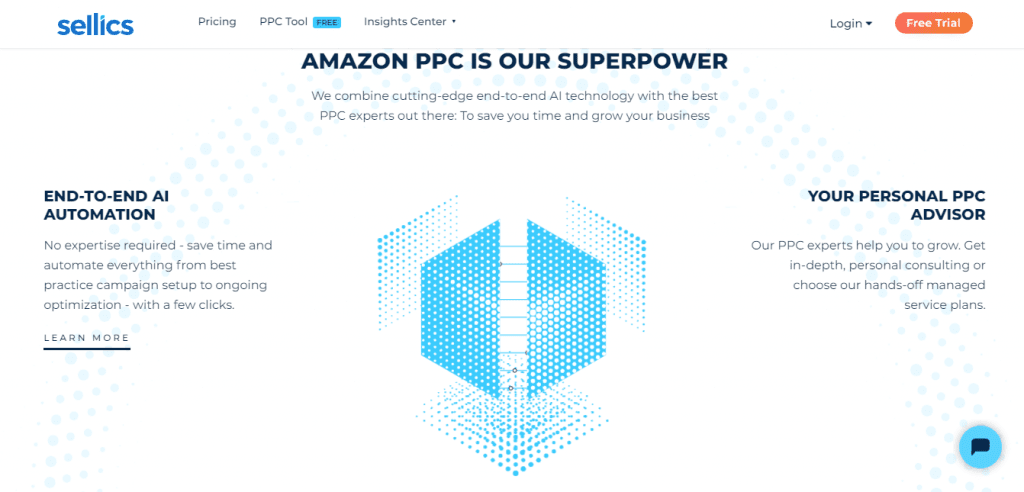 3. Profit Tracking
All your advertising efforts are in vain if you don't make any or a small profit. Sellics makes sure it doesn't happen to you with its profit tracking feature. Using it is so easy: just add your costs and integrate your advertising and organic activities and you can start tracking your profit in real-time.
What makes Sellics' Profit tool special is that it combines your profit and PPC data to provide you with the most accurate profit you make. Also, it allows you to see data for multiple markets and marketplaces as well as integrate multiple Seller Central accounts. Additionally, you can change your VAT and CoGs whenever you need to and export all data in bulk or separately.
4. Sellics SEO
In order to sell your products, your store needs to be visible on the market. While it's hard to beat the bigger competitors, with Sellics you can do that without much trouble. Its SEO tool optimizes your product listings, finds the best keywords, keeps your content live on Amazon, and monitors your ranking.
5. Reviews Management
Reviews are super important for every business, especially e-commerce. They affect your sales and rank and lower your profit and buyer's trust. That's why you need to act fast and try to learn from them and improve as well as act on time to keep your customers.
Sellics provides you with customer reviews from one place, thus improving your chance of conversion and keeping the customers happy. With the Reviews Management tool, you get live alerts for reviews, can respond in no time, and understand what are customers satisfied and unsatisfied with.
6. Mobile App
Having in mind the hectic life we live, Sellics have also developed a mobile app that allows you to keep up with your sales and profit on the go.
7. Free Tools
Sellics offer several free tools to users, including:
Sellics Benchmarker – analyzes and evaluates your PPC campaigns.
PPC Grader for Amazon – automatically grades your Amazon PPC performance to help you optimize your ads.
Sonar Amazon Keyword Tool – allows you to find the best-performing keywords, improve SEO, and boost product listing visibility.
Agency Directory – a pool containing all companies that can work with Sellics. You can hire one to help you with your business.
8. Extensive Resources
What we really like about Sellics from a seller's point of view is their extensive resources. They feature a blog with guides about Amazon advertising, Amazon PPC, Amazon ACOS, and Amazon SEO. Also, there is a help center for sellers and vendors/agencies. And, you can find many webinars and case studies to learn from.
Helium 10 vs Sellics: Pricing
Helium has 5 pricing plans:
Starter – $37/month
Platinum – $97/month
Diamond – $197/month
Elite – $397/month
Enterprise – custom solution for large companies
Sellics, on the other hand, comes with 3 pricing packages:
Sellics Benchmarker – you get this tool for FREE
Advertising Advisor – with this option you get the software platform plus an advisor
Managed Services – this option offers full-service management for companies who need someone to do all the work for them.
Looking at these two tools, it's clear that they are different and so are their pricing packages. Helium 10 is the winner here because it's much more affordable. Of course, if PPC and paid advertising are what you need, Sellics may be the right choice for you.
Helium 10 vs Sellics: Difference
Helium 10 and Sellics are incredible tools that help Amazon sellers achieve their goal of selling more and scaling their e-commerce business. However, they are completely different.
Helium 10 is an all-in-one tool that focuses on "creating" the store by finding winning products and optimizing the product listings. It has lots of amazing features that provide the user with everything they may need for their business. It works as a product research tool, listing optimizer, account protector, marketing agent, and much more.
Sellics, on the other hand, is an all-in-one advertising and PPC software. It focuses on optimizing ads and turning each campaign into a high-performance one. It's based on AI technology to help even novice Amazon sellers achieve their goal of making more sales and profit. Unlike Helium 10, which offers several types (categories) of tools, Sellics offers only one and that is advertising. Yes, it's all about advertising and that's what makes it so successful.
Another difference to keep in mind when choosing between the two is that Helium 10 is created and aimed at smaller businesses and solopreneurs. On the other hand, Sellics is aimed at large companies who already have winning products but need to stay ahead of their competitors.
Which Tool to Choose?
This question isn't ours to answer because it all depends on your business and needs. Namely, if you are just starting out or work alone or with one or a few other people, Helium 10 is the right choice for you. As already mentioned, it has everything you need to start and develop your business. On the contrary, if you are an established large business or agency and you need to improve your advertising and be more visible, Sellics is the tool you need.
So, which one are you going to choose?