Selling on Amazon offers you a chance to earn six figures from your home or wherever you work from. However, the competition in this marketplace is enormous, with each seller chasing the six-figure profit. And, with nearly 2 million active sellers, standing out from the competitors is really hard.
If you're also chasing the dream of earning a lot, you need to choose products with low competition and high demand. For this, you need a great product research tool. While there are many awesome product research tools out there, in this article, we compare AMZScout vs Jungle Scout. Both of them are very popular and seem to provide sellers with exactly what they need – winning products that bring good profit.
Let's check them out!
AMZScout vs Jungle Scout: Whare Are They?
AMZScout and Jungle Scout are two of the most popular Amazon product research tools on the market. They are both all-in-one product research tools that come with a variety of features. They focus on searching for low-competitive high-demand products but also offer tools for building and optimizing product listings. And, they use the same brand colors (orange and black).
Nonetheless, they differ in the way they work, their features, focus, and accuracy. For instance, AMZScout is all about product research and in-depth sales data offering only a few product listing tools. On the other hand, Jungle Scout has a more balanced approach. It also focuses on product research with about half of its tools serving for finding winning products and providing sales data. However, it also offers tools for building and optimizing product listings, managing inventory, and marketing.
AMZScout vs Jungle Scout: Features
Both tools come with a variety of tools that allow sellers to search for products and find the right keywords to use in their product listings. However, some of their tools are completely different, which makes AMZScout and Jungle Scout not suitable for the same sellers.
To better understand their similarities and differences, let's compare their features!
Product Research
AMZScout
AMZScout comes with a few powerful product research tools that allow sellers to find the right product(s) to sell in their Amazon store.
Pro Extension
The main one is the PRO Extension, a Chrome and Edge extension that comprises a few tools, including Product Finder, Keyword Tracker, and Reverse ASIN Lookup. The Product Finder provides you with detailed data for each product in seconds. Using this tool, you will see the product's brand, score, rank, price, FBA Fees, net margin, estimated sales, estimated revenue, rating, and more. Moreover, you can add products from the Product Finder to the Keyword Tracker and Reverse ASIN Lookup. And, while there's a lot of data, the extension is easy to use because the data is neatly presented in a table.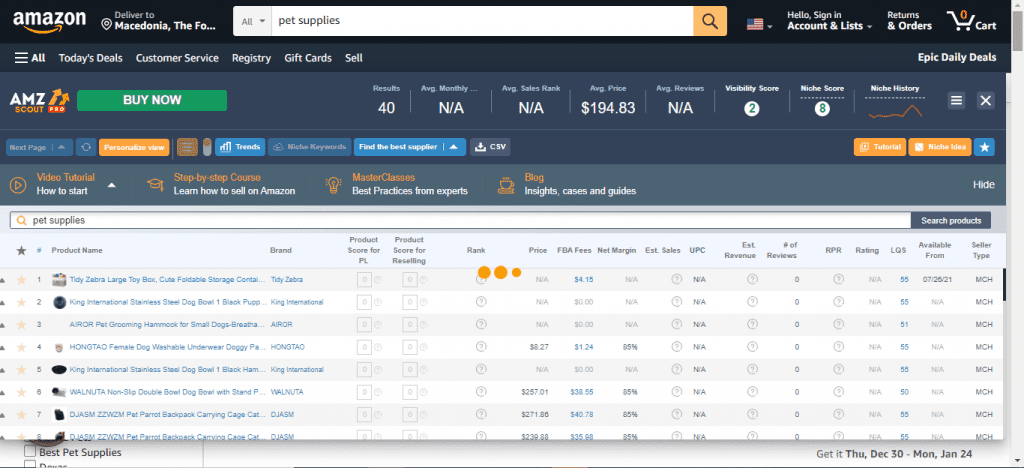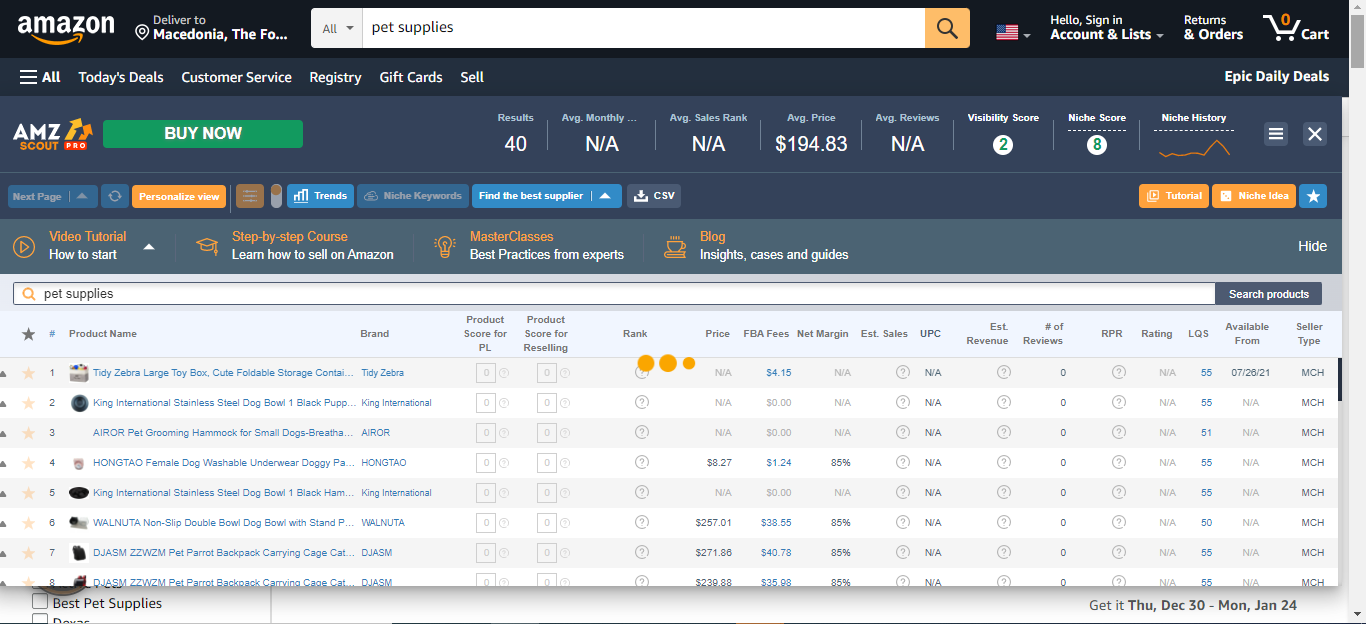 Quick View
Also available as a Chrome Extension, this tool provides you with all essential data per each product while browsing such as BSR and its history, the best keywords, sellers, ASIN, size, weight, price history, and much more. Moreover, you can compare products directly from Amazon so that you can choose the right product to sell in your store.
Amazon Dropshipping and Arbitrage
Yet another Chrome extension, Amazon Dropshipping and Arbitrage helps you find winning products by showing you crucial data per each product. It shows you if there are any special permissions a product must have or lacks, current Buy box price, the minimum price for FBA and FBM sellers, Amazon fees, the profit and margin you'd make per product, ROI, and more. The best about this tool is that it does all that in no time. Thus, it saves you A LOT of time, reduces your effort on finding winning products, and saves you the money you'd spend on additional product research tools.
Jungle Scout
Jungle Scout also comes with a few powerful tools that help users identify low-competitive high-demand products.
Jungle Scout Extension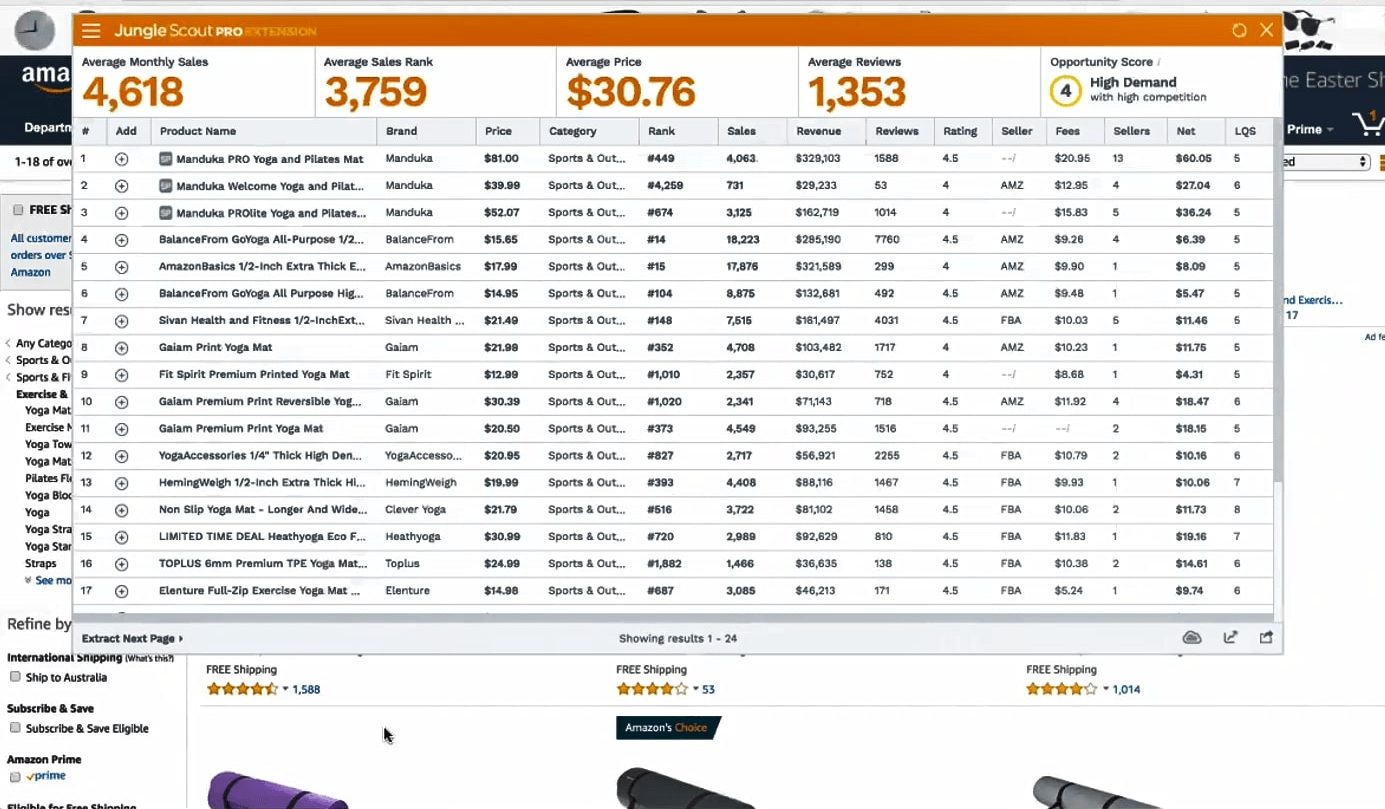 Product research and validation is a piece of cake with Jungle Scout's extension. This tool is compatible with Chrome and Firefox and helps you find potential products, validate product ideas, forecast sales, request reviews, and more. It shows you detailed data on each product, such as its demand, competition, estimated profit, monthly sales, price, fees, and more.
Additionally, you can directly add products to the Product Tracker and the Keyword Scout tools with a single click, decide whether a product is worth investing in or not using historical data and its Opportunity Score. And, you can request reviews from customers as well as export product reviews from Amazon.
Opportunity Finder
This tool is perfect for all first-time Amazon sellers because it gives them an idea of which niche to choose. It provides profitable niches by using high-demand low-competitive keywords. Moreover, it shows historical data on the demand of a keyword, the average number of sales, average price, suppliers' details, seasonal trends, and search volume.
There is also the Niche Score metric. This tool predicts the success of each keyword on Amazon. And, there is the list of top products per niche. You can add these products to the Product Tracker to ease your product research, track a products' demand and competition, and spy on your competitors.
Category Trends
This is a new product research tool, which tracks the top 100 products of each category and subcategory on Amazon. It analyzes the historical performance of the products and provides you with metrics like rating, rank, review, and price. In this way, it helps you choose and validate product ideas.
Product Database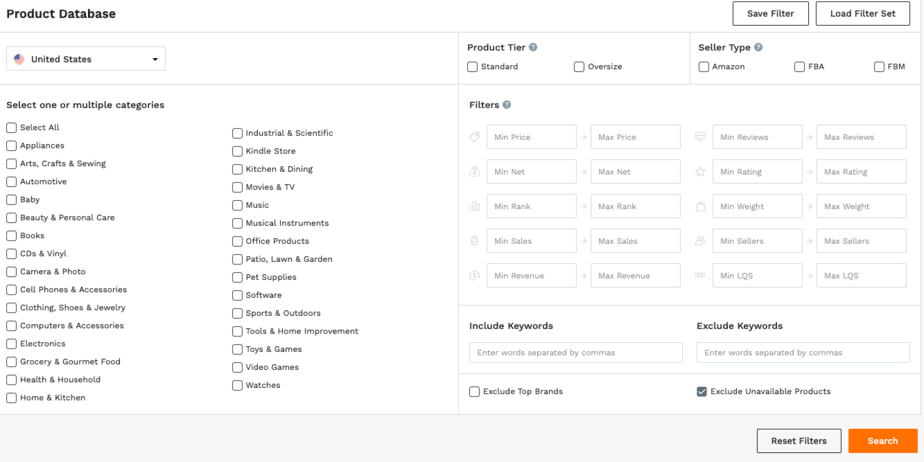 Both AMZScout and Jungle Scout feature their own Product Database. However, they work completely differently. What AMZScout's Product Database does, Jungle Scout's doesn't, and vice versa. So, let's see how they differ.
AMZScout
AMZScout's Product Database is more like a product research tool rather than a database containing products. It reminds on a browser as it allows you to insert a keyword to search for products. It's very easy to use and provides you with results within seconds.
What we like about this tool is that you can use filters to narrow your research, yet find the exact types of products you're interested in. Use filters like category, estimated sales, estimated revenue, number of sellers, rank, and more to define the product you'd like to sell in your Amazon store.
Jungle Scout
Jungle Scout's Product Database, on the other hand, is an actual database that contains 475 million products directly pulled from Amazon. What we love about this database is that is searchable, which means you can use a keyword (or more) to find products. Moreover, you can sort them by category, estimated sales, revenue, sales rank, and other filters to get products that match your preferences. And, you can calculate Amazon fees with the built-in FBA Profit Calculator.
Product Tracking
Product tracking is a smart way to validate if a product is worth investing in. All good product research tools must have this feature because it allows users to monitor the performance of specific products on the market. Fortunately, both AMZScout and Jungle Scout have it in their army.
AMZScout
AMZScout's Product Tracker allows you to monitor products very easily. You just need to find a product by its name or ASIN or add it directly from the extension. Once added, the software starts tracking it. The tracker shows the product's basic information, including brand, ASIN, and seller. It also shows details like category, average price, average sales, average revenue, average rank, average rating, and inventory count.
Jungle Scout
Jungle Scout's Product Tracker provides you with detailed data on the performance of each product you track. This includes metrics like average sales, revenue, BSR, units sold, inventory, Buy Box price, and more.
What we love about this tool is that it tracks real-time sales. Also, you can track products you're interested in selling as well as spy on your competitors.
Another advantage of this tool is its organization. It allows you to group similar products or any products you want to track, adjust their metrics and data columns, and edit their appearance. And, if this isn't enough, the Product Tracker allows you to download the metrics as a CSV file for further analysis.
Keyword Research
AMZScout
AMZScout comes with a few keyword tools that help sellers find the best keywords that bring sales and profit. Those are:
Amazon Keyword Search – Allows you to find high-demand, low-competitive keywords. You just need to type in a keyword, select the number of words in a keyword, and search volume. Then, the software will find all matching keywords.
Reverse ASIN Lookup – Shows you keywords used in a specific product. Instead of typing a keyword, here, you type in product ASIN.
Amazon Keyword Tracker – Available as an extension, this tool ensures all the keywords you've used in your product listing are indexed, monitors the keywords' rank, tracks them, and analyzes the PPC and listing's effect on a product's rank.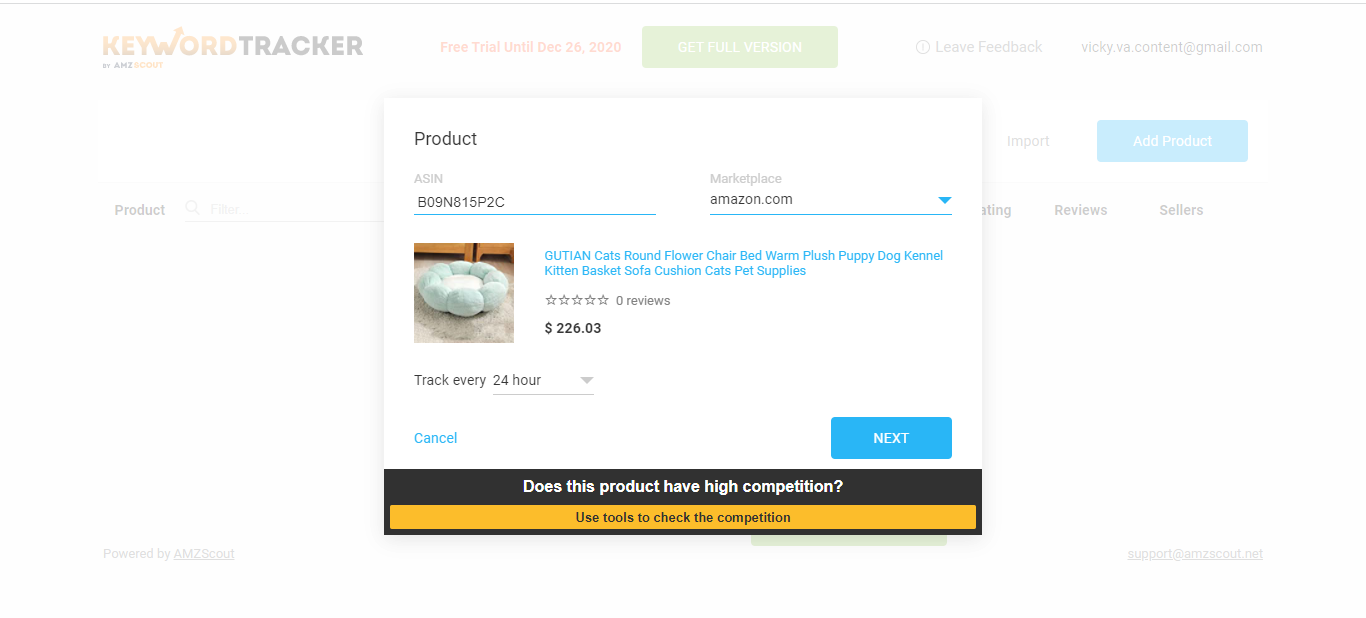 Jungle Scout
Jungle Scout comes with two keyword tools. The first one is the Keyword Scout. This tool shows you the keywords a product is most searched for and the keywords competing products use. It pulls millions of data points to show you all relevant keywords for a product to help you find high-ranking, low-competitive keywords for better organic traffic. Moreover, it analyzes the historical search volume of a keyword to help you identify its popularity and seasonality as well as optimize product listings and adjust your PPC campaigns.
You can also search for the keywords your competitors use by doing a reverse ASIN lookup. You'll get data like search volume trends,  ad tracking, and PPC costs for every keyword. This will help you optimize your listings for organic search and plan your PPC strategy.
The second one is Rank Tracker, which monitors how your keywords rank over time. This tool helps you discover keywords that are proven to perform great, the keywords that most affect your product's rank, and your competitor's keywords performance. This helps you decide on which keywords to use in your product listings.
Product Listing Building and Optimization
AMZScout
AMZScout doesn't have a dedicated product listing builder or a special listing optimization tool. However, it does have two tools that help sellers optimize their product listings.
The first one is the PRO Extension. Yes, you read that right! You can use this tool to optimize your listings because it has a Listing Quality Score (LQS) feature. This feature rate the product listing success according to various criteria, including brand, name length, description length, bullets, images count, rating, seller type, and the number of reviews. The LQS is high if all these factors are optimized. In other words, it serves as a tool that shows you the weak points of your listing so that you can optimize it.
The other one is Amazon Super URL Tool. This tool allows you to optimize your product listings by creating smart links which boost the search rankings. You can create an URL that sends people to a search result page that shows only your products. Also, you can insert your product's ASIN as a keyword so that people can easily find your product on Amazon's search results page. You can even create URLs that send people to a version of your listing that doesn't contain ads or product filters.
Jungle Scout
Jungle Scout, on the other hand, features the Listing Builder, which helps create product listings that rank high on the Amazon search results page. This tool helps you optimize your product listings with its AI-driven Listing Optimization Score feature, which measures your product title, description, features, keywords, images, and more. It shows you how each one performs and which one you need to adjust.
Also, it recommends the best keywords for your listing. It shows you which keywords to use from your existing keywords list. If you don't have one, it allows you to create a list on the go or identify high-ranked keywords by using advanced filters.
For best performance, this tool allows you to connect to your Amazon Seller Central account. With that, you can pull your product listings from Amazon to Jungle Scout and optimize them. Once optimized, you just need to synchronize the updated listings in your Seller Central account to have them ready to go.
Unique Features
Apart from the features AMZScout and Jungle Scout share (are similar in), there are also features they differ in. Namely, each tool has features unique to it. Let's check them out!
AMZScout
AMZScout has 3 features Jungle Scout doesn't have:
Amazon FBA Fees Calculator
Available as a browser extension, this tool calculates your profit, revenue, sales margin, ROI, and net profit. It also provides you with detailed info on all your Amazon fees, including monthly storage fees, fulfillment fees, referral fees, and FBA fees. In this way, it helps you decide whether a product is worth investing in or not as well as know exactly how much you'll earn per each product you sell. With it, you will get valuable information for free.
Sales Estimator
This tool estimates how many sales a product would likely have per month. It "predicts" the number of sales based on the product's Best Seller Rank. The value of the estimated monthly sales will tell you whether a product will sell well or not, thus, if it's worth selling it at all.
Stock Stats
The last AMZScout tool is available as a browser extension and allows you to spy on your competitors' inventory. By keeping track of their stocks, you'll be able to calculate their sales and plan your sales strategy so that you stay one step ahead.
Jungle Scout
Jungle Scout has 6 tools AMZScout doesn't have.
Sales Analytics
Here's a very useful tool that tracks all your sales data in real-time. It provides you with data like historical sales, current sales, profit, number of units sold, ROI, revenue, net margin, and profit. It also provides you with data on product performance, FBA shipping, hidden fees, costs of goods sold, and operating expenses.
Using the data of this tool, you'll be able to compare your sales over time to see how your PPC campaigns, promotions, refunds, and other factors affect your sales. Also, you'll be able to create a professional profit and loss statement using the data to see the financial health of your business.
Review Automation
Reviews are priceless for Amazon sellers since they affect their reputation and future sales. However, not all customers are interested in leaving product reviews, and contacting them asking for one isn't quite polite. So, what can you do to get more product reviews without begging?
You don't need to do anything, since the Review Automation tool does it all for you. You just need to set it and then wait for new reviews as the tool automatically sends review requests to all verified purchases.
Supplier Database
Whether you are a classic seller or a dropshipper, finding reliable suppliers is a great asset. Jungle Scout's Supplier Database does exactly that. It features a complete list of all legit global suppliers global brands use. You can search the database to find suppliers based on your requirements, create and save lists of suppliers, compare their quotes, manage purchase orders, organize samples, and keep contact info. Upon purchasing from a supplier, you can keep records of your financial transactions within the Supplier Tracker.
Inventory Manager
A good seller always knows how many units it has in stock. The great seller has a tool that takes care of that and Jungle Scout's Inventory Manager is that tool. No more worrying over the number of units left and not enough time to order new, nor having too many items in your inventory. With this tool, you will always know how much stock you have and how much you need to order and when.
The Inventory Manager can accurately predict when and how many units you need to order based on your sales. Moreover, it marks all products with Reorder Now, Reader Soon, In Stock, and Overstock so that you can easily see which products you need to reorder and which not. If that's not enough, it also calculates the quantity you should order, the date when you should order new units, and the estimated costs and profit.
Alerts
With the Alerts feature, you get informed of all product changes on Amazon. You get notified of every change in category, product titles, images, price, stocks, reviews, Best Seller Rank, rating, and new sellers. Apart from tracking changes to your products and any products you're interested in, you can also track your competitors' activities.
If needed, you can customize the product alerts you want to receive.
Promotions
Apart from being a product research tool, Jungle Scout also helps with marketing. Its Promotions tool allows sellers to promote their products on the Jungle Scout's platform before they actually start selling them. It also helps sellers prevent promotion abuse by limiting the maximum quantity of units per customer.
AMZScout vs Jungle Scout: Pricing
AMZScout comes with two pricing plans:
PRO Extension – starting from $16.49/month
Amazon Seller's Bundle – starting from $29/month
It also has a 7-day free trial period.
Jungle Scout, on the other hand, comes with 3 standard plans:
Basic – starting from $29/month
Suite – starting from $49/month
Professional – starting from $84/month
… and 3 packages for those who want to use Jungle Scout and learn:
Start-up Suite – $189/three months, then $69/month
Entrepreneur Suite – $349/six months, then $69/month
Freedom Builder Bootcamp – $999/year
Jungle Scout doesn't offer a free trial, however, it offers a 7-day money-back guarantee.
AMZScout vs Jungle Scout: Which One Is Better?
As you can see, these two tools share most of their features. Of course, they also have different features. But, if we take into account everything we've said above, we could say they are tied.
I guess, it all depends on the seller's needs and preferences. For instance, for sellers who want nothing more than a product research and keyword research tool, AMZScout will work magic. However, for sellers who look for a more all-in-one tool that does more than just finding winning products, then, Jungle Scout is the one for them. So, yes, which one you choose, depends on what you need from the tool.