If this is the first time you manufacture a product in China, this process might seem very scary. And you have all the right to be! You are pretty much handing a huge sum of money to someone in China to produce the product you want! A lot of things that can go wrong! However, once you have done it a couple of times, you will realize it is actually quite easy.
In this article, I will teach you each step I use when I manufacture a product in China and guide you step by step. However, you first have to establish what product to sell on Amazon FBA. If you haven't picked product yet I advise you to check out: this guide on What to Sell on Amazon 
1). Contacting Suppliers
The main website to find Chinese suppliers is: Alibaba.com
You simply search for the product you want to manufacture and you will find loads of suppliers that will manufacture this product for you!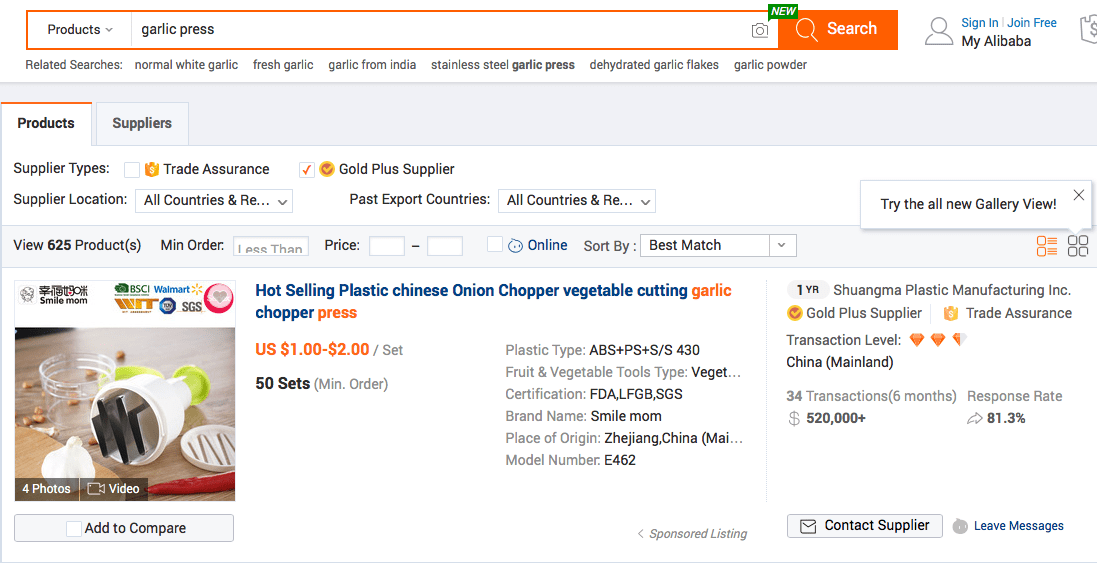 I am a big fan of the "shotgun approach". This means you send out the same standard email to as many suppliers as possible. With this email, you want to ask some basic questions and reach as many potential suppliers as possible. I simply copy & paste 1 email template and send them to as many suppliers on Alibaba as I can find. Below you can check out the template I use.
Hi,

I am looking to manufacture product X. I have attached a picture as a reference.

Specifications:
– Color: x
– Size: x
– Material: x

Can you manufacture this product?
Do you have similar products? Can you send your catalog if you have one
What is the lead time?
What is the FOB price for x amount of units
Can I customize the product by adding my logo on it?
How is the product currently packaged?

Thank you and have a nice day,

<Name>
Based on these reactions you can already make your first selection. Some suppliers will reply very late, or some won't even reply at all. Some will reply with a very high price. To those suppliers, I simply reply that I have received better prices, and if they want to be considered as my supplier they should lower their prices. Once I have received all replies, I usually compile all suppliers in a spreadsheet to make things easy to compare.
2). Samples
Based on the reactions from the suppliers I have gathered above, I can select the top suppliers and request samples from them. Now I don't request samples from just one supplier, I usually request samples from the top 5 suppliers. This gives me options to pick the best suppliers based on the sample quality and negotiate prices between them.
Normally the sample cost is free and you only have to pay for shipping. Now if you have to pay shipping cost to your home country for each sample your order ( x5 ) this can add up quickly. That is why I always have them ship all my samples to 1 address in China ( which is usually free, as shipping within China is very cheap ), then I combine all the shipments there, and ship it as 1 package. This way I can save massively on shipping. There are a couple of companies who provide this service, but I use Tips Trans
3). Negotiating price
Now before we even start talking about the price we have to know about Incoterms:
Incoterms: FOB vs EXW
If you start dealing with Alibaba suppliers and discussing the price you will run into Incoterms.

Incoterms define how your goods are transported and when the ownership of the goods are transferred. There are a lot more Incoterms, and the most common ones you will run into are FOB & EXW.
FOB: Free On Board

This means the supplier will deliver the goods from their warehouse to the port and load them on your freight forwarders ship.
EXW: Ex Works

Ex works simply means the supplier will manufacture the goods and have them ready for pick at their factory.
So the very important difference between these Incoterms is that when you request your supplier a FOB quote: The supplier will pay the shipping cost from their factory to the port. And when you request an EXW quote, your forwarder will have to pick up the goods at the factory ( resulting in a higher fee from the forwarder ).
So now that we know about Incoterms we can start negotiating about the price! Once we have received our samples, I pick the best ones. I make a top three of the best suppliers ( based on quality & price), and negotiate between them. A very good negotiating tactic that I have learned is simply to tell them you have a better offer from another supplier. Even if this is not the case, I can always skim a little bit of the price with a simple email like:
Thank you for the quote, I really like your product. However, my boss demands I get the lowest price as possible. And we have received a price $1,3 from supplier x. Since this is lower than your quote my boss wants to go with supplier X. Please let me know if we can negotiate the price, else I am afraid we have to go with Supplier X
You will find out that you can negotiate a lot with Chinese suppliers, and I personally think this is a very interesting game. Now after going back and forward with my top suppliers, I pick the best one based on price & product quality.
4). Payment & Production
In order for the supplier to start with the production, it will usually require some sort of a deposit. From my experience, it is normal to pay 30% upfront, and 70% once the production is finished. This will also be referred to as 30/70 tt.
I just to make a normal wire transfer in my supplier's currency, Chinese Yuan (CNY). However, recently I found out you can save some serious money with this. As banks charge a very high conversion fee when changing USD -> CNY. Actually pretty obvious as this is how they make money lol. But it took me a while to find an alternative. Apparently, there are loads of services that can offer you a better conversion rate than banks when making overseas payments. I personally use TransferWise as I think this is what most sellers use.
5). Quality control
I ALWAYS have my production process inspected by a 3rd party. It doesn't matter if I have been ordering from them for a couple of years, I always check the quality of the product while it is still in the factory! If you do a bit of research you will find plenty of horror stories about people who received a great quality sample, have the supplier produce their product, and then get ripped off by their supplier who produces a sub-par product. I had this happen myself as well, and I can tell you right now: If you find out in the USA you have a bad quality product it is too late!
I personally use Inspection in China. I let them schedule a date with the supplier when almost all the products are done. They go to the factory, take out a sample size of the production and inspect every detail of it. They send me the report on the same day with pictures and all the details. They also highlight any possible defects the shipment might have. Once I have received the quality control report and approved this, I can pay the remaining 70%.
6). Shipping
You will have a couple of options when shipping your products from China to the USA. Each option has its own advantages and I will cover each one:
Ocean
– Slow: Average shipping time 30 days

– Cheap!
Air
– Fast, average 7-day shipping
– More expensive than ocean shipping
Air Express

Air express is pretty much a faster and more expensive version of Air shipping. Air express will be the services such as DHL & UPS. They will charge you an extremely high rate. However, your product will arrive very quickly. I also believe that import duties are already included in the price with Air Express. However, you should double check that as I have not shipped with air express for a while.
My choice

I ship 90% of my products by ocean shipping. This is simply the most cost effective way of shipping your products. There are a couple of occasions when I prefer to ship my goods via Air:
– Quick restock: If I am doing my stock forecast and notice I will run out of stock before I am able to restock with ocean shipping. In this case, I will gladly ship by Air or even Air express as you never want to run out of stock on Amazon
– Quick launch: If I am really excited about a product, and want to launch it as quickly as possible. In this case, I will ship a couple of carton by Air Express that I will use for giveaways and increase my sales velocity. Once I have done this and increase my ranking organical sales on Amazon will start to pick up. Ideally, my ocean shipment will arrive by this time.
Direct to Amazon or via own (ware)house?
When you are dealing with your freight forwarder you will have the option to ship the goods directly to Amazon or to your (ware)house.
Some people choose to ship the goods to their (ware)house first so they can inspect the goods themselves. I never really understood this. I rather have the goods inspected in China. In case there is something wrong with the goods, my supplier can correct this before I pay the remaining 70%. I never understand why people inspect their goods at home. What are they going to do when they will find a high defect rate? Ship all the products back to China?
Besides Quality Control there are still reasons to ship the goods to a warehouse first. The main one is you might pay lower storage cost at another warehouse compared to Amazon. Especially during the fourth quarter you pay an extremely high storage fee on Amazon.