Ok time for part 2 of the Product Launch Case Study! In our first part, I showed you the product we will use, lowered the price to undercut our competitors and set up our follow-up email. This week we will go over Product Giveaways and the Early Reviewer Program. And most importantly why I think this is an extremely strong combination when launching products!
Other updates:
Part 1: We discussed the product for the case study, the FBA launch strategy that we will use, we have lowered the price & set up our email follow up campaign.
Part 3: Is where we started seeing the first results! This is also where I started with the PPC campaign.
Part 4: Last part of the case study where I show the final results.
Final update: Here I share how the product is currently doing and what I am doing to further improve the product.
The Amazon Product Launch Checklist
Lower price – Done
Set up follow-up email – Done
Product giveaways ( while staying within Amazon TOS )
Early review program
GO HARD on PPC
Increase price
PROFIT?!?!
Product Giveaways
Amazon TOS
Ok before we get into the giveaways we quickly have to understand the rules. In the beginning, this was the main method to get reviews: You giveaway a product and in exchange you would request a review. Of course, Amazon is not stupid and knows that these reviewers are extremely biased into giving you a 5-star review, so they banned this method. You can read the exact rules here, but the most important points that are NOT allowed:
A customer posts a review in exchange for cash, a free or discounted product, a gift certificate, or a discount off a future purchase provided by a third party.
Setting up Product Giveaway Codes
I'm not going to explain this into too much detail, as this is pretty straightforward and there are other sources explaining this as well. But I do want to point out 2 pitfalls to avoid!
So you can create the codes under Advertising -> Promotions. And I always use the Percentage Off codes, where I create 99% off coupons.
Pitfall 1
Make sure to select Single-use code. So each code is restricted to 1 use. Also, you definitely make sure that "Detail page display text" is unchecked! Otherwise, Amazon will display the coupon code on your listing and everybody can use it.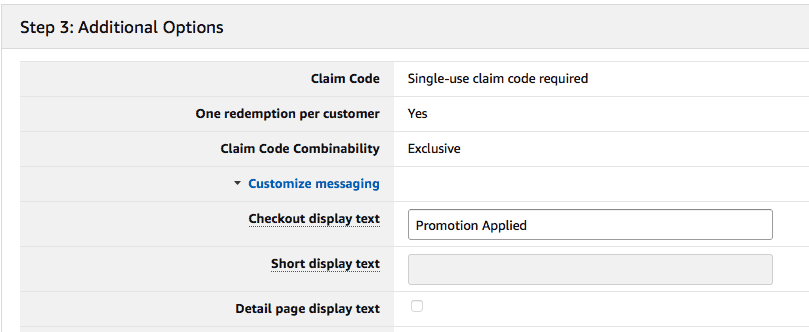 Pitfall 2
So now we have 99% codes ready to go. The problem here is that the 99% discount counts over the complete order. So a customer can decide to order 999 pieces and buy your entire stock for 1% of the price. You can find some horror stores about this, from newbies who got their entire stock bought up like this.
In order to prevent this, you have to limit the order quantity to 1. You can do this under: Manage Inventory -> Edit -> Offer

Where to giveaway?
So there are a lot of different ways to giveaways your products. I will discuss some popular ones and the one I use.
Facebook groups
This is a very popular one. You can find related facebook groups, send the admin a message and ask them if you can giveaway some products in the group. This is great since it is very targeted to your niche.
Email list of Amazon customers
So in the past Amazon had customers email address in their public profile. A great way to contact Amazon customers directly! However, they have since removed this feature 🙁
Luckily someone has compiled all this info into 1 awesome Excel sheet!

And yes, I will share this list with you! Leave your email below and I will send you the download link.
Free Download
This is the method I use and in order to comply with the Amazon rules I send these top reviewers a very basic message:
Hi,

We are launching a lot of new products on Amazon.com and want to giveaway a bunch of them to get them in the hands of our customers and increase our sales velocity.

The first product we will be releasing is: <your product>

Please note that since the last Amazon TOS update we are not allowed to ask for a review in exchange for the discounted product. If you want to you definitely can, but you are not required to.
So to prepare for this week I have already send out this email blast to our list and received plenty of responses.

So for this product, I have decided to giveaway only 15 products. I can always giveaway more at a later stage but normally this is enough for my methods.
Early Review Program
So the concept of this program is that Amazon will pretty much do the dirty work for you and ask your buyers to leave a review in exchange for a $3 gift card. The cost of the program is $60 and Amazon will do this until you have your first 5 reviews.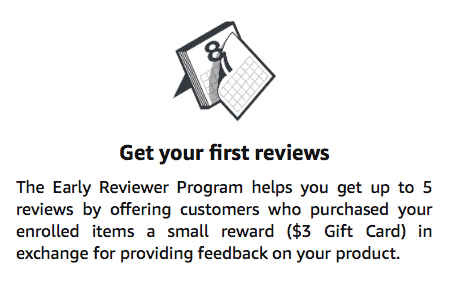 One important thing to note is that Amazon will only send out this offer to existing buyers. This isn't some kind of magic program where you pay $60 and get 5 reviews instantly. You have to have some kind of sales velocity for this program to work, and people that are willing to leave reviews ( which can take a while ). However, since we are doing this in combination with giveaways we won't have to worry about this.
The combination
Now here is why I think this is a very strong combination: If you have been dealing with these reviewers who want free products you can kinda get a feel of what kind of people they are. Typically they are stay-at-home moms who are strapped for cash and want to make a little bit of extra money by getting free products and reselling them on eBay. Nothing wrong with that, everybody has their own hustle.
Now with the new rules, they are not required to leave a product review anymore and can just keep the product for free. However, when they receive an email from Amazon how they can earn an extra $3 besides their free product, they are extremely likely to leave a review! This combination has worked wonders for me, and gotten me the first 5 reviews very fast!
Total cost launch so far
Giveaway Product cost: 15 x $6,11 = $91,65
Giveaway FBA fee's: 15 x $4,71 = $70,64
Early reviewer program: $60
Total: $222,30
Next week I will share the results of the giveaway, and once we get those first reviews we can start with our PPC campaign!