Ok it is time for me to expand into new territories and try my luck at Merch by Amazon. If you are unfamiliar with this platform it is pretty easy: You can create your own t-shirt & hoodie designs, sell it on Amazon and they will print  & ship it for you!
I have decided to give Merch by Amazon a try as it does not require me to invest any capital into stock. This is great for me as I have all my capital in my FBA business. And just like with FBA, the most important thing is doing product research!
If you can find the right topics and create a couple of t-shirt designs around it, you can make some nice passive income!
So to help me with the product research I will use Merch Informer. From what I have been reading, they are like the Jungle Scout of Merch by Amazon and the best tool to help with product research.
Features
Product Search
Ok so let's find our first niche! I will just enter a random word and see what the best selling shirts are with the keywords: "cat".
And here are the results: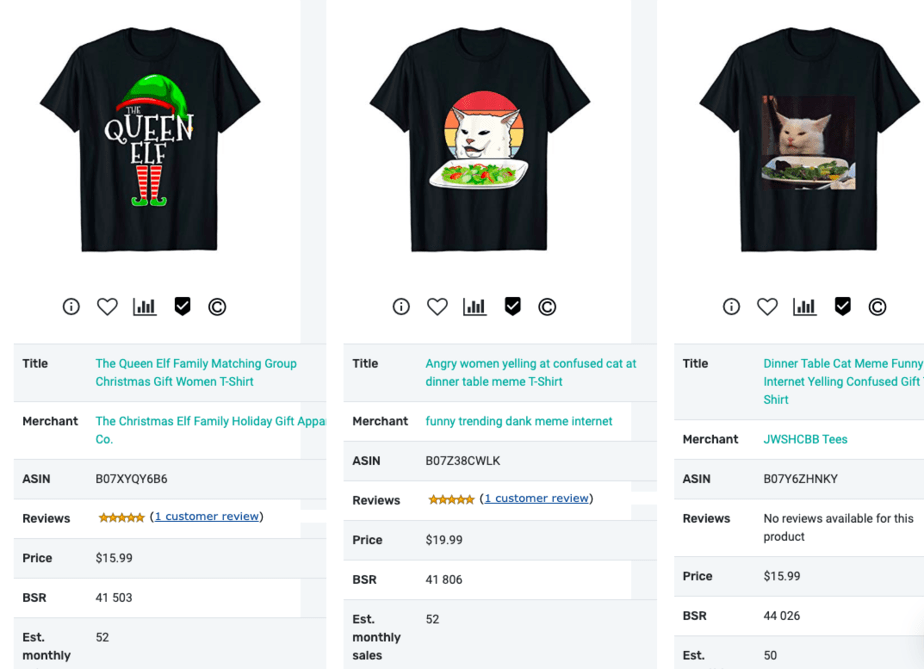 So as you can see the best selling t-shirts are about the famous woman yelling at cat meme:
We can also see that Christmas tshirts are popular right now. Pretty obvious since Christmas is around the corner. So maybe we can combine the two and create a cat meme tshirt in Christmas style!
Designer
Once you have found your niche you can start designing your t-shirt or hoodie! I personally have no photoshop experience so I am very happy Merch Informer has a special design module. You can very easily create your own designs!
Lister
After you have designed your t-shirts it is time to create the listings. I am planning to create at least 10 designs per niche I find. So it will take quite a lot of time to create all these listings.
Merch Informer has a lister chrome extension that will automate most of this! You can easily bulk upload & edit your listings with only a couple of clicks!
Cons
One of the disadvantages I have found using this product is that the search function is not instant. Doing a search will take a couple of seconds before it will show you the results;
Merch Informer Coupon Code
If you are planning to try Merch By Amazon, make sure to use the Merch Informer Coupon Code: GARLIC for 20% discount!