I get this question asked quite a lot from people who are just starting out:
Would you recommend the Jungle Scout Web App or Chrome Extension?
To answer this question I will explain the purpose of each tool:
Purpose Jungle Scout Chrome Extension
I use the Chrome Extension to check if there is demand for product idea I have. When browsing on Amazon I can quickly pull up the extension and it will show me the estimated product sales.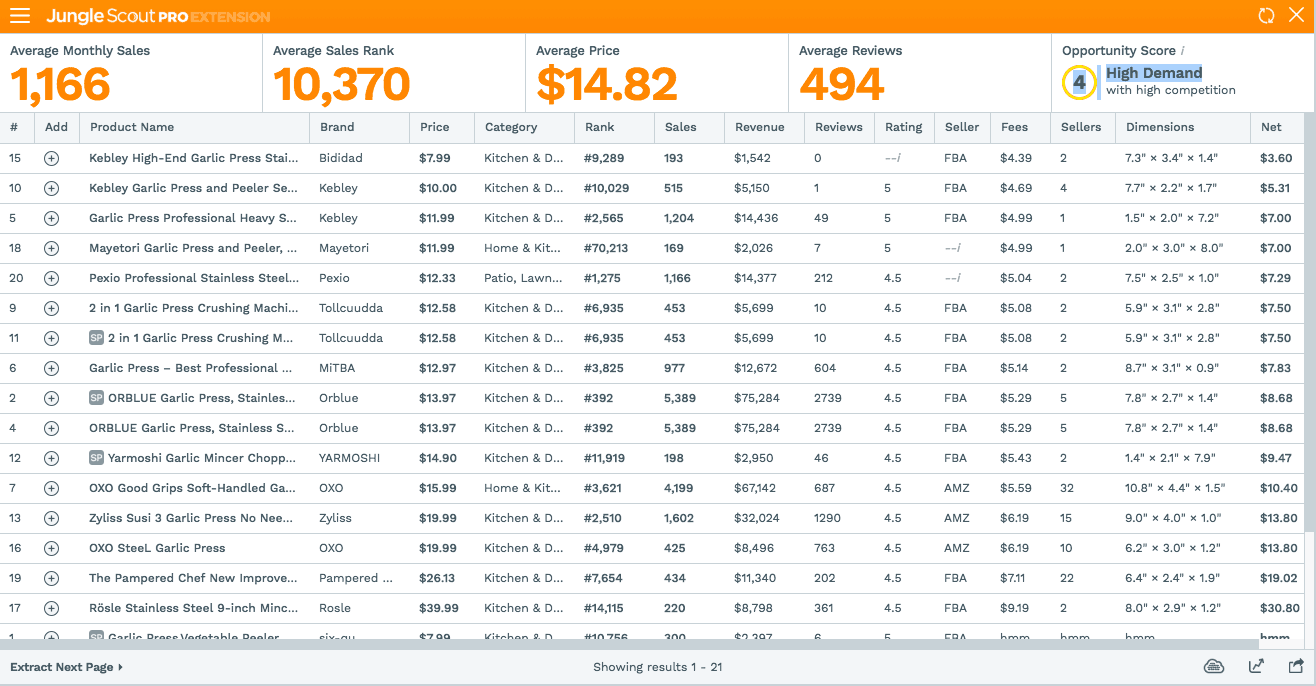 Right away I can see that the top garlic press sellers are making around $70k per month in revenue.
I can also pull up this report with all my competitor products to check what his best selling products are. As you can imagine this information is very valuable, so IMO the Chrome Extension should be in every serious seller's arsenal.
Purpose Jungle Scout Web App
In the previous example, I already had a product in mind I was planning on selling. Now if I don't have a clue about what product I want to sell, I will use the Web App.
In the Jungle Scout Web App I can enter all the criteria I am looking for in a potential product, and it will search in their database. Here you will see an example where I searched for products with the following filters:
Minimum price: $15
Minimum net payout: $10
Maximum reviews: 50
Max star rating: 4
Maximum listing quality score: 60
Based on these filters it found this product that I could sell on Amazon:
Jungle Scout Web App vs Chrome Extension
| | Chrome Extension | Web App |
| --- | --- | --- |
| Purpose | Product Validation | Product Brainstorming |
| Pricing | One-time fee | Monthly fee |
| Cost | $99 (Lite) - $199 (Pro) | $25 - $50 |
Jungle Scout Chrome Extension Discount
If you are planning to get the Jungle Scout Chrome Extension you can use the link below to get $20 discount on both the Lite & Pro plan!
Click here for $20 Discount Coupon Code on the Jungle Scout Chrome Extension
More Alternatives
Jungle Scout vs AmzScout
Jungle Scout vs AmazeOwl
Jungle Scout vs AMZ Tracker