When it comes down to Amazon product research, Jungle Scout is by far the best FBA tool out there. So naturally, a lot of big sellers use Jungle Scout to find their next product. Jungle Scout has a Chrome Extension & a Web App. In this post, I will review the Web App and show you how I use the tool.
Check out this post if you are not sure if the Jungle Scout Chrome Extensions or the Web App is the right tool for you. Or this post for my full review on the Chrome Extension (+ Discount).
How To Use Jungle Scout For Product Research?
Ok, let's get started! The Web App has a huge database with Amazon products (currently 70 million). The great thing about the Web App is that you can search with your own filters in this database. When you are looking for a new product to sell on Amazon you probably want to look for products with a lot of sales and very little competition.
So to keep it very basic, you can look for products that have less than 50 reviews & more than $5000 in revenue per month. I have made a more elaborate product research tutorial with all my filters here.
The Web App will then search the 70,000,000 products it has in the database and output products based on these filters.

This is one of the products it found in the database: Bamboo Steamer Basket.
Reviews: 27 ( less than 50 ).
Revenue: $6,016 per month ( more than $3000 ).
So yeah, based on 2 very simple filters I was able to find a product with low competition & high demand.
The Downside of the Web App
One major downside that I found about using the Jungle Scout Web App, is that it will only look at 1 particular product and not at the market as a whole. The product we found above is a great example. The Bamboo Steam Basket looks like a great product. $6,000 revenue per month is amazing. However, as I discussed in my product research tutorial you will always need to look at the entire market, not just one product.
So let's take a look at the first page for Bamboo Steam Basket, with the Jungle Scout Chrome Extension: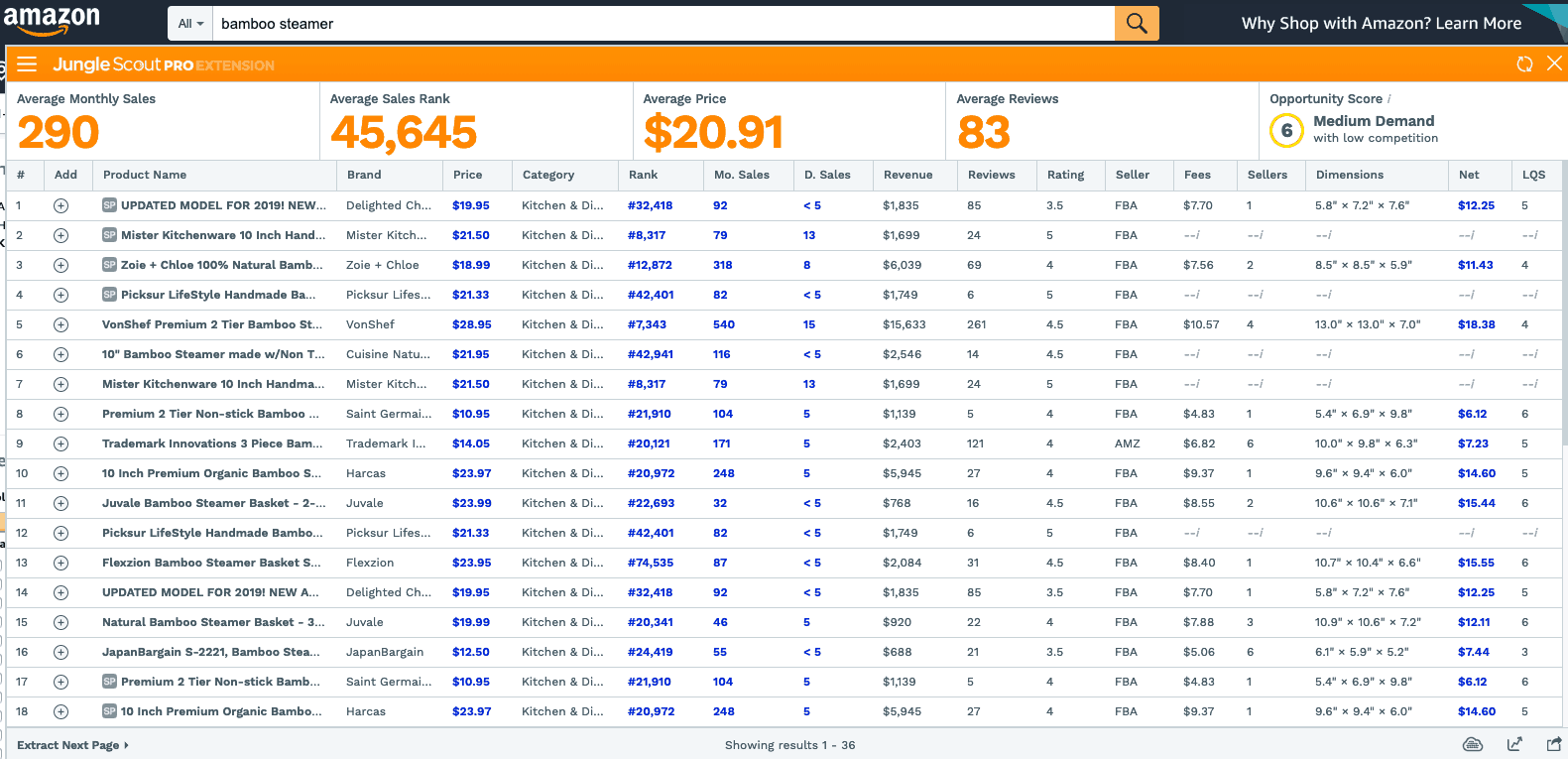 Here you can see that there are a lot of sellers who are doing less than $6,000 per month. This might still be a viable product to sell, but not everybody is doing as great as the 1 product we found in the Web App.
Lucky for us, Jungle Scout knows about this downside and developed a tool that looks at the entire market: Niche Hunter.
Jungle Scout Niche Hunter
The big difference between the Jungle Scout Web App & Niche Hunter is that the Niche Hunter will look at the entire niche, not just one product. This is a much better method, as you can get a complete overview of the market.
How To Use Jungle Scout Niche Hunter
The Niche Hunter works similarly to the Web App. With sliders you can set filters for an entire niche. In this example I'm looking for high demand, low competition niches.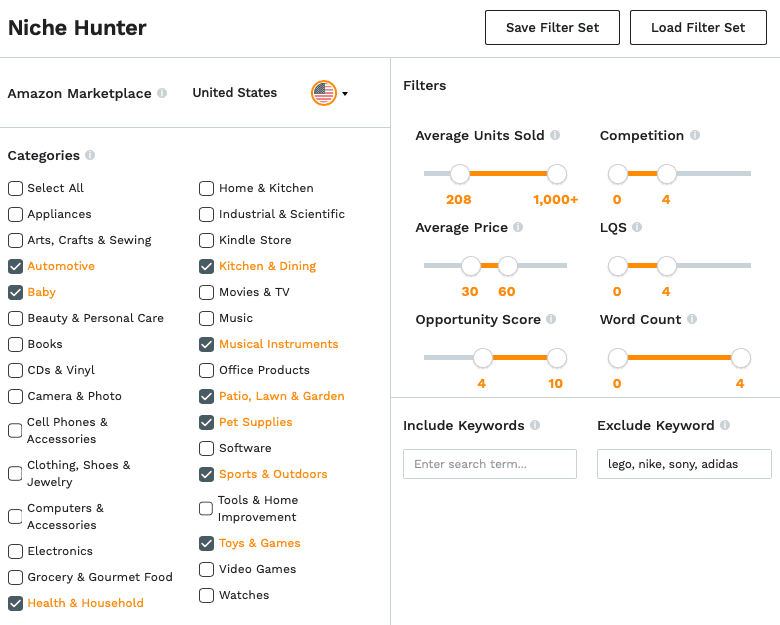 Based on these filters it outputs a huge list of niches that fit these requirements. I scrolled through the list for a couple minutes until this niche caught my interest:
A wooden toddler cart. This toy might be a great product for me to sell on Amazon. It does fit my requirements as a low competition & high demand product. But I still want to take a closer look to be sure. So I pull up the first page on Amazon for wooden toddler cart and open the Jungle Scout Chrome Extension:
This is definitely a low competition niche. As there is only 1 product on the first page with more than 100 reviews. There is even a product with only 10 reviews on the first page that is doing $4,600 in revenue! So yeah, this could be a great product.
Now I am not saying everybody should start selling this product! Honestly, product research is the most important step in your FBA career! I always make sure to spend at least a month when I'm looking for new products. This is just a quick example I found in a couple minutes for the purpose of this review. There are way better products out there if you are willing to do the work.
Jungle Scout Niche Hunter Tips
First of all, I am a big fan of the Niche Hunter. I always prefer to use the Niche Hunter above the normal Web App database. As it is much better to look at the entire niche, instead of just one product. As I have used this tool loads of times I have a couple of tips on how I use the Niche Hunter.
Tip 1: Make use of the exclude word filter.
If you scroll through the Niche Hunter list, you will find loads of unrelated products that you probably can't sell. For example, you will probably see all kinds of branded product that you are not allowed to sell. You can filter these results by adding these brands to the exclude word filter.
Tip 2: Avoid markets with 1 big seller.
Ideally, you want to enter a niche where the pie is evenly shared between the top sellers on the first page. If you see a niche where there is 1 big seller, but all other sellers are barely doing any sales, you should probably stay away.
Like in the example I found with the Niche Hunter above: Wooden Breakfast Bed Tray. This product showed up as the average niche looked great:
Average sales: 702 per month.
Average price: $30,31.
Competition: 2 (low).
Opportunity score: 8 ( high).
However, these stats look great because there is 1 big seller doing $106,929 in revenue per month. But the other 3 sellers are doing between $164, $245 & $1,856 in revenue. This shows that it is very hard to compete with the big seller and I would skip this niche to look for a niche where the sales are shared over more sellers.
Jungle Scout Product Tracker
Once you have found your niche you can add competing products to the Jungle Scout Product Tracker. Jungle Scout will then keep track of daily price changes, stock level & BSR changes.
How Accurate Is Jungle Scout Product Tracker?
When estimating sales on Amazon you have 2 methods:
1). BSR estimation
This is the most common methods for many FBA tools. Every Amazon product has a best seller ranking (BSR). This is publicly shown on the product page. Tools like Jungle Scout have loads of
2). Keeping track on stock level
In some cases, you are able to check how units a competitor has in stock. You can do this by adding 999 units to your shopping cart, Amazon will then tell you this is not possible because the seller only has X amount of units in stock. This is known as the 999 card trick. However, this method is not possible if the seller has more than 999 units in stock, or set a maximum order limit.
The Jungle Scout Product Tracker uses both of these methods. So I would say that it is very accurate!
Jungle Scout Web App Free Trial
There is no free trial for the Jungle Scout Web App. However, they do offer a 14-day free trial. They say they will give a refund, no questions asked. So I have personally always seen this as a 14-day free trial.
Jungle Scout Web App Discount & Pricing
The Jungle Scout Web App costs $39 per month or $69 for the additional Niche Hunter (which I highly recommend). However, you can get a 40% Discount on the Jungle Scout Web App if you choose to pay per year: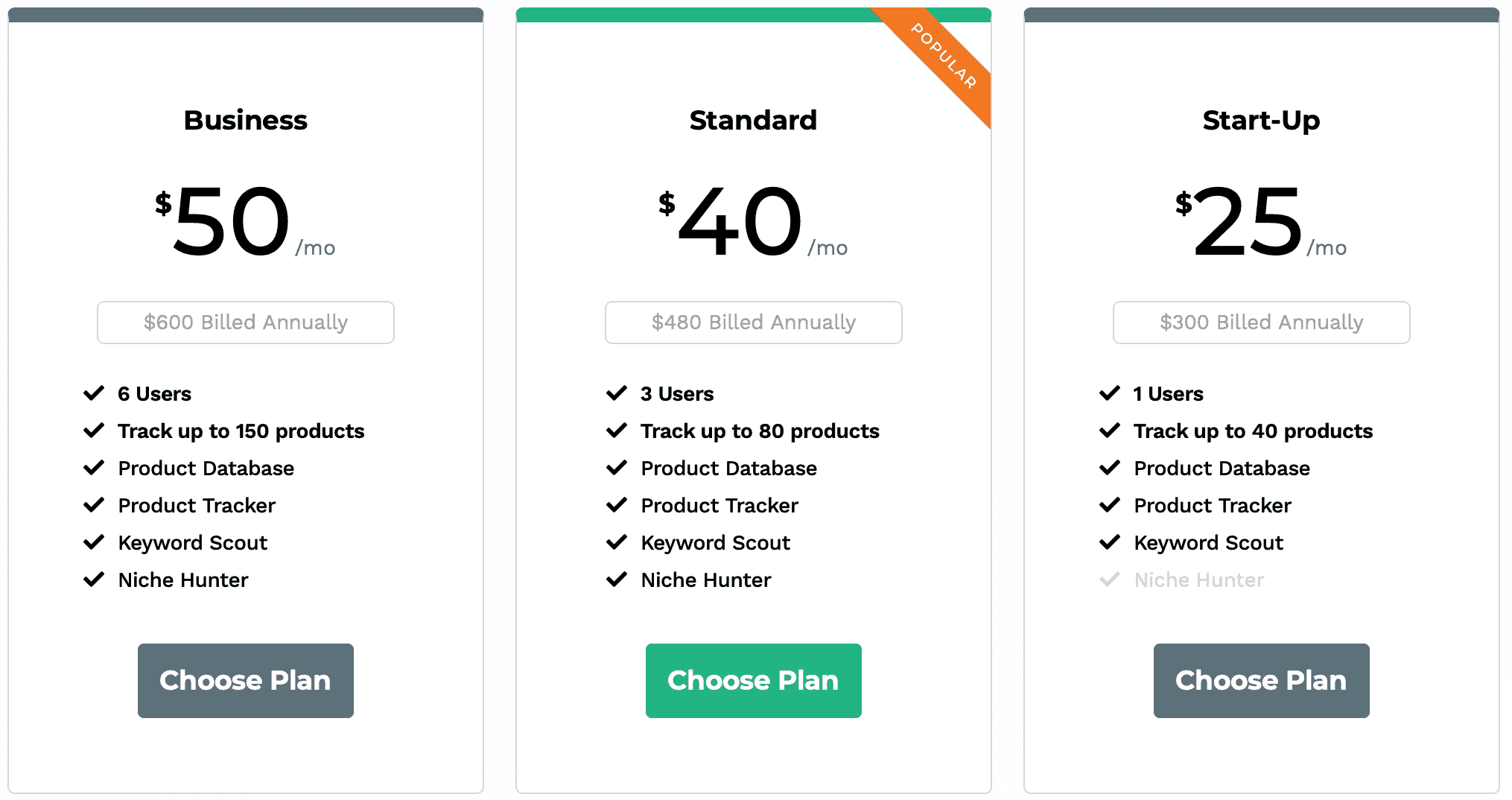 So yeah, I personally have the standard package as I really need the Niche Hunter for my product research. And with the yearly payment, it only costs $40 compared to $69 monthly, so not to bad.
Click Here to try out the Jungle Scout Web App
More Alternatives
Jungle Scout vs Sellics
Jungle Scout vs Egrow
Jungle Scout vs Boost Nine