Keepa recently added a bunch of new features for Amazon Sellers and started charging customers for these features. I wanted to check out these new features and see how they compare versus Jungle Scout!
Keepa Product Finder
So Keepa has added a Product Finder feature. This looks a lot like the Jungle Scout Product Database:
Keepa Product Finder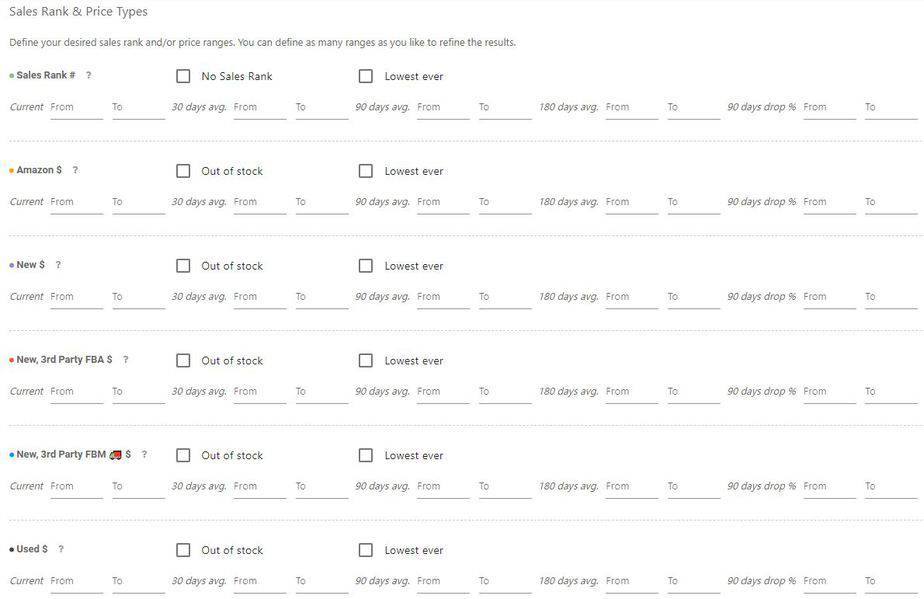 So here you have your filter options. You can search for products based on:
Sales Rank
Price ( Amazon's price, New Price, etc)
Category
Sub category
Keywords
Product Type
Reviews
Amazon out of stock %
FBA Fee's.
So loads of option. In my case I am looking for new Private Label products that I can sell. So products with a decent demand, but low competition. So I entered:
Sales ranked: 1,000 – 10,000
Buy Box Price: $15 – $60
Reviews: 1 – 50 reviews
Review Rating: 1 – 4 stars
Category: Home & Kitchen
It will then output all Amazon products in the Keepa database that fit this criteria. In my example I came across this Door Draft Stopper product that could be something I could sell:
Keepa Pro's
You have loads of filter options.
This could be especially useful if you are selling wholesale / retail arbitrage. For example, you have the option to search for popular products where Amazon is out of stock x amount of the time.
You can filter based on current, 30, 90 or 180-day average. This is extremely useful. As you want to filter out any products that have currently a very low price for example, but are normally sold for much more. So you can
You have a couple of free searches per day.
Keepa Con's
Non sales estimates, only Sales Rank #.
Keepa does not offer any sales estimates. When doing product research you want to be able to check the demand for a product as accurate as possible. Normally, FBA tools offer a sales estimate that is based on the sales rank #. This is still an estimate, but it will give you a pretty accurate idea of how often a product is purchased. Keepa does not offer this function, Jungle Scout does.So you would have to do all your product research based on sales rank numbers. In my example, I know that a sales rank below #10,000 has a decent amount of sales in the Home & Kitchen category. However, this differs per category and is very inaccurate. You could use a Amazon Sales Rank Chart, but it would still be pretty inaccurate.

No net payout filter
You can only filter on price & FBA fee's. However, as an Amazon seller I want to know how much Amazon is going to pay me after they have taken their fee's & commission (net payout). Jungle scout does offer the net filter.
Quite overwhelming.
Because Keepa offers a crazy amount of filter options it can be quite overwhelming. These options spread out over a couple of pages so you are missing the overview. Especially if you are newcomer this will be difficult. But I even for me I found myself scrolling through the filter options many to many times looking for a specific filter I needed.
Jungle Scout Product Database
So how does Keepa compare to the Jungle Scout Product Database? First of all, Jungle Scout is way more organized. You can view all the option on 1 screen and easily find the filter you need.
So just like we did with Keepa we can now enter out filter option in Jungle Scout:
Price: $15 – $60
Minimal net: $10 ( Keepa does not have this feature)
Minimal revenue per month: $3,000 ( Keepa does not have this feature)
Max reviews: 100
Category: Home & Kitchen
Max Listing Quality Score: 7 ( Keepa does not have this feature)
Jungle Scout Pro's
Very easy to use & clean interface.
One of the first things you will notice about the Jungle Scout Database is the very clean interface. Even for beginner it is very easy to use and every
Filter by Sales & Revenue.
With Keepa you can only filter based on sales rank. However, with Jungle Scout you can search based on Sales & Revenue. Which will give you a much more accurate view about the demand for a niche.
Filter by listing quality.
This is a extremely useful filter that I use every time! When you are competing with other Amazon seller you can only compete on a couple of things ( quality, price, listing quality, advertising, etc ). With this filter I can find product with a low listing quality, so I know I can at least beat them with a better listing!
More products in database.
After using both tools for a while to find new products to sell on Amazon, I figured I could easily find more niches with the Jungle Scout Database than with the Keepa tool.
Jungle Scout vs Keepa
Winner: Jungle Scout
So to conclude: Jungle Scout is easier to use & has more products in their database. Jungle Scout can also show you the estimated sales & revenue. While Keepa can only show you the sales rank #. Jungle Scout also offers the listing quality score, which can help you with estimating the competition.
Keepa has more filter options and is able to filter based on 30, 60, 90- day averages.
I think Keepa is a good tool for a small group of very specific type of sellers that would benefit from the specific search filter options. Like wholesales who are looking for high traffic products, where normally the sales would go to Amazon. But now with the "Amazon is out of stock x% of the time" filter option from Keepa, you can take a share from the sales.