I have been using Jungle Scout for 3 years now, and use it extensively in my product research. Therefore I feel like I am qualified to write an honest review about this piece of software from a real users perspective. I also know some of the downsides of the tool, which I will cover here as well.
Click here for $20 Jungle Scout Discount Code 2019

Purpose of JungleScout 
Before we continue this review I feel like it is important to let you know how I use Jungle Scout and what I want out of a tool like this. When doing my product research, and come across a product idea on Amazon, I want to have all required data to determine if this is a suitable product in 1 overview.
So right away, I want to see:
How many sales are the top sellers making?
How many reviews do they have & how is their rating?
Are their listings optimised?
How much fee is Amazon taking?
Is the market seasonal / trendy?
Based on this info I will be able to make a decision if I want to do further research on this product, or move on to the next one. I usually only spend around a couple minutes on this moment, so I can check as many products as possible. Therefore it is extremely important for me to have a tool that can give me all this info right away.
I cover more of this in my product research guide here.
JungleScout Pro vs Lite
The JungleScout comes in 2 versions: Pro & Lite. The Lite version is pretty basic but will cover the most important feature: estimating sales.
Other than that the Lite version doesn't really do much more. These are the extra features that come with the Pro version:
FBA Fee estimator
Opportunity Score
Historical Monthly Sales
Sales Item profit calculator
Dimension & weight of item
Since I am running JS Pro I will continue this review with the Pro version.
JungleScout Features
So this is how Jungle Scout looks: This screen will pop-up when you click on the Chrome extension when you are on an Amazon page. Below I will cover the features I think are the most important.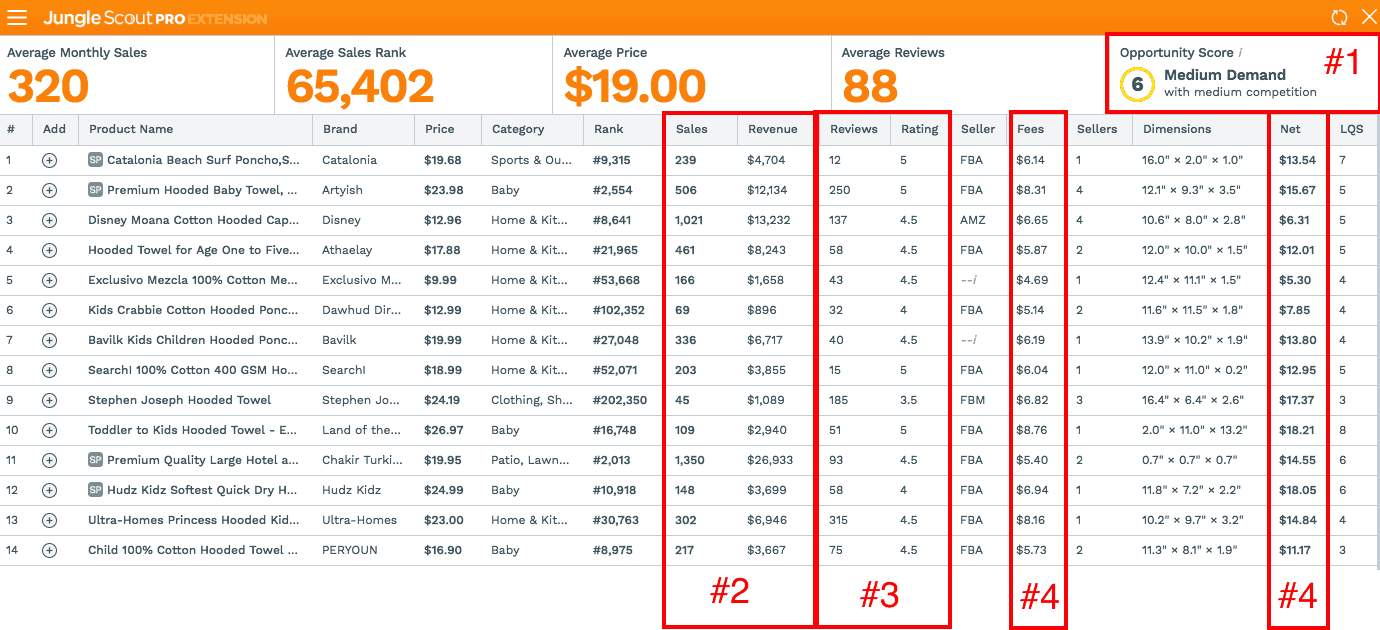 [PRO] Opportunity score: This is JS pretty much doing my job lol. It will straight away tell me if it is a good or bad product with high/low demand & competition. However, I still like to double check this myself with the following steps:
Sales & Revenue: For me the most important info. Right away I can see how many sales & revenue the first page is doing.
Review & Rating: After determining that the niche has enough volume I glance over the amount of reviews & ratings they have.
[PRO] Fee's & net pay-out: Now that we have established it is a high volume, low competition product, we want to check the profitability. Beforehand I do a price check on Alibaba and know the production cost. So after a quick look at the fee's & net pay-out I can check if I can sell the product with a decent profit or not.
[PRO] Historical Monthly Sales: I also want to know if it is a trendy / seasonal product. By clicking on the sales numbers. This will pop-up another windows that shows the Historical Monthly Sales.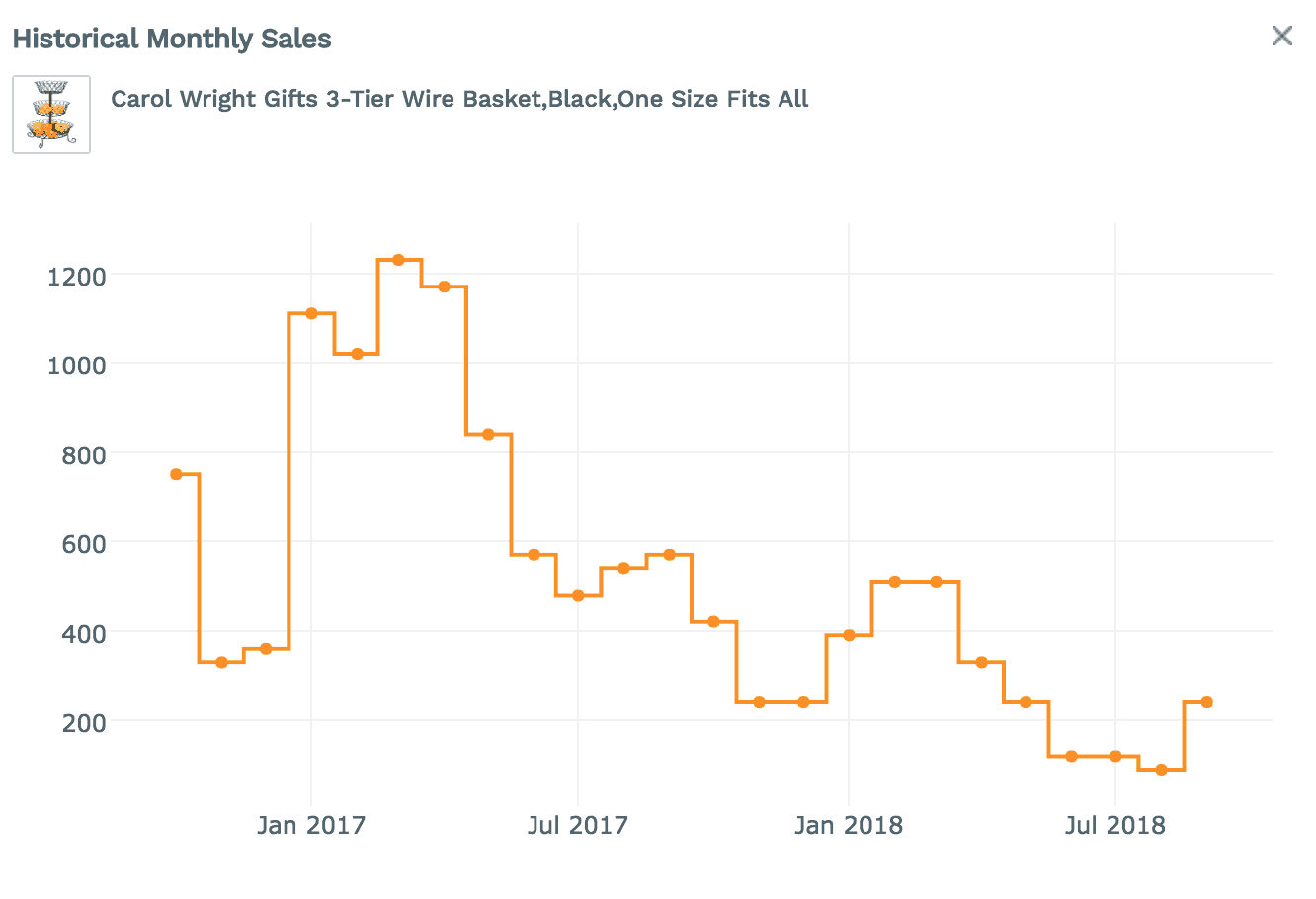 As you can see I have highlighted which of these features are in the Pro Version only. Honestly I don't think everybody needs the Pro version. Many of the Pro features you can do manually as well. For example you can do step 4 by entering the ASIN in Amazon's FBA Calculator. And step 5 by entering the ASIN at CamelCamelCamel.com. This will give your roughly the same info you need. However, you can image how much extra time this will take per product. Personally I like to check as many potential products, in the shortest timeframe. So for me the Pro version is an excellent fit. This way I can cover all 5 steps with 1 program, and have all information I need in 1 clear overview. However, if you are just starting out the Lite version will still give you most important feature you need: estimating sales.
Accuracy of Sales Estimator
IMO the sales estimator is the core feature of Jungle Scout. I use this all the time to get an estimate if a potential product is selling or not. So the accuracy of this estimator is extremely important. I always felt this software is pretty accurate, but never really put it to the test. For this review I will take the sales number for some of my own products and compare them to the sales estimator from JungleScout.
| | Actual Sales | Jungle Scout Estimate | Jungle Scout Accuracy |
| --- | --- | --- | --- |
| Product 1 (High Demand) | 483 | 469 | 97% |
| Product 2 (Medium Demand) | 221 | 208 | 94% |
| Product 3 (Low Demand) | 135 | 121 | 90% |
What we conclude from this little test is that Jungle Scout is very accurate on high & medium volume products: 97% – 94% accuracy. However, on low volume products it seems to undervalue the estimated sales by a bit more and has a 90% accuracy. This is probably because this low volume product only have 3 sales per day on average. So some days 0 sales and some days 7 sales, which is very hard to estimate.
Jungle Scout UK
Yes! Jungle Scout also works on the UK market: Amazon.co.uk. It will work on all European marketplaces, and also some other major Amazon markets:
Amazon.com (US)
Amazon.co.uk (UK)
Amazon.de (Germany)
Amazon.ca (Canada)
Amazon.fr (France)
Amazon.in (India)
Amazon.com.mx (Mexico)
Amazon.it (Italy)
Amazon.es (Spain)
See below for the Garlic Press niche on Amazon UK:

Conclusion
Pro's
The tool gives me all the required info in 1 clear overview.
Very accurate on medium – high volume products.
No monthly subscription.
Con's:
Not that accurate on low volume products.
Only works with Chrome browser.
So yeah, I am a big time user of Jungle Scout and will continue to do so until a more accurate tool comes around.
Pricing
Jungle Scout Pro has a one-time fee of $177, while the Lite version is $77 (if you use my $20 discount code).
If you have limit capital even $97 can be expensive. However, I strongly feel every FBA seller should have Jungle Scout in their tool arsenal. So I have a couple of these discount coupons that will give you $20 discount. Feel free to the Jungle Scout Discount Code if you are planning on buying Jungle Scout.
Jungle Scout Discount Coupon Code 2019
Click here for $20 Discount on JungleScout