If you're starting your e-commerce business on Amazon, first you need to find the right products to sell. Product hunting, better known as product research, is essential for Amazon sellers because it plays a significant role in the success of your business. Depending on your products, your store will either thrive or fail.
Amazon product hunting can be done manually or using product research software, such as Jungle Scout and Helium 10. Most sellers nowadays rely on Amazon product research software. However, doing a manual search alongside is wise as it allows you to find unique products and manually verify them.
How to Use My Spreadsheet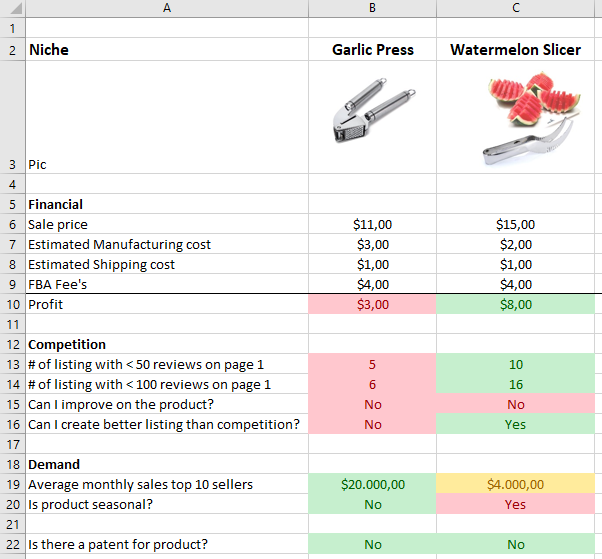 Updated: 05/07/2023
Download Product Hunt Spreadsheet
What Is Amazon Product Hunting?
Amazon product hunting allows you to find winning products. These products have low competition and high demand. They are sourced at a low cost and sold at a higher price, thus bringing your good profit.
Winning products are always in demand and have a lot of sales. Hence, when you find winning products for your store, you don't have to convince the visitors that they are good; they already know that. Instead, you need to take care of presenting (storytelling) and promoting your product listings to convince the visitors to buy the product(s) from your store.
Why Is Product Hunting Important for Your Amazon Business?
Amazon has around a million active sellers worldwide, which is A LOT. Being expanded to this point, putting a catchy label and custom packaging is no longer enough to succeed on this platform. You need to come up with something more, something that will make you stand out from the rest. Apart from coming up with a good marketing strategy, finding the right products to sell is what you need to excel.
I know this may sound terrifying to beginners, but you need to know that the competition is HUGE, and you need to take your business seriously and work hard if you want to succeed. So, invest a lot of time in coming up with the right niche and conducting good and thorough product research.
Use Amazon product research software like Jungle Scout and do manual research to identify the best-selling products. Then, go deeper and find similar products that sell well. Look at their stats, demand, number of sales, Amazon rank, reviews, potential profit, etc. Then, choose the ones that have high demand, good reviews, and not too many sellers. Those will be your winning products.
9 Things to Consider When Hunting for Products on Amazon
Amazon product hunting can be a bit confusing as you may not know where to start from. What terms to search for? What niche to choose? etc. And, even after you find your niche and start searching for products, you may not be sure which ones are good. That's why you need to know the assets that make a product a winning one
1. High Demand and Low Competition
A winning product, by definition, is a high-demand, low-competition product. These two factors are of utmost importance because they determine whether your product(s) will sell or not.
The product's demand determines the time your product will need to start selling. Therefore, a product with high or even medium demand is more likely to sell than a product with low demand because the interest for it is huge.
In terms of competition, it determines how easily your product will sell. The less competition you have, the greater the chance of making sales, and vice versa, the more competition, you have, the lower the chance of making sales. Hence, with high competition, you'll have to try harder to market your product to make it visible to potential buyers and still not have a guarantee if you succeed to sell it.
 2. Keyword Search Volume
The keyword search volume is another important factor to consider when searching for winning products as it identifies the people's interest in buying that product. The more people search for a product, the greater the chance of selling it on Amazon.
For example, if you want to sell storage bins and search for the keyword "storage bins", you'll see that it has a search volume of 452,953 (using the Helium 10 keyword research tool Magnet). But, that's too general and has over 30,000 products matching it. On the other hand, the keyword "storage bins with lids" has 237,408 but something over 10,000 products, which means lower competition.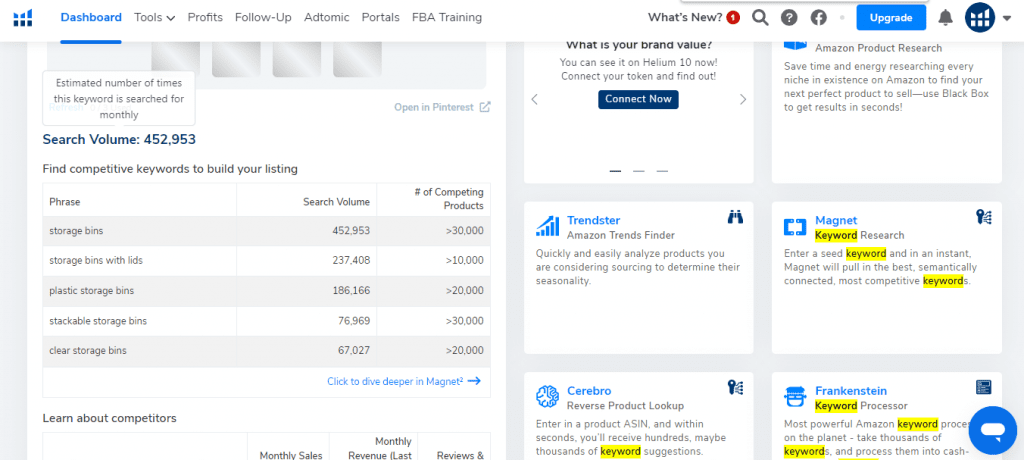 3. Average Revenue and Monthly Unit Sales
If you want to have a good number of sales and earn enough, you should choose products with over $5,000 in average revenue and less than 300 units sold per month.
4. Price and Margin
A lot of new Amazon sellers fail to consider the FBA costs of their products, thus setting up a low price that either doesn't cover their expenses or doesn't bring much profit. So, make sure you keep this in mind when looking at the product's price and use an FBA calculator to calculate the best price for your product(s).
Considering that in 2021 a bit over half of the products sold on Amazon were priced between $11 and $25 and 32% were priced over $25, it's best to set a price between $15 and $30 depending on the product's sourcing price and FBA costs. In this way, you'll sell your products at an average price while making a good profit.
5. Low Seasonality
There's nothing wrong with seasonal products except that they are in demand only in a specific season. Hence, you can't rely on a year-round demand. That's why it's best to sell products that are used and bought throughout the year.
You can check a product's seasonality using Google Trends. Simply add the product keyword, your marketplace (country), and click Enter to see the results.
6. Reviews
Customer reviews play a great role in the number of sales of products. They serve as social proof of the product quality and customers' satisfaction with the same and provide a sense of safety and security to potential buyers. So, it's not a surprise that the more positive reviews a product has, the higher the conversion rate is, and vice versa.
In order to find quality products to sell in your Amazon store, we advise you to search for products with less than 500 reviews, so that there's room for your product on the market. If you choose a product with 500 – 5,000 reviews, it means a lot of people buy it from your competitor(s), so it will be hard for you to stand out from the crowd.
Apart from the number of reviews, consider the product's rating. Go for products with at least 4.5 stars to make sure you choose a quality product(s).
7. Product's Consistency
You may find a product(s) that fits all the abovementioned criteria, but it doesn't perform as expected upon launching it. What went wrong?!?!
Probably its performance dropped down for one or another reason. Maybe its demand has changed or a hundred new sellers started selling the same product meanwhile, or maybe its keywords changed by the time you launched it.
That's why it's very important to track the product's performance over time, let's say every two weeks, as well as the abovementioned factors.
8. Small Size and Lightweight
Although not among the must-have features, selling a small and lightweight product is smart as it will minimize your FBA costs. Selling big and heavy products results in higher warehouse and shipping costs, which is not favorable for those starting their Amazon e-commerce business.
That's why it's best to choose products with smaller dimensions that weigh less than 1 kg. Of course, this depends on the chosen niche. But, regardless of your niche, try to choose as small and lightweight products as possible.
9. Seller's Rank
Last but not least, consider the seller's rank as it denotes the product's popularity and amount of sales. Since you want a product with low competition, go for products with a seller rank of less than 40,000 in the last 90 days. They are popular, but still, there's room for a new seller of that product on the market – YOU.
Should You Hunt for Products Manually or Use an Amazon Product Research Tool?
There has been a pretty long debate about whether you should do product hunting manually or use Amazon product research software. I'd say it all depends on whether you prefer using the old-school manual method or the all-done-for-you automatic method.
I think it's fair to say that most Amazon sellers today rely on Amazon product research software like Jungle Scout, Helium 10, Viral Launch, and AMZScout. I, myself, use them to do my product hunting, and I like that I don't have to do all the manual, tedious work on my own.
However, with many sellers using the same product research apps, using pretty much the same filters, they get the same results. Hence, all these sellers end up selling the same products, and that's not low competition.
So, what can you do about that?
The answer would be: do manual product research using Excel sheets or any other local app that would help you organize your findings. But, since we really hate the time-consuming manual research, an alternative would be to add a "shorter version" of the classic manual research to your automatic research. Combining both methods will help you identify products the other sellers probably won't.
How to Do a Quick Manual Product Hunting?
The best way to shorten your time doing manual product research is by using Amazon to find potential winning products. To do that, follow these steps:
1. Check the Best Sellers List
Go to Amazon's Best Sellers page and look at the list of products Amazon displays based on products' performance.
Search for products within your niche, if you've already decided on it, or check based on criteria like the number of sales and rating to choose your niche if you still haven't decided upon it.
2. Check Product Demand
To find out whether a product is in demand throughout the year or seasonally, use tools like Google Keyword Planner and Google Trends or your product research software.
3. Analyze Your Competition
To learn more about your competitors, you need to analyze them. You can do this by visiting the Best Sellers page and looking at who's selling the highest-ranked products.
Check their product listing pages and Amazon stores.
If you want to find out more about your competitors, you can also google them.
Once you have all data gathered, combine them with the product results from your Amazon product research tool and do an analysis. See which products overlap and which are unique. While you can choose any product(s) you want, going for the unique ones will result in less competition.
Final Thoughts: Make the Most of Your Amazon Product Hunting
Using Amazon product research tools like Jungle Scout alongside manual product research will provide you with more valuable information. More importantly, it will help you find products that not all sellers will since you'll base your research on your own criteria. And, while you do have to invest a bit of time doing the manual product research and analyzing the results from both product research methods, it's worth it as it will allow you to find winning products that not all sellers will.