Amazon is a great marketplace to start your e-commerce business. But, it can also be "terrifying" for newbies because there are millions of active sellers. That's why it's essential to choose a high-demand low-competition product(s) you'll sell in your store.
To find winning products for your Amazon business, you need to do good product research. Apart from using product research tools like Jungle Scout, AMZScout, and Helium 10, you should also use the rather old-fashioned Excel sheet comparison approach. It will allow you to compare multiple products side by side while focusing on the most important information such as margin, profit, competition, and demand. It will also provide you with a clear view of the advantages and drawbacks of each product.
Download Spreadsheet
Updated: 22/06/2023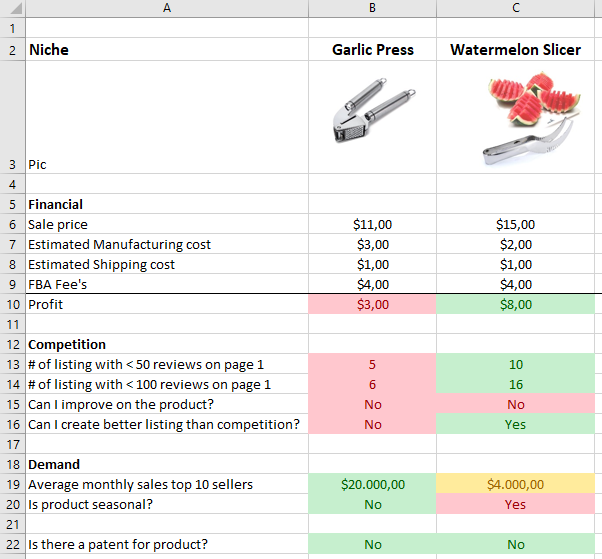 Why Is Product Research Important?
Doing good Amazon product research is important because it helps you identify products worth selling on Amazon. It doesn't matter how awesome your marketing strategy is and that you've prepared an exquisite pre-launch and launch promotion, if you've chosen the wrong product(s) to sell in your store, all your efforts are in vain.
With product research, you get a lot of valuable information about your product and its performance. Tools like Jungle Scout show you details on a product's past and current performance and estimates on its future performance on Amazon. There is also information on the product itself, including its purchase price, weight, size, FBA fees, etc. So, with product research, you find the best products to sell in your niche following the criteria you've applied.
How to Choose the Right Product to Sell on Amazon?
Speaking of criteria, you need to know what you want from your product. How much profit do you want each item sold to bring you? At what price should you sell your product? At what price do your competitors sell it?
I know this may sound complex, especially for those just starting their Amazon e-commerce business, so I've prepared a short list of the criteria your product should fulfill. Let's take a look at it!
1. Choose a product with a minimal sale price of $15
This will cover all Amazon-associated costs (33% for Amazon fees and another 33% for manufacturing and shipping costs) and will bring you 33% profit. So, for each product you sell, you'll make a $5 profit which is solid.
2. Go for products that have high demand but low competition
If you want to make money from your Amazon business, you should go for products that are always in demand. You can check this using a product research tool. While you want to sell high-demand products, you should go for products that don't have much competition in order to stand out from the crowd more easily and get as many sales as possible.
3. Choose quality products
You want to offer products of good quality to your clients so that you can earn more 5-star reviews and receive positive client feedback. The better the quality of your product is, the more sales it will have.
4. Avoid seasonal products
Seasonal products are high in demand only around their season, which means they'll sell only when it's their season, and you don't want that, do you? That's why it's best to avoid seasonal products and focus on products that are always selling.
5. Choose products that are easy to manufacture
Since you don't monitor the product's manufacturing directly, you don't know if something goes wrong during the production process, and you can't act on time. This is especially important if you choose a product that is manufactured in China.
That's why it's best to choose a product that is easy to manufacture, with the least chance of something going wrong. This includes one-piece products or products made from one type of material.
Why Should Amazon Sellers Use Sheets for Product Research?
Most Amazon sellers, including me, rely on product research software like Jungle Scout and Helium 10. There's nothing wrong with using them because they do all the hard work for you and provide you with all information you need about a product.
However, since a lot of sellers use them for product research and they all use more or less the same filters (e.g. low competition, high demand, most profit), they all get the same products in the search results. And, having thousands of sellers selling the same product is no longer low competition.
For best product research, you should use a product research tool along with an Excel sheet. Using sheets will allow you to compare products side by side and identify which ones are worth selling without relying solely on what Jungle Scout (or another product research tool) says.
Another important thing is that using Excel sheets for product research gives you flexibility. You can use your own data in a way that suits you the most. After all, we all have different KPIs and criteria we want our product to fulfill. And, with Google continually improving Google Sheets, it's a pity not to use them to create more personal product research.
Make the Most of Your Amazon Product Research
Combining Amazon product research tools like Jungle Scout, AMZScout, and Helium 10, with Excel Sheets (Google Sheets) will provide you with a more personalized product research experience. You will still know which are the winning products to sell on Amazon but will be also able to compare them yourself to see which one(s) best fits your KPIs.
After trying this method myself, I've noticed how easier and more valuable it is to have a well-organized and thought-through Amazon product-hunting Excel sheet. That's why I'm giving away my Amazon product-hunting Excel sheet template for free!