Following my latest case study on how to launch new products on Amazon.com, I have had a bunch of questions on how I found that product. And you might have asked yourself as well:
What are the Best Items to Sell on Amazon FBA?
There are loads of ways to do product research, but I have used my Jungle Scout tools to find the product I am using in the case study. In the post we will split up my Amazon Product Research Strategy into the following points:

Disclaimer: I am a huge Jungle Scout fanboy! Not only am I a big time user of their products but I also love all the free info they put on their blog. I advice every new seller to read as much free info as possible and the Jungle Scout blog is a great resource for every Amazon seller.
Video Tutorial
1). Amazon Product Checklist
I have made a checklist of all the criteria I want a new product to have. This is simply the checklist I use. If you are an experienced seller you don't have to follow this but if you are just starting out this is a great guideline.
1. Sales Price: $15 and above

I always look for products that have a sales price of at least $15. The reason for this is that you can take the general rule of thumb with private label products that:
33% goes to production & shipping.
33% goes to Amazon fees.
33% goes into your pocket as profit.
So if you have a $15 product you can expect a $5 profit per order, which is very healthy. Anything under $15 sales price and your margin will drop very quickly.
2. Healthy profit margin / Profitability

Previously we have discussed that you want to aim for a 33% production cost + shipping, 33% Amazon fees & 33% profit ratio. Of course the higher the profit margin the better but if you can find a product with this ratio it is fine. Based on this we can say that we want to spend a maximum of 25% on production cost, as this will still leave us with 8% to spend on shipping.
So let's say we find a product with a sales price of $15. We want to produce this product for a maximum price of: $15 * 0,25 = $3,75. This still leaves us with $1,25 to transport the product, after which we will have our 33% / 33% / 33% ratio.
When doing product research I usually do a quick search on Alibaba.com to do a price check.
3. High demand
This very much depends on your goals and how much you want to make on your product. Personally, I want to make at least $1000 profit on a product per month. Based 33% ratio we discussed, I should look for products that have at least $3000 revenue per month. The demand of the product is checked with tools like Jungle Scout or Helium 10.
4. Low competition

This is an obvious one, but also the most important one. Judging if a niche has low or high competition actually is quite complex. I have set a couple of factors that I use to determine if a niche is competitive or not.
Reviews

This is pretty straightforward. You want your competition to have the least amount of reviews so you can easily catch up with them and even surpass them in reviews. I always look for products that have a couple of sellers on the first page that have less than 50 reviews. As I can easily reach 50 reviews as well and reach page 1.
Product photos

Product photos are super important for customers. However, I still see a lot of sellers with very bad pictures. If I am looking at a niche and see sellers who only have 2-3 low quality-images, I know I can easily beat them if I have 7 high-quality images including lifestyle shots & infographics.
Listing-quality

Here I look at how well a seller describes the product and if it uses the right keywords to attract customers. For example, there is a big difference between a seller who describes his product as:
iPhone charger
Compared to a seller who describes his product as:
White iPhone Charger: 6 feet Charging Cable for iPhone X, 8, 7 Plus, iPod, iPad Pro and more
Product quality

Pretty straightforward as well: If I see a niche where there are a bunch of sellers on page 1 with an average rating of 4 stars or below, I know I can offer a better quality product. I simply read their 1-star reviews to see where their product lacks, and improve on this with my own product
There is a reason I picked these factors to determine if a niche is competitive: This is also what a customer looks at when deciding which product to buy! So I am simply asking myself: Can I beat my competition?
Can a create a better quality listing?
Can I offer a lower price?
Can I deliver a better quality product?
Can I gather more reviews?
If the answer to most of these questions is: YES! You will have a very good chance to reach page 1 as well, especially if you follow my case study on how to launch a new product.
5. Easy to manufacture

This is a very important one if this is the first time you are manufacturing a product from China! There is a lot that can go wrong in the manufacturing process and if you no experience with this, you probably won't catch any potential errors. For this reason, I advice every new seller to find products that are very easy to manufacture. So stay away from any sort of electronics or products that require a lot of assembly. Try to look for simple products that are made from 1 piece, or at least from 1 type of material.
6. Is the product seasonal?

This isn't a very strict requirement. As I have a lot of success with some seasonal products. However, I do want to point out that you should always find out if a product is seasonal. For example, if you are doing product research in July on
Pool Toys 
you will probably find that there is a huge demand for it. But when you finally launch your product in November you will find that all the sudden the demand has dropped for this product. This is not a bad thing as you can still make a lot of money with seasonal products in the right period, but you should definitely be aware of this. You can check if a product is seasonal with
Google Trends
, and the
Jungle Scout Chrome Extension
also offers Historical Monthly Sales.
Importance of product research
I'd say that your product selection is the most important decision in your whole FBA process. It doesn't matter how good your marketing or launching strategy is, if you picked a bad product you will have an extremely hard time to make it a success. Personally, I spend at least 1 month on product research when picking new products, and this is not something to be rushed. Below I will quickly go over some products I found using this checklist, but I strongly advice everyone to take their time for this!
2). Using Jungle Scout tool to find Amazon product idea's
Ok so now that we know what we are looking for it is time to actually put in the work and find that golden product! There are loads of ways to look for products but the beautiful thing is: Jungle Scout has a database with Amazon products on which we can use these requirements!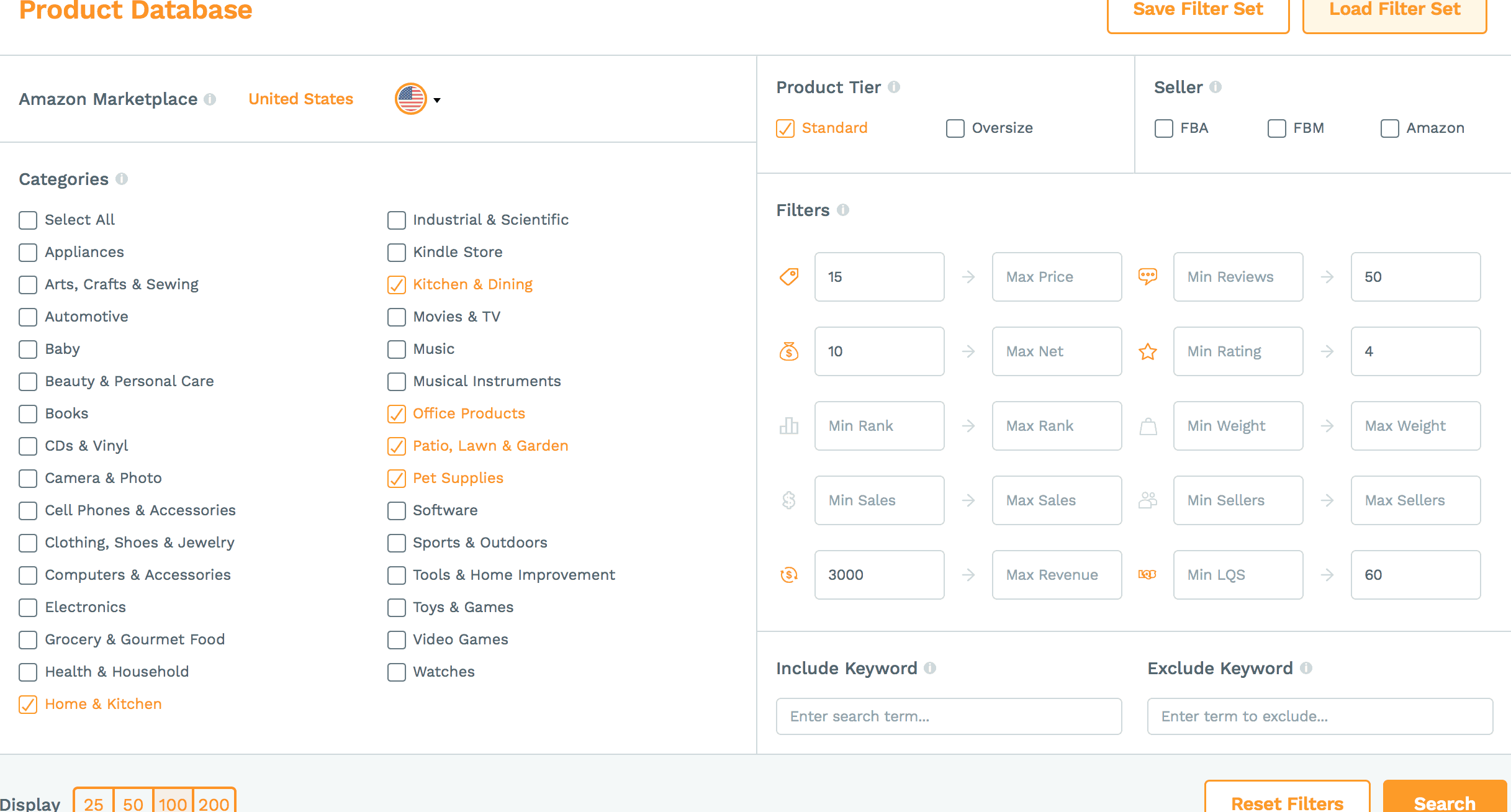 So this is the field where you can enter the filters. Below I will explain the filters I use:
Categories: Based on if a product is easy to manufacture I have selected these categories. You can experiment with this, but I would stay away from the Watches & Electronics categories as there are extremely hard to manufacture!
Price: Minumum $15
Net: Minimum $10. This is the minimum payout from Amazon, so based on the 33% ratio we want to get paid at least $10. So we can still spend $5 on production & shipping and have at least $5 left over as profit.
Revenue: Minimum $3000 per month
Reviews: Max 50
Rating: Max 4
LQS: Max 60. This is great. Jungle Scout has their own formula to judge a listing: Listing Quality Score (LQS). This ranges from 1 ( low ) – 100 ( perfect).
So we enter these filters into their database and POOF! A huge list of potentially great product idea's! I've been scrolling through the database for about 20 minutes and noted the best products I have found below.
3 Tier Metal Stand  
Hooded Beach Towel
Dog Car Seat Cover
3). Evaluating our product idea's
DON'T LOOK AT THE PRODUCT BUT LOOK AT THE NICHE!
This is really important. You don't want to base your decision on just 1 product, but you want to look at the whole market in general. For example, it might look like 1 product is doing great and there is a huge demand. However, it could be that this product is doing a lot of giveaways and spending a lot of money on advertising, so the sales are inflated.
To get a complete overview of the niche I use the Jungle Scout Chrome Extension. We will be checking the niche to the checklist to find out if they meet our demands
Product idea: 3 Tier Metal Stand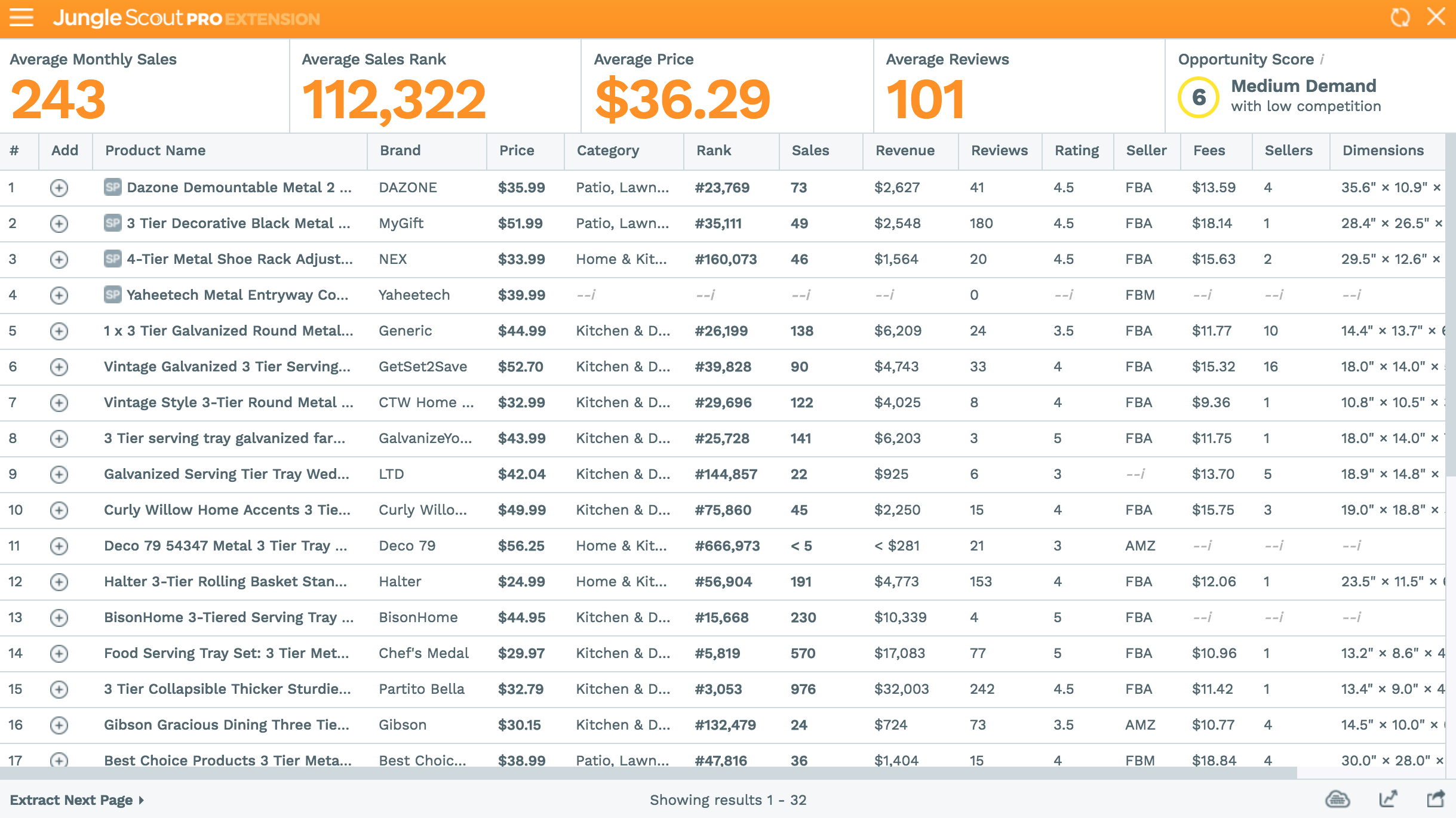 1. Average Sales Price: $36
2. Profit margin: $18 – PERFECT!
Sales Price: $36
Amazon fees: $11
Production cost: $5
Estimated shipping: $2
Profit Margin: $18
Quick Alibaba price check:


3. Demand: Medium
Almost all sellers are doing more than $3k in revenue per month, which is our target. However, the revenue is not extremely high.
4. Low competition: Extremely low!
Reviews: Extremely low
The first 7 sellers have less than 50 reviews. There are even 4 sellers on the first page who have less than 10 reviews.

Product photos: Terrible.
This is the listing ranked #1. Only has 1 picture!
Listing quality: Terrible
The #1 only has the dimensions in the description
Product quality: Terrible
Top seller has 3.5 / 5 stars. You can simply read his bad reviews, see why his rating is so poor and improve this on your product.
5. Easy to manufacture

This product is made out of 1 piece, requires no assembly and very easy to make!
6. Not Seasonal
Conclusion
This is an amazing product with barely any competition. Very good profit margin. The only downside is that there no huge demand for this niche. You can easily make $1k – $2k profit a month with this product but there is not really room to grow bigger.
Product idea: Hooded beach towel
1. Average Sales Price: $21
2. Profit margin: $10 – GOOD

Sales Price: $21
Amazon fees: $6
Production cost: $4
Estimated shipping: $1
Profit Margin: $10
Quick Alibaba price check:


3. Demand: High
Every seller on the first page is doing between $3k – $10k, even with a super seller doing $17k in revenue per month.
4. Competition: Very Low
Reviews: Low
So the competition barely has any reviews. 7 products on the first page have less than 50 reviews, and the average amount of reviews on the first page is 58!

Product photos: Low
This listing is ranked 3rd. It only has 2 very basic pictures.
Listing quality: Low
This is a great example of a terrible listing. It has the bare minimum.
Product quality: Good
Most sellers have a rating of 4 – 5 stars
5. Easy to manufacture
The product is only made of 1 piece of fabric and requires no assembly. Seems to be very easy to manufacture!
6. Very Seasonal!
Yes, this product is seasonal. Let's check this out:


Like expected this product has amazing sales from March-August. And in the winter, months the sales drop drastically.
This does mean this is a bad product! If you take this into account you with your stock forecast this can actually be a great advantage. For example, I actually have a lot of summer products like this. They will generate loads of sales for me during the summer and require barely any stock in the winter. This is great for me to generate a lot of capital in the summer, which I can then spend on stock for my Christmas products!
Conclusion
Great product if you take the seasonality into account. The product barely has any competition, huge demand and checks all other factors of our checklist!
Product idea: Dog Car Seat Cover
1. Average Sales Price: $26
2. Profit margin: $11 – GREAT!
Sales Price: $26
Amazon fees: $8
Production cost: $6
Estimated shipping: $1
Profit Margin: $11
Alibaba price check:

3. Demand: EXTREMELY HIGH
So this product is for people who want to make some serious dough. This is a huge market with some of the top sellers doing between $100k – $300k. Obviously, we don't need to be a top seller, but we want a tiny piece of this pie. For example, there are a couple of sellers ranked in the middle of page 1, who have around 50 reviews and are doing between $10k – $20k in revenue. This will be our first goal as we can easily reach 50 reviews. Once we are ranked on page 1, we can change our ambitions and aim for those top spots.
4. Competition: Medium-High
So I have kinda touched upon this point above. There are some major sellers in this niche who are well established with thousands of reviews and great listings. However, there are also some vulnerable sellers we can beat. For example, in my product launch case study I am also competing with sellers who have a couple hundred reviews.
Reviews: Medium-High
So for this niche, we definitely need some deep pockets and be ok with not making a profit for the first couple of months, in order to get those reviews. However, it is not as hard as it seems. For example, seller #7 only has 90 reviews and is doing $72k a month. Besides that, there are also sellers on the first page with only 25, 35, 52 & 74 reviews. Definitely something we can do as well!
Product photos: Great
Listing quality: Great
Ok since this is a semi-competitive niche you can expect all sellers to have their listing & products in order. This is a great example how of you want your listing & pictures to look. Great lifestyle pictures in combination with a very detailed description.
Product quality: Great
5. Easy to manufacture
Yes, same as the products above.
6. Not Seasonal
Conclusion
Semi-competitive niche with a huge demand! I would not recommend this for your first product but if you have some experience this is a very good opportunity. All competitors have great listing & pictures. So it is up too you offer something different. For example, I would differentiate myself by offering an e-book on how to train your dog, something no other seller is offering.
Your Turn!
I think I have explained every aspect on what to look for when doing product research and even showed you how easy it is to find products with the Jungle Scout Web App. So there is not much more I can show you, now it is time for you to take action! I found these products in 20 minutes. Definitely not something I would recommend, but imagine what you can find when you spend a full month on product research!
The web app has a price tag of $49 per month and the extension is $39 per month, which is quite a lot. However, they offer a bundle discount where you can get both tools for $69 per month.
I typically only use their service for 1 month where I do very extensive product research. After this month I have found my product and can cancel their service, so it is not that bad.
Major Downside with this Method
One of the main disadvantages of using these databases is that everyone is using the same filters (everyone wants a low competition product with loads of revenue right?). I have had it happen multiple times that I found a great niche with one of these databases. But by the time I was ready to launch my product (3 months later), loads of other people had also seen this niche in the database and the competition was much higher!
Are You Ready For The Advanced Level?
Because of this, I focussed on developing new product research strategies! I ended up sticking with 3 methods that helped me find awesome niches every time I used them! I have been using these methods non-stop lately and never run in the problem anymore that I see the competition increasing by the time I am ready to launch!
Advanced Product Research Tutorial