Updated: 17/06/2023
Product hunting is the first and most important step in starting your e-commerce business on Amazon. It allows you to find winning products, i.e. products that will sell and bring your profit.
While product research may seem like a daunting task, it can be made simpler by knowing which criteria to follow to find the best products for your Amazon store and using product research software like Jungle Scout and Helium 10.
Why Is Amazon Product Hunting Important?
Product hunting on Amazon is important because it allows you to find the right products to sell in your store. These are products within your niche that will sell well and will make you enough money so that you run a profitable business.
By doing product research, you analyze the current market trends to see which products are in high demand and selling well. Also, you identify which of those products would bring you the most profit and spy on the competitors.
Running a successful Amazon business isn't something that happens out of nowhere. It requires preparation instead of making guesses and assumptions about what you, as a seller, should sell. After all, starting a business is a big investment and you shouldn't make choices based on your hunch, but on facts.
How to Do Amazon Product Hunting?
You can hunt for products on Amazon manually or using a product research tool. Alternatively, you can combine both methods to come up with a list of verified winning products.
Manual Product Hunting
Manual product research is a great way to find winning products that fit your research criteria without getting the same products as other sellers, which may happen when using product research software. Although time-consuming, searching for products manually allows you to thoroughly inspect possible products you could sell in your store.
To search for products manually, it's best to use the Amazon best-sellers list. This list allows you to check for the best-selling products in every category so that you can quickly find in-demand products.
Another option is to use Google Trends. This platform allows you to see the customers' interest in an item over time. This will help you decide whether a product is in-demand throughout the year or at specific periods.
However, when using the manual method, you can't do anything other than find in-demand products and compare multiple products using Excel sheets. Since you only see product data, sales data, and its rank on Amazon, you can't calculate its FBA fees, margin, profit, estimated sales, and lots of other things product research tools allow you to do.
Using Amazon Product Research Software
Amazon product research software minimizes the time invested in product hunting and your efforts and helps streamline the product research process. More importantly, it provides you with in-depth data on each product you're interested in. While the exact features and data provided depend on the software you use, almost all allow you to view historical data sales and provide you with estimated sales data, FBA fees, potential profit based on a specific margin, number of sellers, as well as product information like size, weight, and current price.
Which Amazon Product Research Software to Use?
There are many Amazon product research tools on the market and it's really up to you which one you use. However, if you want to make the most of your product hunting and get reliable and accurate data, you should go for the best tools: Jungle Scout or Helium 10. These two tools are the most popular ones due to providing the most accurate product data and estimates. You can choose the one that best fits your budget and needs.
Jungle Scout Product Research Tools
Jungle Scout is one of the most popular and accurate product research tools on the market. It offers an unmatched product hunting experience thanks to its impressive tools which include:
Browser Extension – provides you with detailed product data within seconds, thus allowing you to find and validate products while browsing Amazon.
Product Tracker – tracks products' performance and key metrics, such as sales, price, and rank over time. It also allows you to easily organize all product ideas and their details.
Opportunity Finder – using the power of high-demand low-competition keywords, this tool allows you to instantly find potential products.
Amazon Product Database – this searchable catalog featuring 475 million products sold on Amazon allows you to easily search, find, organize, and evaluate products you're interested in.
Using these product research tools, you can easily find profitable products to sell in your store without wasting hours of your time. In that way, you save lots of time, money, and effort which you can direct to marketing your business.
Helium 10 Product Research Tools
Helium 10 comes with several product research tools that allow you to find winning products easily, including:
Chrome Extension – features several tools that provide you with essential product data right on Amazon's page, including Demand Analyzer, Supplier Finder, Sales Estimator, Profitability Calculator, and Review Insights.
Xray – the all-in-one product research tool of Helium 10 provides you with a plethora of details about each product, such as Best-Seller's Rank, estimated sales, revenue, and historical graphs. In this way, it allows you to identify the most profitable ones without much effort.
Black Box – helps you find highly profitable product opportunities in no time.
Trendster – tracks a product's seasonality, demand, sales rank, and price change over time.
Combining these product research tools, Helium 10 does all the hard work of product hunting for you within seconds. It not only saves you lots of time but also nerves because you don't have to do anything to get your hands on all the valuable data you need to find the right products to sell in your Amazon store.
Amazon Product Hunting Criteria
1. High-Demand, Low-Competition Product
If you want to succeed as a new seller on Amazon, you need to find products that have high demand and low competition. These products are known as winning products because consumers always search for them, yet there aren't too many sellers selling them. And, when you offer a product people want and there aren't a lot of other sellers offering it, you can expect lots of sales. Of course, the number of sales depends on the quality of your product listing and the success of your marketing strategy.
How Can You Identify a High-Demand Product?
The best, easiest, and quickest way to do this is by using a product research tool like Jungle Scout or Helium 10. When using these tools, you can apply filters like number of monthly sales and monthly revenue, which will narrow down the choice to products that fulfill those criteria. The value of these filters depends on your goals and how much profit you want to make per product. For example, if you want to make $500 per month per product, you need to look for products with a minimum monthly revenue of $1500 following the 33% ratio.
How Can You Identify a Low-Competition Product?
Once you find potential high-demand products you would sell in your store, use a product research tool to narrow down the choice by applying the number of sellers filter. This will show you the number of sellers currently offering that product on Amazon.
Another way is to analyze the competitors by looking at the following factors:
Product listing quality – Look at how well a product listing is created, starting from the title to the description to the keywords used. For instance, there's a difference between a product title "Plastic organizer" and a product title "Cube Storage Organizer Portable Closet Wardrobe Bedroom Dresser".
Product photos – A good product has professional-looking photos included in its listing. If a product has 2 or 3 low-quality, vague photos, it's not a competitive one. Hence, you can easily beat such a product by adding 5 or more high-quality, professionally taken photos, maybe even a video and infographics.
Number of reviews – The number of reviews is more or less reciprocal to the number of sales. The more sales a product has, the more reviews it has. Therefore, in order to find a low-competition product, you should look for products with a few sellers on the first page with less than 100 reviews.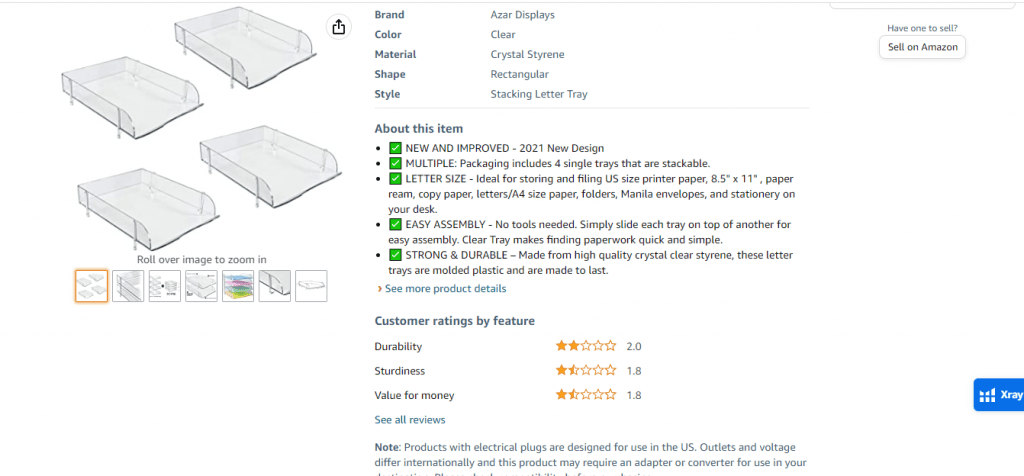 Product quality – Look at products that have a 4-star rating or lower because they offer room for improvement. For instance, if you find an onion chopper with a 3.5 stars rating, look at the worst feedback to see what is wrong with it so that you know what you need to improve with your product.
2. Minimum Sales Price of $15
When looking for potential products to sell in your Amazon store, go for those with a minimum sales price of $15. This is because 33% of the price goes for Amazon fees, another 33% goes to production and shipping, and the other 33% is your profit. Hence, if you sell a product for $15, you will make $5 per product, which is a good margin.
I know that selling cheaper products may be tempting for first-time sellers since they want to offer low-price products to attract buyers, but it's wrong. Why? Because selling a product for less than $15 will drastically lower your margin and it won't bring you good profit. So, yeah, it's not worth investing your time and money in such products.
3. Healthy Margin
Speaking of profitability, having a healthy margin for each product you sell is essential for the success of your business. If you don't make a good profit, your business won't scale, and you will eventually give up and close your Amazon store.
As mentioned above, there is a 33% ratio that explains how all product-related costs are covered by the product's sales price. If you can set up a higher margin, even better, but even if you can't, it's fine.
Based on this ratio, we'd want to spend a maximum of 25% on production costs, which would leave us 8% for shipping costs. Following this percentage, if we sell a product for $15, we would spend $3,75 on manufacturing the product and $1,25 on shipping it. So, we'll cover the production and shipping expenses and still have $5 for Amazon fees and $5 profit. Not bad, huh?
4. A Year-Round Product
An important criterion to consider when product hunting is the product's seasonality. Is there an all-year-round demand for a product or it only sells in a specific season or a few times a year? For example, a garlic press is a general kitchen tool that makes crushing garlic easy. It doesn't sell only occasionally but throughout the year. However, a Jack-o'-Lantern pumpkin paper lantern sells only before Halloween because it's a product specific to that holiday.
I don't say that you can't make money selling seasonal products, but it's best to avoid it as a first-time Amazon seller. You may add various seasonal products to your store once you establish your Amazon business selling mostly year-round products.
Having that said, when doing product research, it's essential to identify whether a product is seasonal or not. You can do that by using Jungle Scout Chrome Extension's Historical Monthly Sales tool. Alternatively, you can use Google Trends to check a product's demand throughout the year.
5. Easy-to-Manufacture Product
If you're purchasing a product manufactured overseas, especially if it's from China, make sure it's easy to manufacture. A lot of things can go wrong in the manufacturing process and you're not there to monitor it. Therefore, you won't be able to catch manufacturing errors which will result in low-quality products you can't sell.
Products that are easy to manufacture are those that don't require a lot of assembling. They are made of one or two pieces and of one type of material.
Final Thoughts
Amazon product hunting is the first and most important step of starting an e-commerce business on this gigantic platform. Without it, you won't be able to spot products that will sell and bring profit continuously.
You can search for products manually, by using Amazon's Best-Sellers Rank feature, or automatically, by using product research tools like Jungle Scout, Helium 10, or any other you prefer.
In order to find winning products, you should stick to profitable high-demand, low-competition products that sell throughout the year and are easy to manufacture. Remember, you need to offer products that consumers want and not many sellers offer them in their stores. Of course, your product(s) should be better than the ones your competitors often to stand out from the crowd.
Product hunting tip: When hunting for products, take a look at the Frequently Bought Together and Customers Also Bought sections. They show what other products people bought apart from the product you're interested in. This will help you choose additional products to sell in your Amazon store and will allow you to keep up with customer trends. Plus, it will bring you additional profit.