Ok story time! I am very happy to reveal this product as I am no longer selling this or any other product within this niche. This was within the first year of selling on Amazon FBA, and I had a lot to learn.
Do you remember these? These magnetic drawing boards ( I did not sell exactly this one ), were one of the first products I sold via Amazon FBA. And I will tell you why I failed miserably with them.
First of all, I did not Private Label this product. I simply bought the exact product I found on Alibaba ( including packaging ) and shipped them directly to Amazon. No customization whatsoever. Not private labeling your product is not a huge mistake. And it might actually be a decent option for your first product if you just want to test the waters with a couple hundred units, without spending any money on customization.
So these drawing boards have these little markers that you can use to stamp the board. I knew these were small parts and could be a risk. So after a bit of research, I found out I had to put a warning label on the product:
Luckily my supplier already had this warning on the packaging the product came in, so I should be good to go, right?
So the product was selling fine, and I was in my 4th order. I could finally put in some decent orders ( around 5k units ), and things were looking great. It was at this order that my freight forwarder informed me that the container was being inspected. Now the real horror starts.
I am a Compliance Officer with the U.S. Consumer Product Safety Commission (CPSC). I am contacting you in regards to entry number XXX which entered the port of TXXX, WA on XXX. The Importer of Record is listed as XXX and the Ultimate Consignee is listed as

 X

. Your name was provided to CPSC staff by your Importer Broker, XXX.

CPSC staff collected samples on XXX to determine compliance with CPSC's mandatory standards for children's products. A CPSC sample number was assigned to the following products:

1. 

 

CPSC sample number XXX

2. 

 

CPSC sample number XXX

CPSC staff has evaluated the products and aged graded them for under three years of age (19 – 35 months). This means the products meet the requirements for small parts testing. As the product is received, the magnet attachments qualify the definition of small parts, and therefore the

 

products are in violations of small parts for children's product under the age of three. In addition, after use and abuse testing, small parts of plastic break off which also qualify the definition of small parts. The test reports are attached for you to review. More information on small parts and the requirements may be found

 here.

Due to the violations outlined above, CPSC staff requests that you

 

forfeit the products that were sampled to Customs Border and Patrol (CBP) and agree to seizure. Where these items previously imported?
THEY WERE TAKING MY WHOLE SHIPMENT!
And here is why: The standard packaging the product came in had a picture of a kid that was clearly under 3 years old.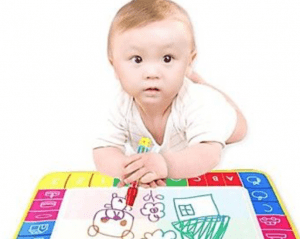 How could I have been so stupid to miss this? I felt terrible and tried to argue with the customs for months that the product was for kids over 3 years. I even had the warning label on it and everything. No luck and I never received the order…
Luckily by this time I had already made some profit on the previous orders and diversified into totally different products. This has 100% saved me. Because if this would have happened on my first order, I would have a different profession.
Want more?
Leave your email and I will let you know when I post another fail story!
[yikes-mailchimp form="1″]