1). Sales Estimation Tools
IMO, this is by far the most important tool when you are doing product research. You absolutely need to have some kind of indication about if a product is in demand or not.
You have a couple of tools you can use for this but here are my favorites:
1). Jungle Scout
2). Helium 10
3). Viral Launch
2). Alibaba
When I am doing product research I always have 1 tab open with Alibaba. This way I can quickly do a price check. This will give me a rough idea how much the product cost will be. I will still need to request quotes to get a more accurate price later though.
Here is can quickly see that I can manufacture a garlic press for around $0,90 – $1,30. This is a very rough price, but it will be enough for me to continue with my product research.
Need Help with Product Research?
I have a Beginner Product Research Tutorial here.  This tutorial will show you the basic checklist of what to look for when picking the right niche!
I also have an Advanced Tutorial in the form of an E-Book.  Here I will show you 3 unique product research methods I use myself when doing product research!
You can grab a Free Sample of My E-Book if you drop you e-mail below!
[yikes-mailchimp form="1″]
3). Amazon FBA Fee Calculator
Of course we want to know if we can make a profit on our product. There are loads of different profit estimators you can use but I like to stick to the official Amazon FBA fee calculator. It's free and it's from Amazon itself!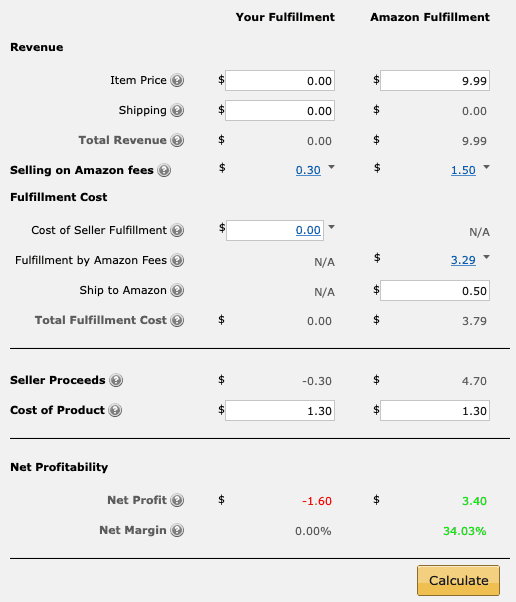 I simply enter the $1,30 product cost I found on Alibaba and enter the $1,30 product cost that I found on Alibaba. Now I can see that with a sales price of $9,99 I will make about $3,40 profit on this product.
4). Product Database
Ok now that we have our profit & sales estimation tools ready, we need to actually find some product that fit our criteria. When I first started out with Amazon FBA I would just browse Amazon.com all day until I found a couple of products that would fit my product research requirements. Although this way I found a couple of decent product, I would have to spend multiple days of just browsing Amazon. So very time consuming.
Nowadays I just use a Product Database where I enter all my requirements and the database will spit out a huge list of potentially great products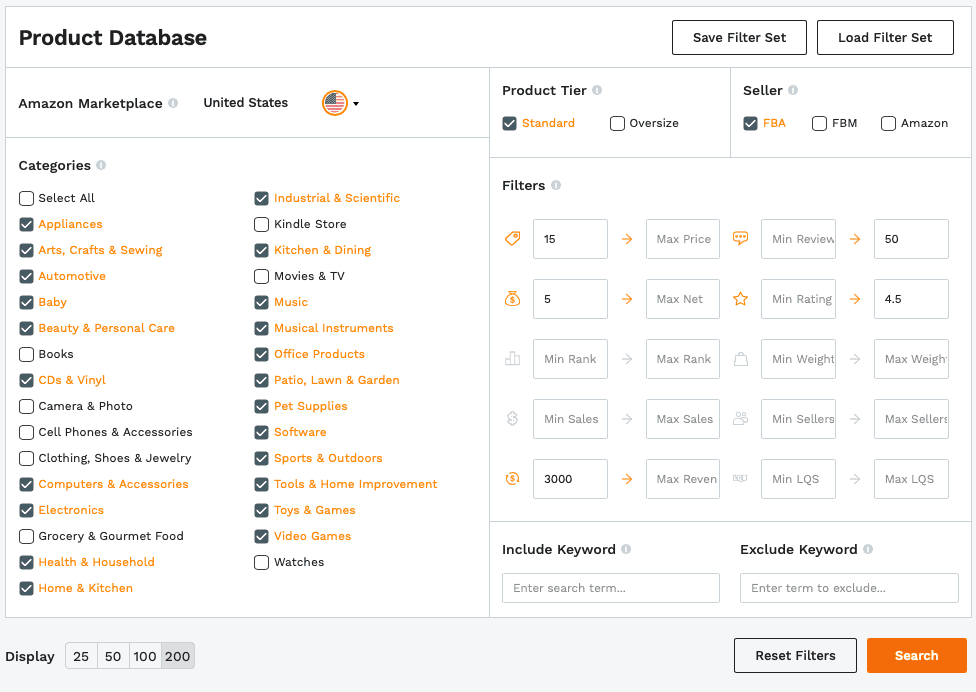 You have a couple of options when you want to pick product database. But the biggest Amazon databases are currently:
1). Jungle Scout
2). Helium 10
3). Viral Launch
5). Trend tool
And the last tool I use when doing product research is a tool to spot any trends. We want to know if a product is seasonal or not. Here you have a couple of options as well: