Keyword Tool: Keywords on Fire!
I am extremely exciting to show you ZonGuru's keyword tool. So I figured why not start the review with this awesome feature!
ZonGuru's keyword tool will pretty much steal your competitors keywords! So you input all the competitors you want to analyze and ZonGuru will scrape all the keywords they can find from their Title & Bullet Points: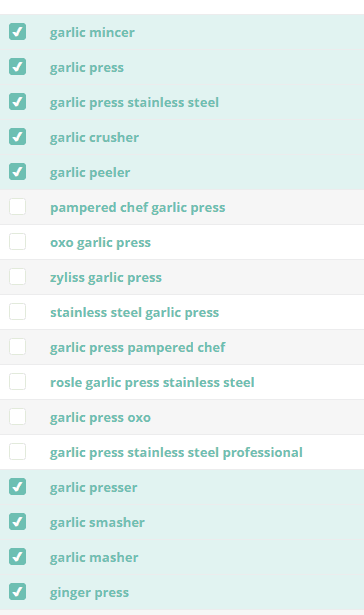 So in this example I have entered all the listings that are ranking on page 1 for the keyword: "Garlic Press".
ZonGuru has scraped all these listings and will now show me a huge list of keywords (the list is a lot longer than the screenshot).
You have to kinda filter the brand names like "OXO" & "Zyliss". But other than that you got a great list of keywords you can use, such as:
Garlic Smasher, Presser, Peeler, Crusher, Mincer etc!
So that is already pretty awesome, right? ZonGuru goes a lot further. They will also show you loads of statistics about these keywords:

KW $: Estimated combined revenue that this keyword is driving for the top 25
Search Volume: Estimated number of searches on Amazon
Top 25 Comp: Number competitors that rank in the top of 25 for this keywords.
So based on these extra statistics, we can see that the keyword: Garlic Mincer has a lot more search volume, and therefore sales than they keywords Garlic Crusher & Garlic Peeler. So we should probably use the keywords Garlic Mincer in our title, as this keyword is more important. And use the other keywords, such as Garlic Crusher & Garlic Peeler, in the bullet points.
To avoid any confusing I have decided to only show 3 / 12 stats that ZonGuru will show. If you are really into this kinda stuff (like I am) you will have a ball with all these stats and you can even filter them!
Try ZonGuru's: Keyword On Fire!
ZonGuru Chrome Extension
ZonGuru comes with it's own Chrome Extension. When you are browsing Amazon you can pull up the extension and it will show you the estimate revenue for all the product on that page. Something that is absolutely necessary when it comes down to doing product research.
A great feature they added, which I haven't seen before, is that they included a launch budget. I am guessing this is based on the amount of sales in a niche. So for a popular niche like the "Garlic Press" a pretty big launch budget of $4,700 is needed according to their extension.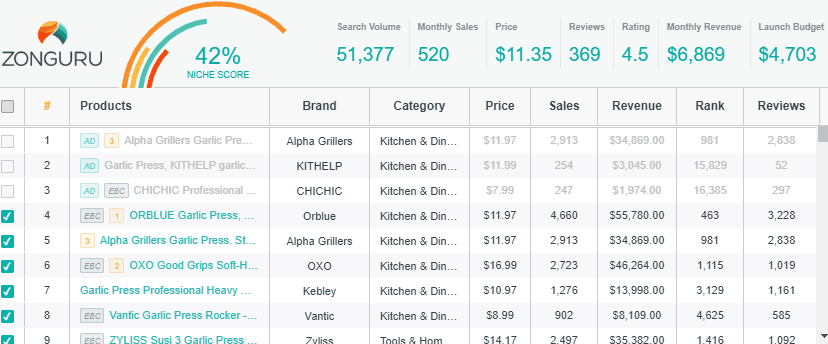 Profit Dashboard
For the established sellers ZonGuru offers a very clean profit dashboard. Here you can directly see all your sales, profit, margins, stock, PPC info, etc.
If you click on any of these you can dig deeper and find out more.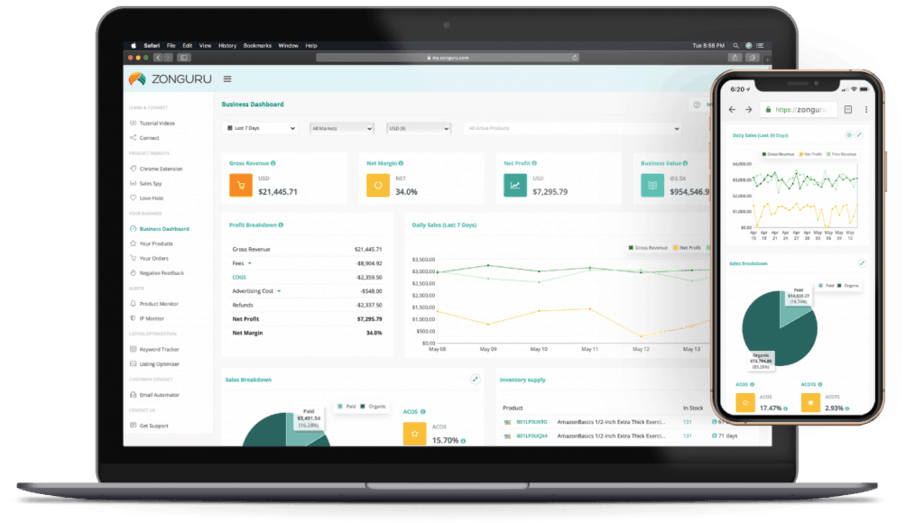 ZonGuru App
This is has to be one of the most awesome features that a lot of the other FBA tools don't offer: ZonGuru has their own mobile App!
This app will show you your seller dashboard. So you can keep track of all your sales from your mobile phone!
More Features
Product Monitor: Get notified when your listing has a FBA hijacker or a new review.
IP Monitor: Get notified when someone is using your brand name / trademark.
Listing Optimizer:
Email Automator: Email follow up service. Make sure your customers will leave a review by sending them an email X amount of days after their order. Ask them how they like the product & if they want to leave a review.
Keyword Tracker: You always want to know where your products are ranking on Amazon. This tracker will automate this process. Enter your ASIN & keywords and the keyword tracker will keep track of your rankings.
ZonGuru Pricing
If you are just starting out with Amazon FBA you can use their starter package which is only $35 per month. However, if you are already selling on Amazon you will need to start at the Business plan which starts at $65 per month!
ZonGuru Free Trial?
Yes, they offer a 7-day free trial. So give them a try and see for yourself if you like the tool!
ZonGuru vs Helium 10
Price
ZonGuru Basic Seller Plan: $65 per month
Helium 10: $95 per month
Features
I think Helium 10 would win this one. One of the major features ZonGuru is missing is that they don't have a Web App / Product Database. Both Helium 10 & Jungle Scout do have this feature, which makes a huge difference.
ZonGuru vs Jungle Scout
Price
ZonGuru Basic Seller Plan: $65 per month
Jungle Scout + Extension: $69 per month
Features
Besides the fact the ZonGuru doesn't have a product database, I think they offer very similar features. They both have a profit dashboard, keyword tool, e-mail follow-up, product tracker, etc. Pretty much all the tools you need. Only thing I would say is that I believe that the accuracy on the Jungle Scout Chrome Extension is the most accurate on the market right now. This makes a huge difference when doing product research.