Should I sell on Shopify or Amazon FBA?
So you are interested in starting your own e-commerce business? Very smart! This business model is growing very fast and I can tell you from my own experience that there is a lot of money you can make in e-commerce!
Within e-commerce. there are 2 very famous methods; Shopify & Amazon FBA. Both are very strong but each have their own differences that come with their own pros & cons.
In this article. I will tell you exactly what each method is about and the pro's & con's of each method.
What is the difference between Shopify & Amazon FBA?
Shopify is a platform where you can build your own e-commerce store. You are completely free to design the store how you like and put whatever products you want on it. However, you are also completely responsible for driving any customers to your store and handling the logistics of the orders!
With Amazon FBA you are selling on the Amazon website(s). So it is more of a marketplace where people are allowed to sell their items. Which means Amazon already has a huge amount of customers on their website who might be interested in your products.
What is Fulfillment by Amazon?

The FBA part of Amazon FBA stands for: Fulfillment By Amazon. This means Amazon will take care of all the logistics of running your e-commerce store. So they will store your products, send them to your customers, and even handle returns & customer service! So Amazon FBA is way more hands-off compared to Shopify!
Pros & Cons of Amzon FBA
| | |
| --- | --- |
| Pros | Cons |
| Amazon will supply a steady flow of customers | 15% commission to sell on the Amazon platform. |
| Logistics is taken care of by Amazon FBA | Forbidden to sell some restricted products. |
| Very easy to get started and start selling | Lots of competition. |
| Trustworthy & customer friendly as most customers are already Amazon customers | Restricted to use the Amazon product page layout. |
| | Dealing with customers support can be a hassle. |
Pros & Cons of Shopify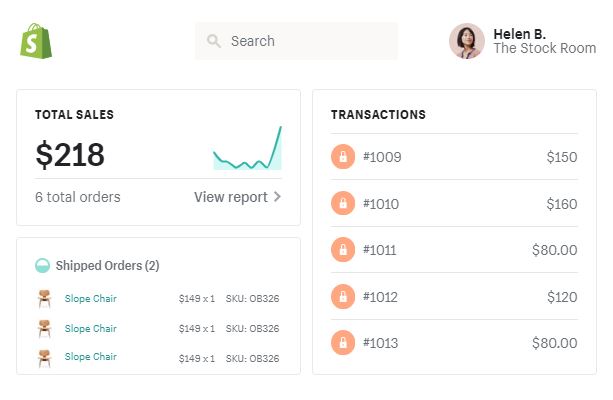 | | |
| --- | --- |
| Pros | Cons |
| Very low platform fee: 2%. | You have to drive your own traffic to your store! |
| Higher profit margin because of the low platform fee's. | Hard to build credibility & trustworthiness. |
| Option to design your store how you prefer. | You have to handle logistics yourself. |
| Great support. | |
| Customizable with app integrations. | |
Comparing Shopify vs Amazon FBA
I think the main difference between Shopify vs Amazon FBA is that with Shopify you will have to build traffic to your own store in order to generate sales. While with Amazon FBA, Amazon will already have a very large customer base.
This is probably the most important thing about running an e-commerce store: How do I get customers?
If you already have experience with marketing & advertising and know-how to drive traffic to a website, then you can probably solve this problem really easy. And Shopify will be a great tool for you where you can set up your own e-commerce store. Without having to pay 15% platform commission and dealing with lots of competition.
However, if you don't have any experience with driving traffic to a website. and the terms: PPC, A/B testing, SEO mean nothing to you. Then I would advise you to start with Amazon FBA! Amazon will supply you with a large customer base and you can focus on building your business instead of finding customers.
Which one is cheaper? Amazon FBA or Shopify?
Amazon FBA membership costs $39,99 per month and you pay a fixed commission of 15% to sell on the Amazon platform, plus additional FBA charges based on your product size.
The Shopify Basic plan costs $29 per month and you pay a $2,9 commission per sale.
Shopify is cheaper than Amazon FBA.
Is Amazon FBA or Shopify best for beginners?
I would say both are very beginner-friendly. Anybody with basic computer skills is able to set up a nice looking Shopify webshop. However, to take this shop to the next level and drive traffic and sales to this shop require a lot more skills. And then to setup a logistics network to handle all shipping & returns of your orders also isn't the easiest task.
Starting an Amazon FBA business might look like it's a bit more difficult in the beginning. But I think once you have done it with 1 product it is very easy to repeat and expand your business!
How to get started with Amazon FBA?
Find a product to sell.
This is IMO the most important step. Find a niche that doesn't have a lot of competition, but enough that you can still make a nice profit out of it. For this step, it is very handy to use a product research tool.
Manufacture & ship your product.
Time to look for suppliers, negotiate with them and ship your product ( either with Air or Ocean shipping ) to Amazon.
Launch the product on Amazon.
In this step, we take a look at the best methods to get sales and rank our product above our competition!
How to get started with Shopify?