Product research is an essential part of an e-commerce business. Finding the right products to sell in your store will either bring you money or won't. That's why it's important to find a reliable product research tool.
But, there are a lot of product research tools on the market it's hard to decide which one to choose. To help you with that, we have tried two of the currently most popular tools, Jungle Scout and SellZone. Here's what we have to say about them!
Jungle Scout vs SellZone: Overview
Jungle Scout and SellZone are both product research tools that help you find winning products to sell on Amazon. They both come with a plethora of features that cover all aspects of product research, including product research, keyword research, competitors research, listing optimization, listing protection, traffic and sales analytics, and PPC optimization.
Of course, they also have features unique to each of them. For instance, Jungle Scout has the Inventory Management and Supplier Database whereas SellZone has Split Testing. We'll look at their differences thoroughly because they decide upon which tool is better.
Jungle Scout vs SellZone: Features
Both tools offer A LOT of impressive features to Amazon Sellers. As a seller, you know that the features are what makes a tool worth investing in. To better understand them and see how each tool performs on each feature, we compare them based on their category.
Jungle Scout vs SellZone: Product Research
Both, Jungle Scout and SellZone offer a simple product research experience to users. Finding a product is easy as all you have to do is choose a product category, type in relevant keywords, and apply any of the filters available e.g. price, number of reviews, number of sellers, and similar. Note that the exact features differ a bit between these tools, however, the product research process is more or less the same.
Now, what differs these two tools is that Jungle Scout, unlike most Amazon product research tools, has its own database of Amazon products. To search its huge database, you need to use the Niche Hunter tool.
Apart from Niche Hunter, Jungle Scout has three other product research and validation tools: Product Tracker, Opportunity Finder, and Category Trends.
The Product Tracker allows you to track products, actually a group of products, to see how they perform over time. You can monitor their sales, trends, and key metrics such as price, rank, and inventory to get a detailed picture of products' performance. Knowing this data will help you decide which product is worth selling and which isn't.
The Opportunity Finder allows you to instantly find product niches by searching for high-demand low-competition keywords. By using specific keywords, you will get in-depth data on the sales, emerging trends, and additional insights of the products using those keywords.
The Category Trends tool tracks the top 100 products of any category and subcategory on Amazon. It not only tracks the current performance of the products but also provides you with data on their historical performance. Moreover, it provides you with product insights like price, rank, rating, and reviews to help you validate your product ideas.
SellZone, on the other hand, doesn't have a product database but offers users a Product Listing which you can search by choosing a category, keywords, and additional filters. Lacking a huge database, you shouldn't expect as many products as Jungle Scout will list you.
The winner ???
With 4 product research tools and an immense number of products listed, Jungle Scout outperforms SellZone. So, it's not difficult to say that Jungle Scout offers the best product research tools!
Jungle Scout vs SellZone: Keyword Research
Keywords are the soul of Amazon SEO. That's why Amazon sellers try hard to find the right keywords for their product listing.
Jungle Scout allows sellers to find the perfect keywords with its Keyword Scout. This tool searches through millions of data points to find the exact and broad high-ranking keywords. It also allows you to search your competitors and see which keywords they rank for. Moreover, it provides you with detailed data on keywords volumes over a period of time and helps you determine a product's seasonality and popularity. Additionally, it allows you to save the best-performing keywords to your PPC campaigns and find low-cost high-rank-potential keywords to create inexpensive PPC campaigns.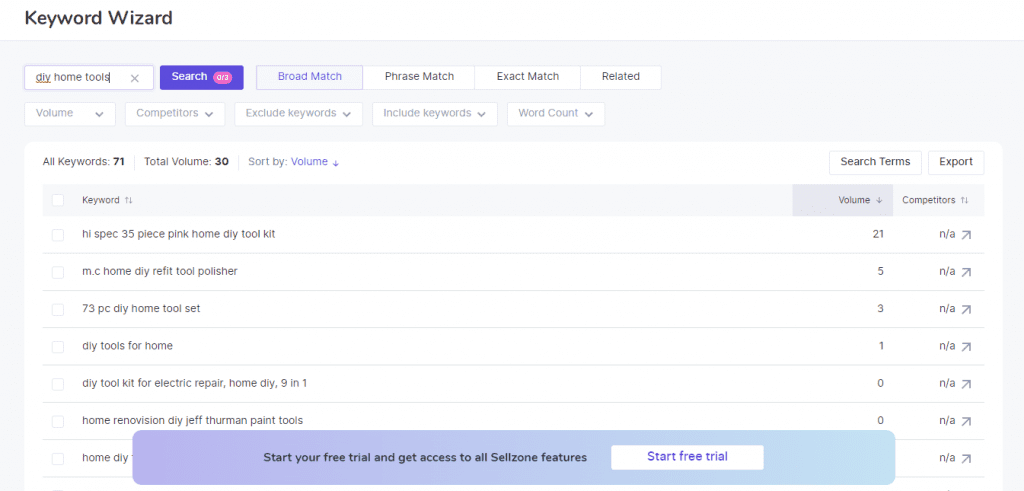 SellZone, on the other hand, uses "magic" to find keywords with its Keyword Wizard. This tool is straightforward, but it has several filters you should (but don't have to) apply to get the best results. To find the right keywords, you need to enter a keyword and choose the type of match, keywords volume, number of competitors, which keywords to include or exclude, category, and word count.
One thing that SellZone is missing, compared to Jungle Scout, is the reverse ASIN option. Hence, you can't spy on your competitors' products and see the keywords they rank for.
Who wins here?
Hmmm… it's really hard to say. Both tools offer amazing keyword research experience and help sellers find the right keywords to use in their product listings. However, since the Keyword Scout from Jungle Scout does much more than just find keywords, it's fair to say that Jungle Scout wins again.
Jungle Scout vs SellZone: Listing Optimization
Listing optimization is probably the key ingredient for Amazon SEO as your product's visibility depends on how well your product listing is optimized. But, since not everyone is an SEO expert or can afford to hire one, having a tool that does that for you is everything!
The good news is that both, Jungle Scout and SellZone, come with a listing optimization feature. Jungle Scout has the Listing Builder which helps sellers build optimized product listings using the right keywords. SellZone, on the other hand, has the Listing Quality Check tool which checks product listings and suggests edits following the Amazon Requirements and Style Guides.
Although both tools have a listing optimization feature, they differ from each other. Namely, Jungle Scout's Listing Builder not only optimizes your listing but helps you build it as well. On the other hand, SellZone's Listing Quality Check only checks already built listings.
Another difference is that Jungle Scout takes keywords as essential for boosting listing's visibility and suggests the ones that will help rank your listings the highest. On the other hand, SellZone lacks that option. However, it provides you with all details on how to create an optimized listing.
The winner?
While both listing optimization tools help sellers create optimized product listings, Jungle Scout is the winner here. It's because it allows sellers to optimize their listings as they write them, not after they are written. Plus, it provides the best keywords to boost a listing's visibility.
Jungle Scout vs SellZone: Listing Protection
Listing hijacking has unfortunately become quite common on Amazon. That's why it's very important to keep a close eye on your listing(s). Any drops in sales and changes in reviews can suggest a listing hijack. However, if you want to be 100% sure that your listing is or isn't hijacked, it's best to use a listing protection tool.
Jungle Scout offers the Alerts feature, which allows you to set your alerts for hijackers. Use this feature to set up monitoring of any product changes, such as other sellers selling your product, changes in price, number of sales, and more.
SellZone, on the other hand, has a dedicated Listing Protection feature that monitors your listings. You don't need to set anything up, just add a listing. Additionally, you can choose your notification methods (SMS or Email) for instant alerts in Settings.
Which tool wins?
It's a tie!
There's no winner here because both tools work pretty much the same. They both allow you to set listing monitoring and track any changes that occur in the added listing(s).
Jungle Scout vs SellZone: Marketing
Running a successful marketing campaign on Amazon requires great attention to how you carve your ads. Your promotional campaigns need to be well-written so they bring you the most sales for the least cost.
Jungle Scout features the Promotions tool which helps you easily launch your campaign. With this tool, you can boost your product listing's visibility and maximize your sales right from the start. And, the more sales you get from the start, the higher your listing will rank on Amazon.
There is also an option to protect your promotion from abuse. You can do this by limiting the maximum quantity of units a buyer can purchase.
SellZone, on the other hand, not only allows you to launch a campaign but also optimizes the same. Its Amazon PPC Optimizer tool uses an automated data-driven approach to optimize your campaigns for optimal results. Moreover, it creates a list of the best keywords to use in your campaign's content, automatically updates keyword-ASIN combinations to optimize your campaigns, and removes unnecessary keywords.
So, who wins here?
Although both Jungle Scout and SellZone offer tools that maximize your campaigns' success and boost sales, they are quite different. Namely, Jungle Scout's Promotions deals only with launching a campaign. On the other hand, SellZone's PPC Optimizer deals with launching a campaign and optimizing the same. Moreover, it uses an algorithm that automatically updates and optimizes your campaigns to fit the searches of Amazon users, thus maximizing your listing's visibility.
Having this in mind, it's clear that SellZone wins here.
Jungle Scout vs SellZone: Unique Features
Apart from the impressive features mentioned above which Jungle Scout and SellZone share, there are also features that are unique to each tool. Those features are exactly what differs each tool and help users evaluate which one works better for them. Let's look at them!
Jungle Scout Browser Extension
You can easily install this extension to your Chrome or Firefox browser to find hot products while browsing Amazon. It provides you with detailed insights per each product you come across thus helping you validate if a product is worth selling or not. There is a lot of data provided, from seller data to sales data, sales forecast, and more. Moreover, using the extension you will get all the information on the same screen without having to switch between pages.
Rank Tracker (Jungle Scout)
This tool tracks keywords' performance over time. It monitors their ranking, allows reverse ASIN search for keywords to see how your competitors' keywords rank and which ones rank highest, and shows you which keywords affect your listings. In this way, it helps you choose your keywords wisely to make the most of your SEO strategy.
Supplier Database (Jungle Scout)
As its name suggests, this tool is a database of vetted suppliers. For new Amazon sellers, this is a kind of a must-have tool because it provides them with information on all legit high-quality suppliers in the world.
Inventory Manager (Jungle Scout)
You never know how many units you'll need in the following period, which is why many sellers often order too much or too little. And, while having too many units results in overstock and additional Amazon storage fees, not enough units leads to stockout and a drop in sales.
To ensure that doesn't happen to any user, Jungle Scout comes with an Inventory Manager feature that predicts how much stock you'll need. Moreover, it predicts your sales and the best dates to order. In this way, you'll always have just enough stock in your inventory.
Review Automation (Jungle Scout)
We all know how important customer reviews are. However, not every customer is eager to spend a few moments leaving an honest review. What can you do about that?
Nothing! You can't force your customers to leave a review… but, you can politely ask each and every one of them. You can do this with the Jungle Scout's Review Automation feature. This feature automates the Seller Central review request process thus saving you time and helping boost your sales.
Sales Analytics (Jungle Scout)
Knowing the numbers is a key to tracking the success of your Amazon business. And, you don't need to hire a bookkeeper to keep up with your finances. The Sales Analytics tool does it all for you.
This tool organizes and tracks all sales data in real-time and allows you to create a professional-looking profit and loss statement, customize your expenses, and evaluate your PPC campaigns. It also provides you with all critical metrics such as revenue, costs of goods, operating costs, hidden fees, and more.
Split Testing (SellZone)
When having multiple versions of your product listing in your head, you'd want to know which one would perform better. Well, it's hard to assume how the audience would react to each version. And, fortunately, you don't have to because SellZone comes with an integrated Split Testing tool.
With it, you'll be able to test multiple versions of your product listing, test titles, descriptions, images, and even prices. As a result, you will choose the best version of your listing, thus increasing your conversions.
Traffic Insights (SellZone)
SellZone may be missing the reverse ASIN option for keyword research, but it surely doesn't miss it when it comes to traffic insights. In fact, this is a unique feature to SellZone, which means Jungle Scout doesn't have it.
Using this feature, you can get insight into all traffic sources of your competitors. The data includes organic traffic from Amazon and Google, referrals, and ads. Having this information in hand will allow you to compare your and your competitor's product, analyze them, and see how you can improve your listing to outperform that of your competitor.
Jungle Scout vs SellZone: Pricing
Jungle Scout Pricing Plans
Jungle Scout offers 3 pricing plans:
Basic – starting from $29/month for an annual subscription.
Suite – starting from $49/month for an annual subscription.
Professional – starting from $84/month for an annual subscription.
There are also 3 packages aimed at sellers who want to quickly learn how to dominate the market:
Start-up Suite – $189 per 3 months
Entrepreneur Suite – $349 per 6 months
Freedom Builder Bootcamp – $999 per year
Free trial???
Jungle Scout doesn't offer a free trial. However, it offers a 7-day risk-free money-back guarantee. Hence, you can try the tool for 7 days and if you aren't satisfied, your money will be returned.
SellZone Pricing Plans
SellZone also comes with 3 pricing plans:
Free – $0 free forever plan
Growth – $50/month
Pro – $85/month
However, right now you can get your first month of Sellzone for only $1!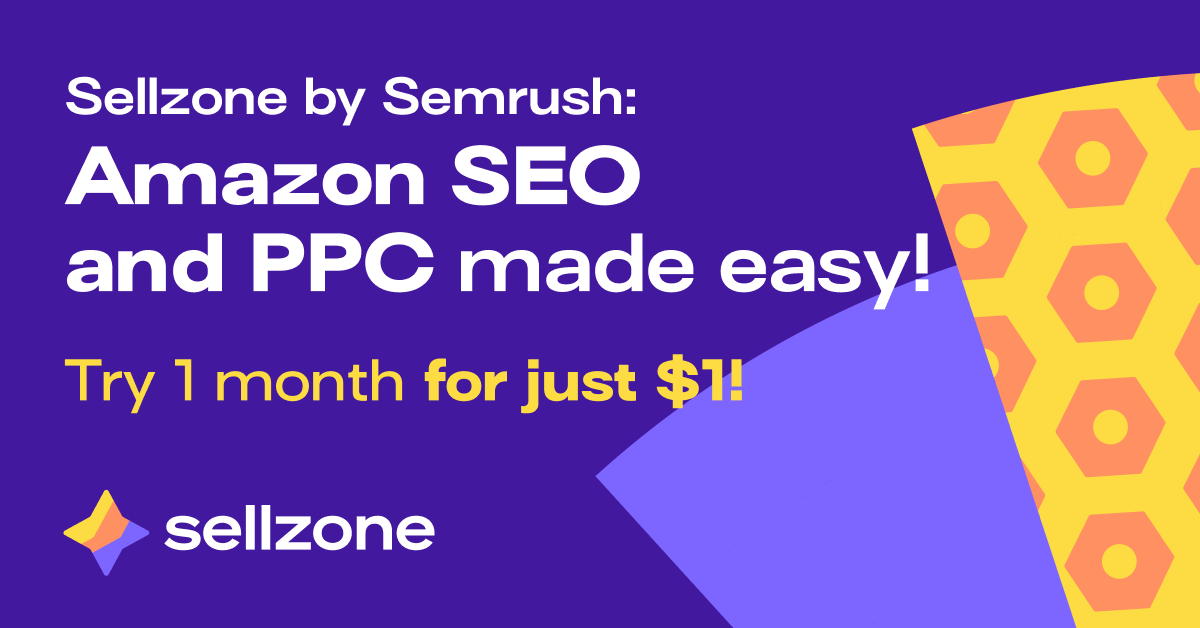 Final Thoughts: Which One Is the New Best Amazon Tool in 2022?
There's no doubt that both, Jungle Scout and SellZone, offer users numerous great tools for Amazon sellers. They both come with some shared features which differ one from another. Plus, they both have some unique features which add value to them as Amazon seller tools. However, only one can be the winner.
Jungle Scout remains the Best Amazon tool in 2022
Based on the comparison and analysis of all their features and the advantage one has over the other across various comparison categories, it's clear that Jungle Scout remains the best Amazon tool in 2022. It's so powerful, with a ton of features, that we can't but admit it's the best Amazon seller tool.
We also have to honor SellZone as a worthy opponent to Jungle Scout. It is inevitably a great choice for sellers looking for an affordable tool and those just starting out.