If you've prepared for starting your Amazon business, you already know that there are plenty of seller tools available. Amidst the vastness of Amazon tools, we find the two best according to sellers: Helium 10 and AMZScout. They share most of their features but also differ in some. To better understand which one is better/ would work better for your business, we will take a closer look at each and compare them.
Let's get started!
Helium 10 vs AMZScout: the Basics
Helium 10 and AMZScout are both product research tools that help you find the best products to tell in your Amazon store. They are both all-in-1 solutions for Amazone sellers that offer a plethora of features. Since they are product research tools, they share their product research and keyword research features. However, they don't share all of them. So, let's take a look at all of their features and see which one is better!
Helium 10 vs AMZScout: Features
Helium 10
Helium 10 comes with A LOT of features of different types, including:
Product Research
Black Box – product finder and product research tool.
Xray – the Chrome Extension, for easier use and quick access to tools.
Trendster – to analyze products' sales trends and generate more profit
Profitability Calculator – to find out the actual cost of selling a product.
Keyword Research
Cerebro – a unique reverse ASIN keyword lookup, to find all keywords a product ranks for
Magnet – the main keyword research tool of Helium 10 which provides you with all long-tail keywords associated with the main keyword you enter.
Misspellinator – a unique feature that shows you all common misspellings for a keyword. When used in the backend keywords, it allows you to rank even when people have misspelled the keyword(s) they use.
Listing Optimization
Frankenstein – keyword processor
Scribbles – listing optimizer
Index Checker – keyword index checker
Listing Analyzer – Amazon listing insights
Audience – split testing
Operations
Inventory Management
Refund Genie
Alerts
Inventory Protector
Follow-Up
Mobile App
Seller Assistant
Analytics
Profits – financial analytics
Market Tracker – tracks your market
Keyword Tracker – tracks the ranking of your products for the keywords used
Marketing
Adtomic – Amazon advertising platform
Portals – landing page builder
Free Tools
PPC Audit
URL Builder
QR Code Generator   
AMZScout
AMZScout is a great product research tool that comes with all features related to product research, including:
Amazon Keyword Search – hunting the high-demanding, low-competitive keywords
Reverse ASIN Lookup
Amazon Keyword Tracker Chrome Extension – follow the performance of your keywords
PRO Extension for Chrome – for extensive data of any products you are interested in selling
Product Database – find winning products to sell by using specific filters
Quick View Chrome Extension
FBA Fees Calculator Chrome Extension – calculate all fees in detail with ease
Sales Estimator
Amazon Super URL Tool
Stock Stats Chrome Extension – spy on your competitors to plan your sales strategy
Amazon Dropshipping & Arbitrage – 1-click access to all data you need to find the most profitable products.
As you can see, AMZScout focuses on the product research aspect only. That means more tools for finding the rights products to sell in your store, but it also means having only product research tools and nothing more. However, if you are interested in finding winning products that will bring you sales and make a good profit, this tool is all you need.
Helium 10 vs AMZScout: Comparison
Now that we've looked at their features, we have a better understanding of what each of them is about. However, to make a clear cut between the two of them and see which one is better and in which aspect(s), we need to compare them.
Helium 10 vs AMZScout Ease of Use
Whether you are experienced in selling on Amazon or a newbie, you will love using any of these tools. They are equally simple and easy to use. You can access them online, via their website, without the need for downloading software. Also, you can use their Chrome extension directly on Amazon, which makes them very convenient to use. In addition, they have a simple user-friendly interface and organized dashboard.
Once you log in, you will see the Product Discovery page on AMZScout and the dashboard on Helium 10. On the left, you will find the menu, which contains all the features of the product. From there, you can choose the tool you need. While their interface is pretty much the same, we find Helium 10's interface more attractive due to the better choice of colors, fonts, and overall design which looks much modern compared to that of AMZScout.
Helium 10 vs AMZScout Set Up
Setting up your account for both Helium 10 and AMZScout is a breeze. To register for a Helium 10 account, you simply need to fill out basic information and you'll have your account ready in 5 seconds. Upon registration, you will be directed to the dashboard from where you can choose the tool(s) you need.
To start using Helium 10, you'll have to go to your profile and provide details about your Amazon seller account and PPC account. To add your PPC account details, you'll be directed to Amazon where you'll need to log in to continue.
On the other hand, registering on AMZScout is even easier as you can do it with your Google, Facebook, or Weibo account. Upon registration, you'll see the Product DIscovery page from where you can immediately start searching for products and/or access the tools from the menu on the left.
Helium 10 vs AMZScout Features
We've already listed all their features, but now we have to compare them to see which one offers more per each aspect.
Product Research
Helium 10 comes with a plethora of product research features including Xray, Black Box, Trendster, and Profitability Calculator. Using them all allows you not only to find products within your niche fast but also products that actually sell and are highly profitable.
AMZScout, on the other hand, is all about product research. All of its features revolve around this aspect, which allows you to find the perfect products to sell on Amazon. You can use Product Database to find winning products using filters, the Chrome Extension (especially the PRO version) for more data, the FBA Fees Calculator to see if a product is worth selling, the Sales Estimator for a second opinion, and the Amazon Dropshipping & Arbitrage to get access to all data you need to find the most profitable products. And, if you need, you can export all products you've found as an Excel file.
Keyword Research
Helium 10 has three tools that help you find the right keywords for your product listings. Magnet is the main keyword research tool that helps you find long-tail keywords related to the main keywords you entered. Cerebro is the tool that allows you to find the keywords a product on Amazon ranks for so that you can use the best-performing ones. And, then, there's Misspellinator, which ensures your products rank for your keywords even when users misspell them. Awesome, right?
Similar to Helium 10, AMZScout comes with two keyword research tools. The Amazon Keyword Search tool allows you to search high-demand, low-competition keywords. To use it, you just need to enter the target keyword and search. The Reverse ASIN Lookup helps you find new keywords based on the keywords your competitors rank for.
Keyword Rank Tracking
Speaking of keywords and finding the best ones, you also need to track their performance to determine which ones work and which don't. And, guess what?!
You get that with both tools!
Helium 10 has the Keyword Tracker, which tracks how your products rank for the keywords used. It tracks both organic rank positions and sponsored ones. Moreover, it monitors the performance of the keywords you select and displays all data in a simple tracking dashboard.
You can track your keywords' rank using a product's URL or ASIN. Also, you can enter the keywords you want to track.
The results show the current position of your product for the given keyword, the keyword search volume, your competitors' rank for that keyword, etc. By clicking the graph-like icon under the Actions tab, you will see the keyword's rank trends. And, if you want, you can export all results.
AMZScout also comes with a Keyword Tracker tool. It works the same way as that of Helium 10 but allows you to track the product rank on a 1-hour, 3-hour, 6-hour, 12-hour, or 24-hour basis. It also allows you to track several products at once.
The Keyword Tracker provides you plenty of data, such as rank position, the pages it appears on, your competitors' rank, as well as product's price, reviews, sellers, and more. Just like Helium 10, you can also export the results.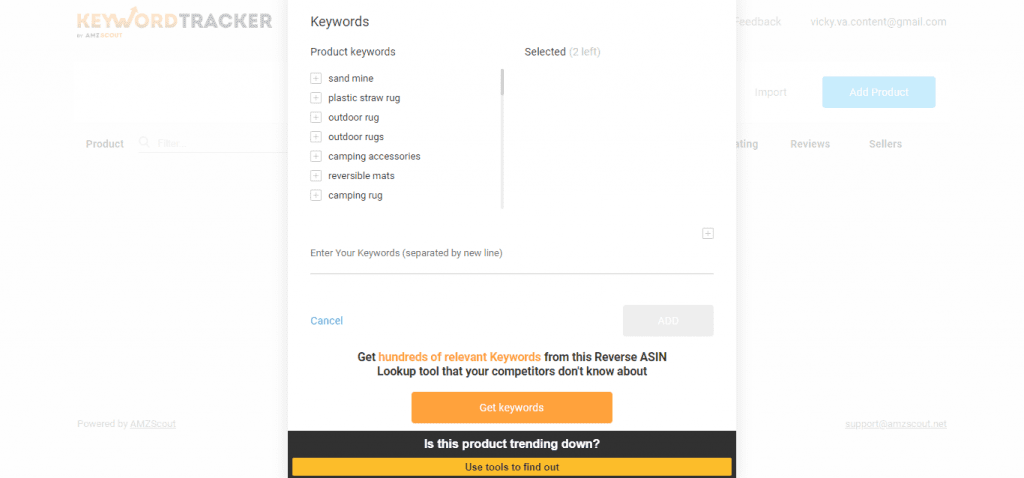 Product Listing
Helium 10 comes with several Listing Optimization tools of which Scribbles is the main one for optimizing your product listings. It works as an SEO tool for Amazon as it ensures that all essential keywords are included in the listings. It does that by validating all keywords you come across while doing the research and identifying the ones that must be included. Also, it ensures that there's no keyword stuffing nor more characters than allowed.
Additionally, Helium 10 allows you to create content-rich product listings by adding a title, product description, up to 5 bullet points, and search terms. And, you can save the listings, export them, or import existing ones.
AMZScout, on the other hand, uses a bit of magic to optimize your listings! Yes, there's a Listing Wizard tool, a fairly new feature, which automates part of the product listing's optimization processes. It does that by giving you ideas for which keywords to use in the title and the description of the listing. So, even if you've never created a product listing before, you'll do it in less than an hour with ease.
What's more important, the Listing Wizard also identifies new keywords, especially PPC keywords. In this way, it allows you to improve your existing listings to boost sales.
Profit Calculator
Having a profit calculator tool is essential when selling online. It's because it tells you whether or not it's worth selling a certain product. After all, why would you invest time and money in something that won't bring you any profit?
You don't have to worry about this because both Helium 10 and AMZScout feature a Profit Calculator.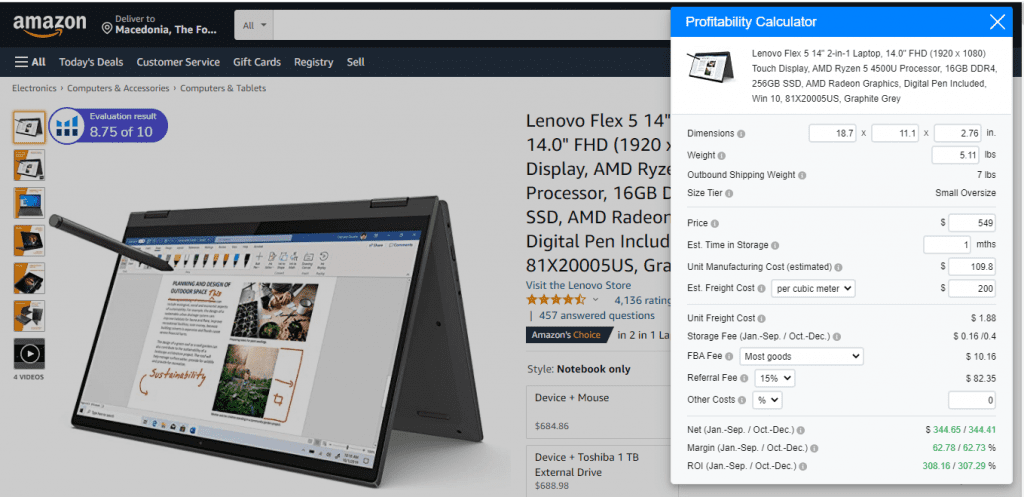 Helium 10 has a Profit Calculator tool in the form of a Chrome extension. To use it, you need to install it in your browser and then head to the product you're interested in selling. What's great about this tool is that it allows you to calculate the profitability of multiple products from a search result page. Apart from using it as an extension, you can also access it from Helium 10's dashboard.
AMZScout similarly comes with an FBA Calculator, which allows you to calculate your fees and profit. This tool is available as a Chrome extension, so you need to install it to use it. Then, you just head to any product page on Amazon and enter details like product cost, CPC cost, shipping cost, and estimated monthly sales. The other product data is retrieved by the tool itself and you see the results at the bottom of the pop-up window.
Analytics & Reports
Helium 10 comes with a Profits tool that provides you with all financial data and analytics for your Amazon business. It includes things like prices, profit, trends, statistics, and allows you to track sales. Moreover, it shows detailed sales trends data, inventory levels, and has a performance matrix.
You can export the data as PDF, XLS, CSV, or an image file.
AMZScout also provides you with analytical data but differently from Helium 10. Instead of having a feature integrated with the dashboard or the extension, the analytics are available in the AMZScout Pro Extension. Hence, you can access this data only if you get the paid version of this product research tool.
Having this extension, you'll get access to extensive data on sales, reviews, product costs, and much more. You also get a saturation score for keywords and a niche score for your products based on their performance.
All this data can be exported as a CSV file.
Third-Party Integrations
Until now, these two product research tools have stood shoulder to shoulder. However, they part their ways when it comes to third-party integrations. It's because Helium 10 features a Portals tool, which allows integrating with third-party platforms like Facebook, Google Analytics, and Zapier. Plus, its RESTful API also supports custom integrations. AMZScout, on the other hand, doesn't support third-party integrations nor has any RESTful API.
Helium 10 vs AMZScout Resources
To make the most of your Amazon business, you need to know how to run your business and use your product research tool to the max. And, to make sure you learn all that Helium 10 comes with a plethora of learning resources. There are training series, personalized coaching from experts, podcasts, webinars, courses, case studies, an academy, and a blog.
AMZScout, similarly, offers a step-by-step course, masterclasses, a university containing well-developed courses, and a blog.
Helium 10 vs AMZScout Customer Support
Customer support is one of those things customers appreciate and base their reviews on. It's because it allows clients to be heard and get help on time. That's why we love the live chat!
While none of these two tools have a live chat but they do offer various ways of contact.
Helium 10 allows direct contact via their website by submitting a request. They also have a help center with helpful articles on how to use the platform, e-commerce, and more. Moreover, there's an online community where all Helium 10 users can connect as well as social media pages (Facebook, Instagram, Twitter, and LinkedIn) through which you can contact the support. Speaking of social media, there are two Facebook groups for Helium 10 users you can join and a YouTube channel with helpful videos.
AMZScout offers more or less the same. They allow for direct contact via their website by sending a request and via their FAQ page. Also, they offer email support and via WhatsApp where you can send a direct message and get a fast response. And, of course, you can reach out to them and the other users via their social media pages on Facebook, Twitter, LinkedIn, and YouTube.
Helium 10 vs AMZScout Price
Helium 10 comes with 6 pricing plans:
Free – $0 (trial account with limited features and limited uses of the features available)
Starter – $37
Platinum – $97
Diamond – $197
Elite – $397
Enterprise – custom price for large businesses and agencies.
AMZScout has 2 pricing plans:
AMZScout Pro Extension – starting from $16.49/month; has limited free trial
Amazon Seller's Bundle – starting from $29/month
Helium 10 vs AMZScout Pros and Cons
Helium 10
Pros:
Easy to use
Amazing features
All-in-one platform
Third-party integrations
Good customer support
Cons:
AMZScout
Pros:
Easy to use
Great features
Good customer support
Active on social media
Affordable
Cons:
No phone support
No third-party integrations
Very limited free trial period
The Final Verdict
Saying which one of these product research tools is better is hard as it all depends on your needs. However, generally speaking, Helium 10 has a lot more to offer. It has features for everything you need as an Amazon seller, from product research to keyword research, from listing optimization to marketing and analytics. On the other hand, AMZScout seems to focus on product research and keyword research. This is perfect for those who seek nothing more but to find winning products and track their sales.
Also, a big advance of Helium 10 is that it supports third-party integrations which makes it a really all-in-one platform for Amazon sellers.
The only "bad" thing about Helium 10 is that it's quite expensive, especially if you want to enjoy all of its features. But, you get what you pay for. If you want to scale your business and become a successful seller, Helium 10 will pave your way to the top.