Helium 10 is a big name in the e-commerce market. It has been around long enough to show its superpowers and build a reputation. That's why it's one of the best Amazon seller tools on the market today.
Besides its good reputation, sellers wonder if Helium 10 is still worth it in 2022. The truth is, it all depends on the seller. Helium 10 comes with a plethora of well-known impressive features and has recently introduced a few more. So, let's take a look at everything this tool offers to Amazon sellers and then draw a conclusion upon whether it's still worth it in 2022 or not.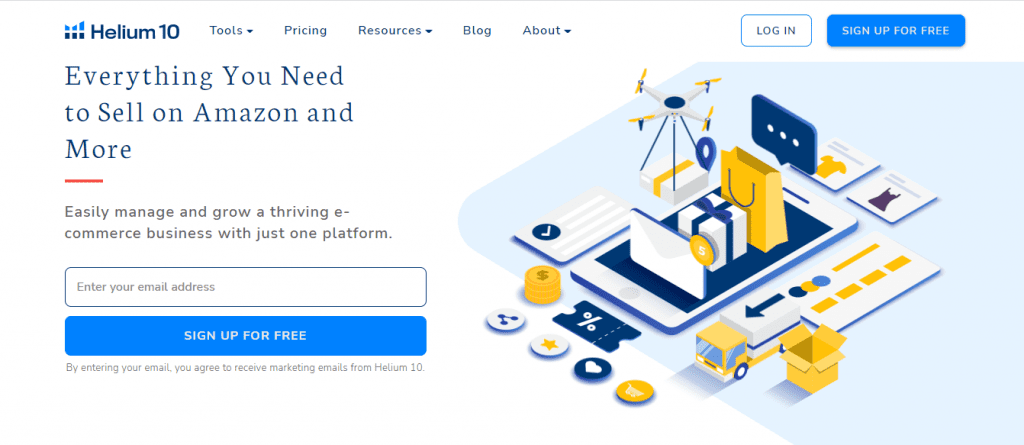 Helium 10 in a Nutshell
Helium 10 is an all-in-one software for Amazon which takes care of product research, SEO, fraud protection, inventory management, refunds, and listing building. But, that's not all!
Helium 10 offers a lot more features to help you start and scale your Amazon business. You don't have to be a pro, with years of experience, to use this tool. All you need is a will to succeed and make a small investment that will have a big ROI.
Who Is Helium 10 for?
Helium 10 is for everyone. It's for those who are just starting out, those who have already started and are looking for a tool to help them scale their business, and the experienced sellers who want to turn their Amazon business into an e-commerce empire.
The size of your business doesn't matter either. It can be a small Amazon store without any product, a medium-developed store already offering some products, or a big store with hundreds of products and more or less established sales per month.
Why Should Every Amazon Seller Use Helium 10?
Helium 10 works magic for Amazon sellers. It does most of the job for you, thus semi-automating your business and giving you more time to focus on marketing the same. It also helps you find the right products that would bring you the most sales, create optimized product listings, protect your store, and more. In short, it's all you need for starting, running, and growing your Amazon business!
What we find really impressive about this tool is that it allows sellers to visualize important metrics like winning products, the right keywords, trends, inventory, profit and sales estimation, and more. Thanks to its 20+ tools, Helium 10 helps you manage your business, increase product visibility, estimate product demand, streamline operations, and more. It's the ultimate Amazon FBA solution for your business.
Helium 10: Ease of Use
Helium 10 may seem complex due to its numerous tools, but it's not. In fact, it is very simple to use, even for novices. Everything is well-organized and easily accessible. You don't need a manual to start using it.
To start using Helium 10 and access all of its features, you just need to log in. The dashboard will automatically appear, from where you can access any tool you need at any time.
Helium 10: Dashboard and UI Design
Speaking of accessibility and the dashboard, we'd like to take a moment to praise the importance of a great yet simple UI design.
Helium 10's dashboard is the place from where you can access any tool you need and perform any action. It's well-organized, displaying each tool as you scroll down the page. At first, it may seem too crowded as it contains pretty much information on one screen, but it's not difficult to understand it. Actually, you don't even need to scroll the dashboard's page since you can find all tools in the menu and access them directly from there.
In terms of the UI design, it's clean, with two shades of blue and white. It's really brought to a minimum since there's no need to impress users with graphics and animations, rather provide them with functionality and simplicity.
Helium 10 Features
What makes Helium 10 stand out from the other Amazon FBA tools on the market?
Its features!
There are so many of them, each equally impressive and unique. Thanks to them, you can semi-automate your Amazon business and focus on marketing it.
Now, let's briefly look at them to see how they help your business strive and grow.
Product Research
Helium 10 Chrome Extension
Helium 10's Chrome extension is a free and easy-to-use tool available to all users. It combines 5 time-saving technologies to ensure easy and quick product research. As such, it allows you to look for winning products directly on Amazon, validate them, locate profitable sourcing options, predict their profitability, and spy on your competitors.
With this extension, you get instant access to 5 Helium 10 tools:
Xray

 – Provides you with instant access to market data to help identify profitable products.

ASIN Grabber

 – Used for copying ASINs in bulk and creating targeted ads.

Profitability Calculator

 – Allows you to calculate a product's profit margin based on its weight, size, FBA fees, and shipping cost.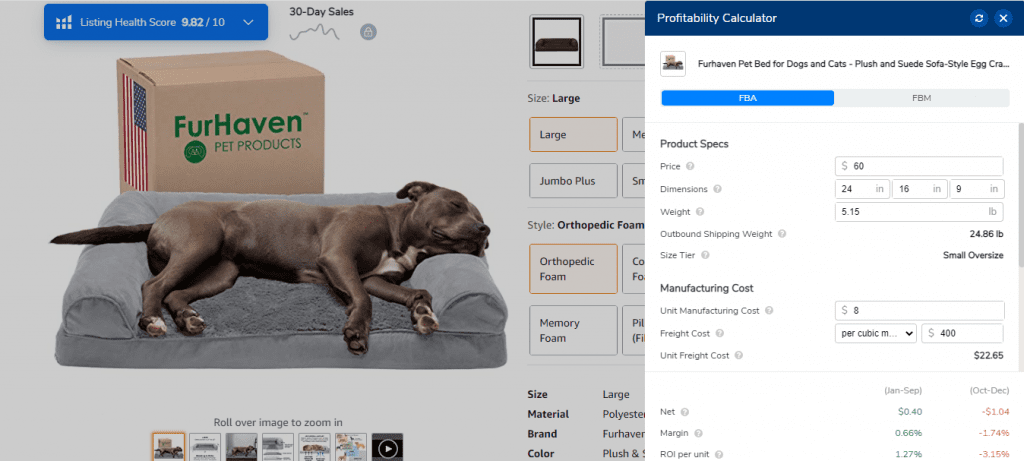 Inventory Levels

 – Gives you instant access to the inventory of each product you sell in your store.

Review Insights

 – Allows you to download product reviews to help you choose which product(s) are worth investing in.
Black Box
It's the main Amazon product research tool of Helium 10. With it, you can search for products based on your filters. You can search by categories, keywords, and niches while filtering products by revenue, price, number of reviews, product rating, and product size.
What makes Black Box the ultimate product research tool, apart from the above-mentioned, is that it's very fast. You get the search results within seconds. Also, it provides you with important data about each product to help you identify best-selling products with lower competition.
Trendster
This tool analyzes potential products to determine their seasonality. Is that product going to be in and bringing your profit all around the year? Or, it will be popular only during specific months?
Knowing a product's popularity (seasonality) will show you if it's going to bring consistent income or not. This, in turn, will help you decide if a product is worth selling or not.
Keyword Research
Cerebro
Cerebro is a reverse ASIN/Product ID tool that helps you find the right keywords for your product listings. It analyzes the keywords of your competitors and their performance to show you which ones work best for them. With that, it helps you choose the best-performing, low-competitive keywords for your product listings and optimize the same to boost sales.
Magnet
Magnet is the main keyword research tool of Helium 10. With it, you can easily find hundreds of potential keywords along with their data. It's very easy to use as all you need to do is enter any keywords that fit your product (e.g. dog cushion as in our example). You'll get results within seconds. You can analyze them to find the most relevant ones that have a high volume and low competition.
Misspellinator
Believe it or not, people misspell words when searching for a product on Amazon. However, they seem to get results for their search. How come?!
Sellers have adjusted their keyword list and included most misspelled variations of their main keywords. And, you can do that same with the Misspellinator!
This tool finds the most commonly misspelled keywords relevant to your product and extracts them within seconds. It also allows you to directly export them to Frankenstein, Helium 10's keyword processor tool, to add them to the keyword list.
What makes these misspelled keywords important for sellers is that they have zero to very low competition, yet can rank your product in the Amazon search results and drive sales. How?
You need to add those keywords to your product listing back-end. In this way, your products will start getting ranked when users misspell your main keywords. And, getting ranked means more traffic, which means more sales.
Listing Optimization
Frankenstein
Helium 10's Frankenstein is a real keyword monster. It takes all those keywords you found as potential ones, filters them according to your preferences, clears out the unneeded ones, sorts them based on your preference, and creates a clean and manageable keyword list. As such, it helps improve your keyword strategy, optimizes your product listings, improves your product ranking on Amazon, and drives more traffic to your listing.
Scribbles
Imagine creating a list of the best keywords for your product listing and forgetting to add some of them… a disaster! All your efforts for nothing!
Well, you don't have to worry about this scenario since Scribbles take care of that. This tool ensures you never miss an important keyword by adding the used ones in the "used keywords" field and the unused ones remain in the "unused keywords" field. It also allows you to add the best keywords to the front-end and back-end of your product listing for their maximum optimization.
Additionally, Scribbles helps you create a product listing easily and in no time. It does that by automatically optimizing the product title, description, and bullet points, and adding all keywords in their place.
Index Checker
The Index Checker tool by Helium 10 is a real wizard. It saves you hours of work when checking which keywords your product ranks for. Instead of spending several hours of manual work, with this tool, you will get results in 30 seconds. It also shows you which keywords are indexed by Amazon, thus allowing you to identify potential issues and take action to solve them asap.
Another advantage of using the Index Checker is that it allows you to spy on your competitors and find out which keywords they rank and don't rank for. This will help you plan your keyword strategy and drive more traffic, especially if you find winning keywords your competitors are using and you aren't.
Listing Analyzer
The Listing Analyzer, as its name suggests, analyzes your product listing(s) and shows what's okay and what needs to be improved. It breaks down the analysis into 3 parts: Listing Quality Analysis, Market Analysis, and Top Keywords Analysis. Each of these parts gives you detailed information on the relevant aspect of your product listing so that you know what you have to edit and improve.
Audience
If you're not sure which version of your product listing will work or which products would sell better, ask the audience. This feature allows you to quickly create polls where you ask questions related to your products. Then, the polls are released to the 10,000 US-based users and they answer your question within seconds. You don't need to wonder anymore. Just ask the audience and get your feedback in seconds.
Listing Builder
Here's the tool that made us fall in love with Helium 10. I mean, you have a tool that helps you create a product listing… do you know how helpful and encouraging that is for novices???
Sellers love it and we love it more!
The Listing Builder is exactly that – a tool that helps you build product listings. It does that by allowing you to import all your keyword lists and creating optimized listing elements (title, description, keywords, and bullet points). It also helps you optimize the current and future product listings as well as easily manage all your listings.
Operations
Helium 10 offers users support in the day-to-day management of their Amazon business. It comes with various tools that help sellers, like you, manage their business without spending too much time. Those are:
Inventory Management

 – A one-stop solution for managing your inventory levels that takes care of everything, from ordering inventory to shipping to predicting the amount of stock needed, and more.

Refund Genie

 – Allows for an automatic and instant FBA reimbursement process for damaged or lost inventory.

Alerts

 – Protects your product listings from hijackers and scammers by monitoring your products 24-7.

Inventory Protector

 – Prevents coupon abuse and over-ordering of products during launches.

Follow-Up

 – A fully-automated email marketing tool that creates follow-up emails to your customers to provide stellar customer support.

Mobile App

 – When you want to manage your business on the go. Helium 10 mobile app shows you all the important data on your smartphone, such as profits, alerts, and PPC data to ensure you have everything you need for running your Amazon business wherever you are.

Seller Assistant

 – Improves your rating by automatically sending review requests to your customers.
Apart from these tools, Helium 10 also offers Alta, a solution for your finances. Alta offers three types of services, including Credit Line, Daily Advance, and Digital Wallet & Supplier Pay. With this, it helps you manage your finances more easily and streamline all your payments.
Analytics
Keyword Tracker
With the Keyword Tracker, you will be able to monitor the organic and paid rank of your keywords at all times. You will also be able to go "back in time" to see your keywords' historical performance. Moreover, you will always keep up with the current trends and know the current position of your most important search terms on Amazon.
Having all that in hand, you will be able to carefully plan your keyword strategy, optimize your product listings, know the important keywords of your niche, monitor your competitors and their SEO strategy, and gather valuable data on the keywords you track, such as ranking trends, percentage changes, estimated monthly searches, etc.
Market Tracker
With this tool, you will get the full picture of the markets where you sell your products. Moreover, you will be able to identify trends, compare products' performance, and get updated metrics daily. In that way, you will always know what your audience needs and will be a step ahead of your competitors.
Profits
Profits is the tool you need to understand and track your finances. It provides you with all KPIs like sales, revenue, profit, margin, and ROI. In this way, you will always know if your business goes the right way or it needs some improvements.
Marketing
Apart from offering tools for managing your Amazon business, Helium 10 also offers marketing tools to support your product launches and advertising.
There are two marketing tools you can use to maximize your marketing efforts:
Adtomic

 – An AI-powered PPC tool for Amazon which helps maximize your advertising ROI. At the same time, it simplifies the whole process of creating, managing, and optimizing your campaigns.

Portals

 – Landing page builder that allows you to create beautiful and engaging landing pages for your products in one click.
Free Tools
Helium 10 never gets tired of surprising its users, so it constantly adds new free tools for Amazon sellers. Currently, there are 5 free tools you can use:
Amazon Keyword Research

 – Available directly on Helium 10's websites, this tool provides you with thousands of relevant and competitive keywords based on the keyword/ASIN you enter.
PPC Audit

 – Evaluates your PPC campaigns to provide you with details on their strong and weak sides. In this way, you'll be able to improve and optimize your campaigns better.

URL Builder

 – Creates various types of super URLs based on your preferences and needs.

QR Code Generator

 – Creates a QR code for your products.

Amazon Anomaly Tracker

 – Monitors your product listings for anomalies that would cause unindexed products or products no longer discoverable via keyword search and notifies you.
Helium 10: Resources
Helium 10 is much more than an Amazon seller tool as it comes with much more than tools for running and managing Amazon businesses. Having in mind the challenges newbies face, Helium 10 offers several Amazon FBA courses and training, including:
Amazon FBA training (Freedom Ticket)

Project X

Podcast

Webinars

Guides and Ebooks

Beginners PPC course
Helium 10: Pricing
Helium 10 comes with 5 pricing plans tailored for both, individual sellers and companies:
Starter – $39/month
Platinum – $99/month
Diamond – $249/month
Elite – $399/month
Enterprise – for agencies (companies), contact for price
You can save money and get up to 3 months free if you purchase an annual subscription.
Free Trial???
Helium 10 doesn't offer a free trial to its paid plans. However, it does offer a free-forever account with limited features. It's a great option if you want to try out Helium 10 before deciding which plan is the right for you.
Helium 10: Pros and Cons
Pros:
The most complete and easy-to-use all-in-one Amazon seller platform.

Over 20 impressive features.

A free-forever plan.

Simple and intuitive UI design.

Easy to use.

Various types of tools, including product research, keyword research, product listing builder and optimization, Amazon SEO, marketing, and more.

Unique features: Cerebro, Magnet, Frankenstein, and Scribbles.

Stellar customer support.

Various types of training.
Cons:
Pretty expensive, even the Starter plan.

Limited free account.

No supplier database.

Customer support available only via support tickets.

Somewhat steep learning curve – besides the vast array of features, most of which are easy to use, some features take time to learn and understand.
Helium 10: Alternatives
Jungle Scout
There seems to be an eternal fight for the throne between Helium 10 and Jungle Scout. Both of them are an all-in-one solution for Amazon sellers and both come with a plethora of fantastic features. In fact, they share most of their tools as well as their accuracy.
However, they do differ in their pricing A LOT. Namely, Jungle Scout is more affordable, especially in the higher tiers.
Viral Launch
Viral Launch is another well-known Amazon seller tool with similar tools like Helium 10. Like Helium 10, this tool also covers various aspects of managing an Amazon business, such as product research, keyword research, competitor research, product listing builder, and PPC advertising.
Of course, there are some differences between them. For instance, they differ in some of their features, such as Viral Launch's Kinetic PPC and Split Testing. Also, there is a slight difference in accuracy, with Viral Launch being a bit less accurate. And, in terms of pricing, Viral Launch is more expensive at the lowest tier but more affordable at the higher tiers.
AMZScout
And, last but not least, we have AMZScout. Promoted as an all-in-one Amazon seller's toolset, AMZScout comes with tools very similar to Helium 10 and the proposed alternatives. However, it's quite different when it comes to its accuracy.
According to our test, AMZScout showed an accuracy of 87% compared to Helium 10's 96%. It may seem a small difference, but for sellers who rely on the tool's predicting powers, that's a big gap.
In terms of the price, AMZScout is much more affordable with prices starting from $16.49 per annual subscription.
Final Thoughts
We have looked at Helium 10's features and how they can help your Amazon business. We've also looked at its strong and weak points and compared it briefly with its top 3 alternatives.
Our final word to whether Helium 10 is still worth it in 2022 is YES, it's most definitely worth investing in.
What do you think?
Will you choose Helium 10 as your Amazon FBA tool?
Let us know in the comments!