I am normally not a big fan of Amazon courses, as there is a big misconception around them. I believe a lot of people will buy a course as it will tell them it is a guaranteed way of making money. They often even advertise with bullshit like:
"I bought a lambo with working only 4 hours a week. Buy my course so you can do the same".
This is obviously not the case and often these type of courses are very low quality.
Amazon is a real business that requires hard work. There are no shortcuts!
I think an Amazon course should be viewed as an information source, not as some kind of magic money making button. If you can find the right Amazon you will find it very valuable
I have been selling on Amazon for about 4 years now. And always kinda thought that I knew everything about Amazon FBA. Until I came across this course: Freedom Ticket
What is Freedom Ticket (Helium 10)?
Freedom Ticket is a video course written by Kevin King that cover all aspects about selling on Amazon.
The course is divided per week. And each weeks has multiple topics which are covered in around 20 minute video's.
After completing a video your progress will be tracked so you know exactly where you are!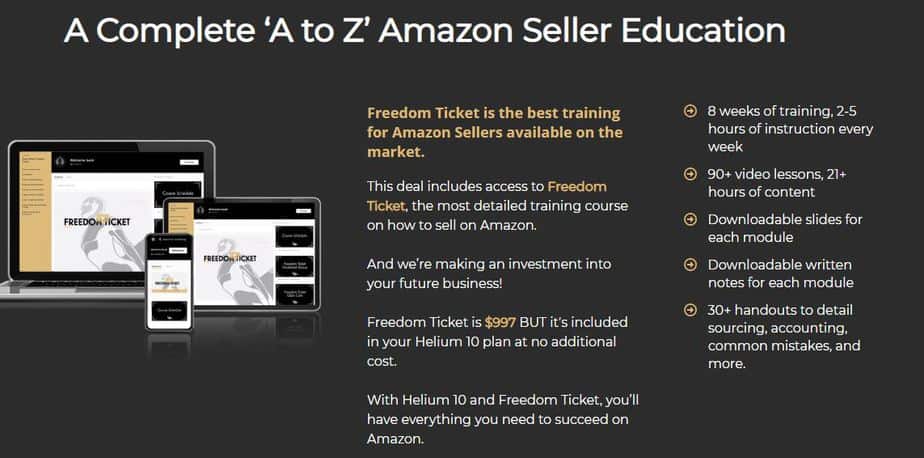 Freedom Ticket Review
I was amazed by how much content they managed to put in the course! From setting up your Amazon Seller Central account to some very advanced advertising methods. They have covered every single step.
If you are a new seller you can start right at the beginning and Kevin will teach you everything you need to know about selling on Amazon.
If you are an experienced seller you can skip to the more interesting topics on which you would like to know more of. For myself I always though I knew pretty much everything about selling on Amazon. However, I was very wrong! I decided to take a look at: Week 6 – How to Compete & Win Big. And there is so much stuff in there that I didn't know yet. I feel like I now have a much better understanding of how the Amazon A9 search engines works, what ranking factors matter the most and how I can use this in my own listings to my advantage! Can't wait to put what I have learned to action!
Is the Freedom Ticket the right course me for?
I think this 100% depends on how much you are willing to put into it. This is not some course that will teach your a secret method that will get your rich overnight. What it will teach you is everything you need to know about selling on Amazon!
So yeah, if you are willing to do all the research. Watch all the video's on the topics you are unfamiliar with ( there is over 21 hours of content! ) and then willing to put what you have learned into action. Then yes, I think this is the best available course out there that will be an excellent guidebook for selling on Amazon.
How to get Freedom Ticket for FREE?
The Freedom Ticket is normally priced at $997. However, if you subscribe to Helium 10 you will get free access to the Freedom Ticket course!
  Click Here to try out Helium 10
Make sure to use the discount code below to get 10% – 50% discount on your Helium 10 plan!
Course Content
Module 1 – Welcome to the Freedom Ticket Training
Introduction to the course: about Kevin's experience and who Freedom Ticket is designed for. Helium 10 no longer makes recommendations to other courses. Click here for more information.
Module 2 – The Amazon Opportunity
An overview of the opportunities on Amazon: how you can make money using the FBA model.
Module 2.1 – Amazing Potential All Over Amazon
Find amazing opportunities right there on one of the largest e-commerce platforms in the world. You'll be surprised how simple it is.
Module 2.2 – You Can Make HOW MUCH From Products Found in Five Minutes?
In just a few minutes, see how we found opportunities to make profits and sales with affordable products from Alibaba.com.
Module 3 – About this Course
How Freedom Ticket will prepare you for a successful Amazon business.
Module 3.1 – Learning from Past and Current Freedom Ticket Students
5 Amazon sellers from 4 countries who tell different stories of their path to Freedom Ticket.
Module 3.2 – Q&A Session with Freedom Ticket Students
In the spirit of sharing, we sat down with two Amazon sellers of different experience levels to talk about their Freedom Ticket experience.
Module 3.3 – Bradley Sutton and Tim Jordan Introduce Helium 10's Project X
Tim Jordan and Helium 10's Bradley Sutton welcome Freedom Ticket viewers to Project X.
Module 3.4 – Ep 1: Welcome to Project X
Join Bradley and Tim for Project X, the ultimate Amazon FBA case study.
Module 4 – Basic Business Requirements
A step-by-step guide of basic business requirements you'll need to set up and sell on Amazon
Module 4.1 – Moving Money Between Countries Using Ping Pong
How to use Ping Pong to receive money internationally
Module 5 – Ways to Sell on Amazon
From arbitrage to private label: an introduction to different methods of selling on Amazon
Module 6 – Walk Through of Seller Central
A walkthrough of your Amazon Seller Central account, what you have to do to create your account, what your account will show you, how to set it up properly and what you can do to make your Amazon e…
Module 7 – Essential Amazon Glossary
A helpful reference list of Amazon selling terms and acronyms
Module 8 – How Much Money You Need
An introduction to capital, business scaling, and cash flow
Module 9 – What To Expect When Your Start
Week 2 check-in, encouragement, and how to stay informed on current Amazon practices Podcasts Kevin listens to and recommends for Amazon Sellers: • Serious Sellers (hosted by Bradley …
Module 10 – What Can a $5k Investment Selling On Amazon Do
Investing in Amazon vs. investing in traditional stock market portfolios
Module 11 – Branding
Module 12 – Ladder of Loyalty
Customer experience on and off of Amazon.
Module 13 – Cash Flow
The truth about cash flow: Be sure to see the downloadable PDF book above on how to set up your bookkeeping and accounting. Profits First Book: https://www.amazon.com/Profit-Firs…
Module 14 – Category Approval
Product categories
Module 15 – Costs to Sell on Amazon
All about Amazon fees
Module 16 – Quick Overview of Sponsored Ads (PPC)
An important thing you need to be aware of before starting to pick products is Pay Per Click (PPC). It is an integral part of launching a product and keeping its momentum going.
Module 17 – Four Year Cashflow Spreadsheet Walkthrough
A cash flow discussion with expert Arnold Shields from financial firm Dolman Bateman
Module 18 – Introduction to Helium 10 Tools
Overview of Helium 10 software tools
Module 19 – Where to Find Product Ideas
How to come up with ideas for products to sell on Amazon
Module 20 – How to Do Keyword Research & Pick Products Walkthrough
Different tools to do keyword research to position your product as best as possible, find your niche and where the best opportunities are.
Module 20.1 Product Evaluation Spreadsheet
How to determine ROI and estimate your costs around this
Module 21 – Choosing a Product to Sell
This module covers the basics of product selection, including red flags to avoid and good signs to look for. Be sure to download the Restricted Product PDF which is an article walking you thr…
Module 22 – The Freedom Ticket Product Test
The product test is where the gold lies. If you can find a product that meets 75-80% or more of the criteria I show you, you're going to have a much better chance at big success.
Module 23 – Reviews and Competition Research
We talk about the importance of reviews and competition when picking a product to sell. I also go over some valuable third-party tools to help in product selection and analysis.
Module 24 – Using Blackbox to Find Products
How to use Helium 10's Black Box tool for product research
Module 25 – The Chinese Way of Thinking
Chinese sellers and their impact on the Amazon Marketplace
Module 26 – Where to Source Products
How to get ideas of where to actually look for factories or suppliers to make your product.
Module 27 – Finding a Chinese Factory
Tips and tricks on how to find the best companies to source your products.
Module 28 – How Not to Get Ripped Off
Chinese culture and how to protect yourself legally when ordering from China.
Module 29 – 12 Common Rookie Sourcing Mistakes
The 12 most common rookie sourcing mistakes and how to avoid them.
Module 30 – UPC and Packaging Primer
How to get a UPC & FNSKU barcode for every item and variation so you can print it on your label and your packaging.
Module 31 – Package Inserts & Product Websites
"Tips for setting up outside of Amazon"
Module 32 – How Much Should Your Order?
Inventory turns and how to determine how many units to order the first time.
Module 33 – The Purchase Order & Proforma Invoice
All about purchase orders and pro forma invoices
Module 33.1 – Creating a Legally Enforceable Purchase Order in China
How to protect yourself with a well-written purchase order (for Chinese suppliers)
Module 34 – Which Way to Ship
How to ship product from your manufacturer to you
Module 35 – Shipping Terms & Problems
Shipping terms and issues you might encounter
Module 36 – How to Create a Shipment in Seller Central Walkthrough
How to create a shipment if you're selling FBA and Amazon is warehousing and fulfilling your products for you.
Module 37 – Verify Your Supplier is Giving You a Fair Price
How to verify your supplier is giving you a fair price
Module 38.01 – Saving Money by Mastering 3 Shipping Terms
Learn about shipping industry terms and how they affect your pricing
Module 38.02 – Shipment Modes – Why and When
All about international shipping methods and when to use them
Module 38.03 – Actual Weight vs Volumetric Weight
How to calculate actual weight vs. volumetric weight and fit it into your supply chain planning
Module 38.04 – 10 Rookie Mistakes you MUST Avoid
10 common mistakes to avoid when shipping
Module 38.05 – Packing your Products for International Shipping
How to have your supplier properly pack your products for overseas shipping
Module 38.06 – SPD vs LTL – Types and Differences
All about last mile delivery: small parcel delivery (SPD) vs. less-than-truckload (LTL)
Module 39 – Brand Registry & Brandgating
How to use brand registry and brand gating to protect your products from hijackers and counterfeiters
Module 39.1 Trademarks and Patents with Rich Goldstein
An in-depth look at patents, copyrights, and trademarks with patent attorney Rich Goldstein
Module 40 – Tips to Being a Great Seller
General tips for how to be a better seller
Module 41 – Prohibited Activities
Things you can't do on Amazon (that could lead to suspension)
Module 42 – Sales Stopped Checklist
If your sales have suddenly dropped or stopped, check these potential issues
Module 43 – Key Ranking Factors on Amazon
About the A9 algorithm: Amazon's search engine
Module 44 – Breakdown of a Product Listing
Breakdown of a product listing
Module 45 – Using Competitor Reviews to Your Advantage
How to use competitor reviews to your advantage and spot opportunities.
Module 46 – Basics of Getting Discovered on Amazon
How to get your listings discovered on Amazon
Module 47 – Keys to Making Sales
More things to focus on for Amazon sales
Module 48 – All About the A9 Search Engine
Going further in-depth on Amazon's A9 search engine
Module 49 – Introduction to Product Listings
Building product listings: an in-depth look
Module 50 – Writing a Killer Title
An in-depth look at product listing titles
Module 51 – Writing Bullet Points & Descriptions
An in-depth look at your listing's bullet points and description
Module 52 – Completing Backend Keywords
An in-depth look at the Seller Central backend fields
Module 53 – Creating Images that Convert
A closer look at your listing images.
Module 53.1 – Testing & Producing Powerful Images
Module 54 – Creating Your Product Listing Walkthrough
Actual walkthrough of creating a product listing that brings everything in this week's training together
Module 55 – How to Set Up Promotional Discounts & Coupons
The basic process of setting up a coupon on Amazon.
Module 56 – All about Brand Analytics
Brand Analytics
Module 57 – How to Set Up a Lighting Deal & Deals
How to set up deals on Amazon
Module 58 – Launching to Page 1
An in-depth look at product launches
Module 59 – Amazon's Secret Sauce URL
Special URLs to use to get discovered and sell more on Amazon
Module 60 – Facebook Basics for Amazon Sellers with Coupon Randomizer
Facebook advertising for Amazon sellers
Module 61 – Chatbot Basics for Amazon Sellers & Registration Flow
Growing your Amazon business with chatbots
Module 62 – The Basics of Amazon PPC
A general how-to for PPC
Module 63 – How Much to Bid on PPC
More about PPC
Module 64 – Product Targeting PPC
Competitor product targeting with PPC
Module 65 – Setting up your Initial PPC Campaigns
Setting up PPC campaigns
Module 66 – Wrapping It All Up
Congratulations! Do you realize what a major advantage you now have? Now it's time to get certified!