Are you ready to start your e-commerce business on Amazon but still not sure which FBA tool to choose? It's no wonder, considering the vast choice of tools available on the market.
Besides the harsh competition, some FBA tools manage to stand out from the rest. Jungle Scout and AmazeOWL are two of them.
Jungle Scout is undoubtedly one of the top FBA tools on the market. It's an all-in-one software that provides you with all the tools and education sources to start and develop your business. On the other hand, AmazeOWL focuses on product research and launch also including educational support for beginners.
To better understand each tool and help you make the right choice, we've compared AmazeOWL vs Jungle Scout across various categories. Let's read on!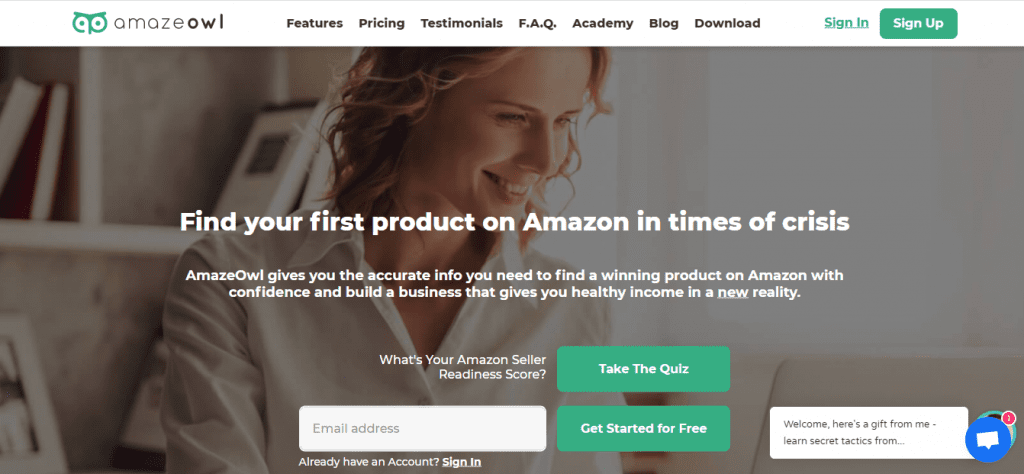 AmazeOWL vs Jungle Scout: Overview
Before we head to comparing these two tools according to their features, let's first briefly look at them. What are they? What do they offer to their users? What can you expect from each?
Knowing the basics of these tools will help you understand what kind of FBA tools they are before jumping to conclusions.
What Is AmazeOWL?
AmazeOWL is an Amazon product research tool that helps you find products with the highest possibility of success in terms of sales. It has over 600 million products in its database and searches for profitable products across 11 marketplaces.
What puts AmazeOWL among the top FBA tools on the market is its unprecedented accuracy and data analysis of potential products. Apart from being accurate, it's also easy to use which makes it suitable for total beginners.
AmazeOWL is available as a desktop app for Windows and Mac.
What Is Jungle Scout?
Jungle Scout is probably the number one FBA tool on the market thanks to its numerous impressive features. Being an all-in-one FBA suite with high accuracy and great educational sources for novices made Jungle Scout one of the most used Amazon seller tools today.
What makes Jungle Scout so incredible is that it doesn't offer only product research features. It offers various solutions for Amazon sellers, starting from product research to keyword research to product launching to finding reliable suppliers to managing your Amazon business, and growing the same.
Jungle Scout is available as a web-based app and a Chrome/Firefox browser extension.
AmazeOWL vs Jungle Scout: Similarities and Differences
Now that we've looked briefly at both FBA tools, let's highlight their similarities and differences. This will help you understand which of their features overlap and which are unique.
AmazeOWL vs Jungle Scout: Similarities
Product research and launch – Both tools are used for finding profitable products to sell on Amazon and help you launch the same.
Product tracking – Both tools allow you to track multiple products on Amazon.
Keyword tracking – Both tools allow you to track the performance of your keywords.
Competitors analysis – Both tools allow you to monitor and analyze your competitors so that you can improve your product listings continually.
Academy – Both tools offer training to beginners who want to start selling on Amazon.
Both AmazeOWL and Jungle Scout provide you with in-depth sales data for any product found on Amazon.
AmazeOWL vs Jungle Scout: Differences
AmazeOWL focuses on finding profitable products to sell on Amazon whereas Jungle Scout is an all-in-one FBA suite.
AmazeOWL has a desktop app whereas Jungle Scout has a web-based app and a Chrome and Firefox extension.
AmazeOWL's interface is a bit complicated for novices whereas Jungle Scout's interface is simple and easy to use even for rookies.
AmazeOWL offers only product research and tracking and keyword tracking tools whereas Jungle Scout also offers product sourcing and product listing tools.
AmazeOWL has a free (limited) plan and Jungle Scout doesn't.
AmazeOWL pricing plans are cheaper than those of Jungle Scout.
AmazeOWL customer service is worse than Jungle Scout, especially on the free plan. If you want to have great customer support like that of Jungle Scout, you have to purchase the highest plan.
AmazeOWL vs Jungle Scout: Features
The best way to decide which Amazon FBA tool is the right for you is by looking at its features. When you have two amazing tools like AmazeOWL and Jungle Scout, it's even harder to choose one. That's why, in this section, we compare their features and point out the unique ones per each tool.
AmazeOWL vs Jungle Scout: Product Research
AmazeOWL
AmazeOWL is all about product research. Indeed, it's specifically created to help Amazon sellers find the right product to sell. Although it's more or less just a product research tool, it does that amazingly.
Finding products with AmazeOWL is a breeze as it gives you two options. The first one is Hunt for Products, which allows you to search for products on your own using a keyword(s) or ASIN. The second one is Product Database, which is more automatic as the program takes care of finding products based on your criteria and delivers you a list of winning products to choose from.
Jungle Scout
Jungle Scout is much more than a simple product research tool, but it works magic when it comes to finding winning products. Similar to AmazeOWL, this tool also offers two options for finding products. The first one is the Product Database, which allows you to search for products based on chosen criteria.
The second one is the Opportunity Finder, which allows you to search for products by high-demand low-competition keywords. Apart from listing the products that fit your keywords, this feature also provides you with information on keyword seasonality and product data. And, it shows a Niche Score next to each product to help you easily vet products.
The winner?
We'd say it's tight since both tools offer easy product research. Even complete beginners will find products within minutes.
AmazeOWL vs Jungle Scout: Product Tracking
Both AmazeOWL and Jungle Scout, offer product tracking and both of them provide you with similar data per product. Namely, AmazeOWL provides you with in-depth data on product sales, keywords and their rank, competitors, profit, and product demand. On the other hand, Jungle Scout provides you with statistics on average daily sales, product rank, real-time sales, but also price, inventory, units sold, and Buy Box price. And, you can download all these stats for greater convenience.
The winner?
Jungle Scout! As you can see, the difference between the two tools is very small. However, we give a small advantage to Jungle Scout here because it provides some fantastic data like units sold and inventory.
AmazeOWL vs Jungle Scout: Keyword Research
Both tools offer a comprehensive keyword research experience. They both allow you to search for a keyword or ASIN to find the keywords used. And, they both provide you with a list of the keywords used along with data like monthly searches, top sellers, click share, revenue share, product category, and Best Seller Rank.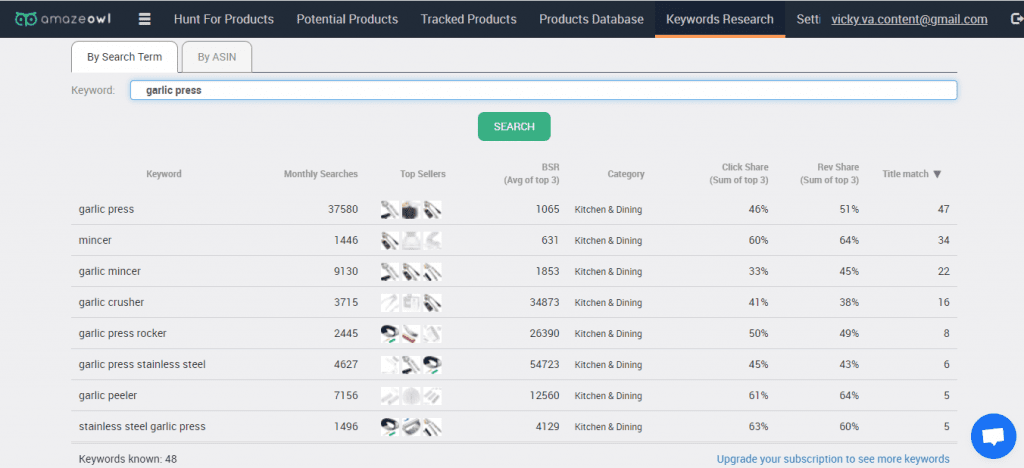 However, Jungle Scout does more than simply show you this data. It also provides you with information like top-performing keywords, ASINs for organic and sponsored keyword ranking data, keyword popularity and seasonality, competitors' ranking keywords, and performance keyword data.
The winner?
Well, we think it's clear that Jungle Scout wins this category. It provides you with so much valuable information compared to AmazeOWL that it outruns it when it comes to keywords.
AmazeOWL vs Jungle Scout: Educational Resources and Support
AmazeOWL have an Academy, which offers training to beginners but also experienced sellers who want to grow their business on Amazon. It's accessible via your AmazeOWL account and you can choose from the courses available.
Jungle Scout, likewise, offer an Academy, which they promise to be "the most comprehensive training" for Amazon sellers. It's inbuilt within your Jungle Scout account and accessible at all times. However, unlike AmazeOWL's academy courses which are paid, you get access to Jungle Scout Academy without additional expense.
The winner?
Both academies promise to teach you how to become a successful Amazon seller even if you are a complete beginner. However, the Jungle Scout Academy is more organized and it's free for all Jungle Scout users. That's why we give an advantage to it over AmazeOWL Academy.
AmazeOWL vs Jungle Scout: Unique Features
So far, we've looked at the features AmazeOWL and Jungle Scout share. But, since the abovementioned features are all the features AmazeOWL has, in this section, we look at the additional features Jungle Scout offers.
Supplier Database
Here's a great feature Jungle Scout offers you. Thanks to it, you get access to verified, high-quality manufacturers across the globe. Moreover, you can save a list of all the suppliers that fit your bill, organize them and compare them, and generate purchase orders.
Alerts
With this feature, you get notifications for every change considering your store, products, and tracked products. This includes changes in inventory, price, reviews, product title, image, rank, and everything you'd want to get notified about. Even more important is that you also get notified about Buy Box ownership, which prevents other sellers from reselling our product as theirs.
Category Trends
Listed as one of the product research features Jungle Scout offers, Category Trends is unique to Jungle Scout in this comparison.
This tool allows you to track the performance of the top 100 products of any category and subcategory. It also analyzes the category performance throughout history. In this way, it helps you decide which category of products to choose for your products.
Rank Tracker
This feature tracks the ranking of keywords over time. It allows you to track multiple keywords at once and use ASINs to see the historical performance of specific keywords.
What we really like about this feature is that it shows you which keywords affect your and your competitors' listings. This helps you change and improve your product listings and PPC strategy.
Listing Builder
What sets Jungle Scout apart from the other Amazon FBA tools is that it offers a list-building tool. This tool helps you build a product listing for each product you want to sell in your store. Apart from helping you build your product listings, it also helps you optimize them by suggesting which keywords to use in the listings.
It's a truly impressive tool, especially for novices!
Review Automation
Reviews bring sales, that's how it goes. It's simply because people trust those who have already bought and tried the product. Thus, the more (positive) reviews you have for your products, the more people will trust you and will want to buy them.
However, not all buyers are keen on leaving a review. That's where the Review Automation tool comes in!
What this tool does is automatically send review requests to buyers. It's a kind of reminding your customer to leave a review for the product(s) they've bought. In this way, you save lots of time and increase your reviews.
Sales Analytics
This tool monitors and organizes all your Amazon sales data in real-time, thus providing you with the latest information at all times. This provides you with a full financial picture of your Amazon business and allows you to customize your expenses if/where possible.
Inventory Manager
The Inventory Manager is your best friend when it comes to ordering stock. Often sellers order too many or lack units because they don't know exactly how many units they have in their inventory. This tool is the game-changer. It shows you the exact number of units in your inventory. More importantly, it accurately predicts how many units you'll need and when you should order them so that you don't end up over-stocked or out of stock.
Promotions
With this tool, you can create promotions for product launches on Amazon, thus increasing their visibility and maximizing early sales.
AmazeOWL vs Jungle Scout: Ease of Use
AmazeOWL
AmazeOWL is a pretty simple Amazon product research tool and, as such, is very easy to use. Its interface is also simple, with four main tabs, one for each feature. You can easily access anything you want, from finding products to settings to Academy.
However, it looks a bit dull. The colors are rather dark and monotonous. It may be because of the few features it has or the interface design.
Another thing I noticed is the Product Database. It's different compared to that of Jungle Scout as it doesn't contain all(most) products sold on Amazon, rather a small portion of them. As a result, when I searched for a garlic press, applying the filters on the photo, I found no results. The program's explanation was that my filters are too narrow. Then, I changed the filters to broader ones, added more categories, and removed the keywords. And, I got books, which have nothing to do with the chosen product categories.
Jungle Scout
Jungle Scout, besides all of its features, has a really simple and intuitive interface. Even complete novices can easily navigate the tool right from the start.
What I really like about Jungle Scout's interface are its vivid colors and modern UI design. Everything is excellently organized and close to the reach. There is a dedicated tab for each tool and additional information for the product where applicable.
Looking at AmazeOWL's Product Database and Jungle Scout's Database, there's a huge difference. Jungle Scout has a HUGE database, a greater choice of filters (e.g. fulfillment method, rank, price, etc), and is accurate, providing you with the products that match your filters. That's why, when you search for products, you will get a big list of all products sold on Amazon that match your filters.
The winner?
Although both tools are easy to use and have a simple interface, I'd give an advantage to Jungle Scout for the overall UX experience. The modern design and bright, engaging colors, the great organization, and simplicity make Jungle Scout the winner in this category.
AmazeOWL vs Jungle Scout: Accuracy
As you can see from the abovementioned comparison of the Product Database of both tools, there is quite a difference in their accuracy.
AmazeOWL is much less reliable and accurate, with 61.2% accuracy. It also has a higher error margin. Jungle Scout, on the other hand, is much more reliable, with 84.1% accuracy.
Without further ado, Jungle Scout is the definite winner here. After all, every seller would like a tool that is precise and reliable so they can get most of it and get a return on their investment.
AmazeOWL vs Jungle Scout: Customer Support
Customer support is very important as it reflects the brand's relations with its customers and its care for them. That's why the best brands have stellar customer support.
AmazeOWL has good customer support but with their paid plans. For the free plan, you can reach their support only by email and they can reply after several days.
Jungle Scout, on the other hand, has 24/7, 5-star customer support consisting of Amazon professionals always eager to help you out. Apart from their agents, you can also ask for help in their help center and on all social media platforms.
AmazeOWL vs Jungle Scout: Pricing
AmazeOWL Pricing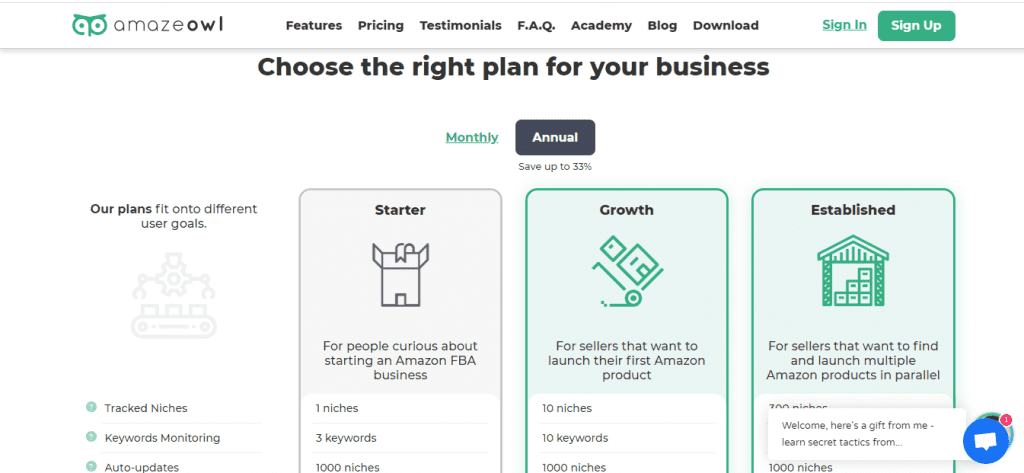 AmazeOWL offers 3 pricing plans:
Free – $0, with very limited features.
Growth – starting from $12.99/month
Established – starting from $19.99/month
There is also an option for an Enterprise package, but you need to contact them to find out more.
Jungle Scout Pricing
Jungle Scout also offers 3 pricing plans:
Basic – starting from $29/month
Suite – starting from $49/month
Professional – starting from $84/month
For those who want to learn how to sell and succeed on Amazon and start selling ASAP, Jungle Scout offers 3 packages:
Start-up Suite – $189/3 months
Entrepreneur Suite – $349/6 months
Freedom Builder Bootcamp – $999/year
Free Trial?
Jungle Scout doesn't offer a free trial on any plan. However, it offers a 7-day money-back guarantee.
Which FBA Tool to Use: AmazeOWL or Jungle Scout?
Based on our comparison across various categories and features, it seems that Jungle Scout outperforms AmazeOWL in almost all of them. This says a lot about both tools… yes, Jungle Scout is better in every way.
However, that doesn't mean you should choose that tool. It all depends on what kind of tool you're looking for. If you want something more affordable and to serve you merely for finding products, AmazeOWL will do the work. But, if you want to ensure a solid start and are ready to invest in the best FBA tool, then Jungle Scout is the one for you.
We hope this comparison will help you make the right decision and start a successful Amazon business.