If you are selling on Amazon, or plan to do it, and want to succeed in that, you need to use a product research tool. These tools help you find the best-selling and most popular products on Amazon by running analyses on the number of sold items, reviews, price, and more. There are many of them on the market, some of which are free and some paid. So, let's check out the 5 best Amazon product research tools!
Jungle Scout
Helium 10
AMZ Scout
Zonbase
Unicorn Smasher (Free)
1) Jungle Scout
Jungle Scout is our top choice because of its accuracy, features, and a big number of satisfied users. This all-in-1 platform helps you manage and scale your business on Amazon. It searches the marketplace and finds new products for you to sell. What makes it so popular is its high accuracy of around 95%, which is more than impressive.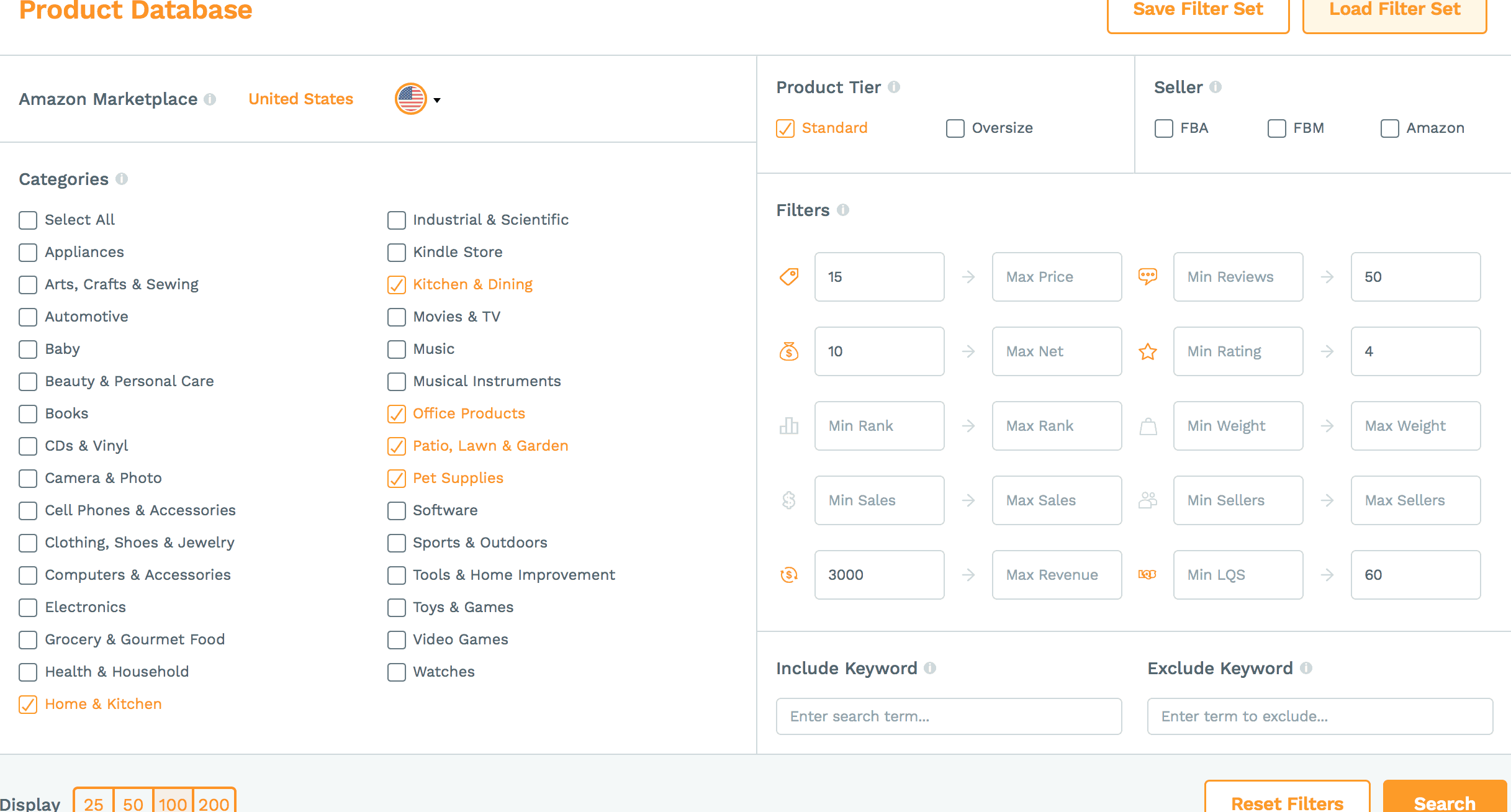 Features
Jungle Scout Extension – It searches for products across Amazon and provides you with a plethora of helpful and accurate product data, including product insights, whether a product is worth selling or not, product potential. It also allows you to request reviews from your customers.
Keyword Scout – Helps you identify high-converting keywords and the keywords your competitors use per each product.
Rank Tracker – Allows you to t
Inventory Manager – Gives you an insight into your stock so that you know how many units you have per each product you sell. This allows you to order when needed, thus preventing you from having products out of stock.
Alerts – With this feature, you will always know when your products or listing change.
Promotions – Using this feature, you'll be able to target potential customers, thus increasing your sales.
Price
3 pricing plans:
Basic – $49/month if paid monthly, $39/month if paid annually
Suite – $69/month if paid monthly, $49 if paid annually
Professional – $129-month if paid monthly, $84/month if paid annually
If you want to use only the Chrome Extension, it will cost you $39/month if paid monthly, $19/month if paid annually.
Free Trial
Jungle Scout doesn't have a free trial. However, it comes with a 14-days money-back guarantee. Hence, you can use all features of this platform and, if you're not satisfied, you can cancel your subscription within 14 days and get your money back.
Jungle Scout 30% Discount
Use the discount coupon below to get 30% discount on Jungle Scout!
2) Helium 10
Helium 10 is a pretty much new product research tool for Amazon but that doesn't make it anything less than its predecessors. Actually, if we refer to its accuracy, we can say that it's the most accurate tool of all. It even gives slightly more precise results than Jungle Scout, with 96% accuracy.
Helium 10 allows you to run and scale your e-commerce business without the need for additional tools due to its numerous impressive features.
Features
Helium 10 can pride itself on the numerous features it has. They are divided into several categories, including:
Product Research – The features in this category allow you to do extensive product research and provide you with detailed information on each product you are interested in. Here's also the Helium 10's Chrome extension, X-Ray, as well as tools that calculate your profit and provide you with product ASINs and customer reviews. Some of the best-known tools included here are Black Box, Trendster, and X-Ray.
Keyword Research – All of the tools in this category work towards finding the best keywords for your products. Namely, Cerebro shows you the keywords your competitors use, Magnet generates thousands of high-ranking keywords out of a single word, and Misspellinator provides you with a ready-made list of commonly misspelled Amazon keywords to help you rank higher.
Listing Optimization – Frankenstein, Scribbles, and Index Checker are the tools in this category. They help you optimize your product listings for higher ranking and search engine visibility.
Operations – These tools help you with operating your store by protecting your inventory, notifying you of suspicious account activity, and providing good customer care. There's also the mobile app and the Refund Genie that allows for faster refunds.
Analytics – In this category, you will find information on your finances, your position on the market, and your keyword rankings.
Marketing – If you want to get ahead of your competitors, you need great marketing. And the Ads and Portals marketing tools help you do that. With Ads, you can create campaigns with the right analytics and bid suggestions whereas Portals allows you to build a product landing page effortlessly.
Price
Helium 10 has 4 pricing plans:
Platinum – $97/month
Diamond – $197/month
Elite – $397/month
You can save money if you pay annually as you get 2 months free.
Free Trial
There's no free trial period since there's a FREE account. Although with limited features, it's a great choice for the who want to try out Helium 10. And, if you like what you see, you can always upgrade to some of the other plans.
Helium 10 Discount
Use the coupon below to get 50% Discount on Helium 10!
3) AMZScout

Unlike the previous two, AMZScout is not an all-in-1 platform, rather a product research tool that looks for the best-selling and profitable products on Amazon. There are no marketing and analytics tools included in it. And, that's what makes this app great for beginners who want to find the right products to sell in their Amazon store.
While it promises to be the most accurate tool for product research, AMZScout is less precise than the previous two tools, with 87% accuracy. Also, it overestimates the data. Namely, if you want to find out how many sales a product can make, you will probably end up with 13% less sales than estimated.
Features
Although focusing solely on product research, AMZScout comes with a number of amazing tools, including:
Amazon Keyword Search – Finds the most commonly searched keywords with low competition to rank you higher, boost your sales, and optimize your product pages.
Reverse ASIN Lookup – Finds the keywords your competitors use to improve your product listings to boost your visibility.
Amazon Keyword Tracker Chrome Extension – The most convenient way to optimize your store and find the best keywords for your products.
Product Database – Allows you to search Amazon products and access their data, such as supply and demand. It also helps you discover lots of profitable products.
Quick View Chrome Extension – This extension lets you compare products side-by-side while doing product research on Amazon.
FBA Fees Calculator Chrome Extension (FREE) – Calculates your profits and margins.
Stock Stats Chrome Extension (FREE) – Allows you to spy on your competitors so that you can create a sales strategy that will get you ahead of them.
Sales Estimator (FREE) –  Predicts the number of sales.
Price
AMZScouts has 2 packages:
PRO Extension – $44.99/month if paid monthly, $14.9/month if paid annually, and $299 per lifetime subscription.
Amazon Seller's Bundle – $49.87/month if paid monthly and $24.9/month if paid annually.
Free Trial
AMZScout has a free trial that allows 15 uses. It doesn't require a credit card to use it. Although it's not much, it allows you to try out the app to see if it's the right one for you or not.
4) Zonbase
Zonbase is an all-in-1 Amazon tool that helps sellers boost their sales without much effort. It helps users find the best-selling and trending products and launches them to the first page. It also finds the best keywords, manages PPC sales, and shows sales analytics. However, it's slightly less accurate than the previous tools, with 85% accuracy.
Features
ZonResearch – Allows you to filter products and search through the entire Amazon database to find the product(s) you want to sell.
Chrome Extension – Allows you to find the right products with a single click. Also, it provides you with sales estimates, sales history, and the best keywords a product ranks for per each product you are viewing.
Keyword Research – Helps you find the most commonly used keywords with the lowest competition.
Reverse ASIN – Shows you the top keywords of your competitors to help you rank higher.
Listing Optimizer – Optimizes your product listings and makes sure Amazon shows them and convinces potential customers to buy your products.
Page One – Launches your products to the first page, thus boosting your sales.
PPC AutoPilot – Opmizes and automates your PPC using machine learning.
Free Training Call – This new feature lets you speak live with an amazon expert.
Price
Zonbase has 3 pricing plans:
Standard – $47/month paid monthly and $37/month paid annually
Legendary – $97/month paid monthly and $67/month paid annually
Enterprise – you have to contact them for the price
There's no contract and you can cancel your subscription at any time you want.
Free Trial
Zonbase offers a 7-day FREE trial you can cancel at any time.
Zonbase Discount
Use coupon: GARLIC to get 40% Discount on Zonbase!
5) Unicorn Smasher
Unlike the previous product research tools on our list, this one is completely FREE to use. However, it's neither accurate nor feature-rich like them. With a 65% accuracy, it's still worth trying it, especially if you are a beginner with a limited budget.
Features
Organized Dashboard – Makes managing your searches and the entire app very easy.
Sales Estimates – Predicts the number of sales each product you are interested in could make.
Product Data – Provides you with data on a product's price, rank, rating, estimates sales, etc.
Opportunity Score – Allows you to analyze the entire Amazon marketplace and find which products are worth selling and which not.
Canonical URLs – Allows you to check the optimization of a product's canonical URL.
In-Browser Analysis – Shows you a product's PPC metrics and sales in your browser while searching Amazon.
Revenue Estimates – Tells you how much money can be made in every niche.
Apart from these tools, there's also a Chrome extension that is very convenient to use. You can also save products you like, share your research safely with your colleagues, go to any product quickly, and export the data from your research. And, you can integrate it with AMZ Tracker to spy on your competitors.
Price
Unicron Smasher is FREE to use forever.